Home
|
Mug Shot Monday
| Mug Shot Monday! 'Fighting Frederick Hansen' 1920
.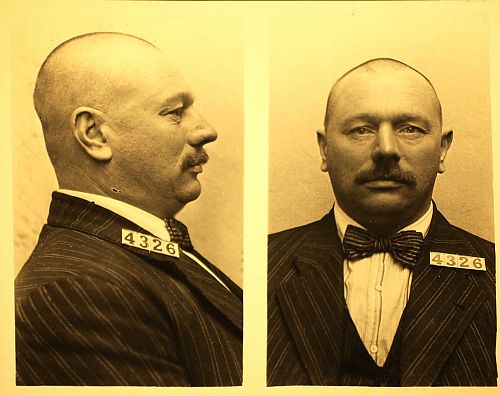 Fighting Frederick Hansen
"Fighting" Frederick Hansen, first mate on the SS ROLPH,  picked up a crew at Vancouver to haul lumber to Melbourne in 1920. The vessel was owned by James Rolph Jr., the mayor of San Franciso and future governor of California.
Hansen had been convicted of killing a seaman in 1917 and investigated for the murder of a second.  Once the ROLPH reached Australia, most of the crew, intimidated by the mate, was discharged. The vessel then headed to Newcastle to pick up a cargo of English coal for Chile. By this time the crew included only two Americans. According to later testimony, Hansen hit a German sailor with a belaying pin and when the man went overboard, made no attempt to rescue him. Hansen also assaulted other seamen with the apparent connivance if not the direct orders of the captain. Charged under the 1915 Seaman Act, he was indicted in 1922 for assaulting A.R. Arnesen, a naturalized U.S. citizen.  Hansen was found guilty and sentenced to five years in federal penitentiary.  The four seamen who were libellants were awarded a total of $14,500 in damages – paid by the ship's owner. One sailor had been virtually blinded by Hansen's beatings.
Mr. Hansen is partially the subject of a book, Brutality on Trial: Hellfire Pedersen, Fighting Hansen, and the Seamen's Act of 1915
Source: http://www.lawcourts.org/LPBR/reviews/gibson0107.htm
Posted: Jason L Morrow (Editor), July 28th, 2014 under Mug Shot Monday.
Comments: none