Home
|
New Books
| New Book: Murder in the Name of Love: The Phil Kennamer Trial
Every major city has that one true crime story that supersedes all others. In Tulsa, where I live now, the most legendary crime of all was the murder of John Gorrell Jr, the college age son of a beloved local doctor, by Philip Kennamer, the brash, arrogant, highly intelligent but mentally unstable son of a federal judge. I wrote a book about that crime that was published last May. As far as I know, it was the first time in eighty-years a book had ever been published about the case. I heard from others that many books on it were started, but none were ever finished.
Today, I am happy to announce that a new book about this legendary case has recently been published by my pal, Jim Freese. This time, the author has an inside angle to the story: he is the grandson of Virginia Wilcox, the young lady who was at the center of it all in 1934.
Jim Freese has been wanting to write this story for a very long time, he once told me, and I am glad he accomplished his dream and wrote this book. I know it was not only important to Jim and his family, but it is also an important contribution to the history of Tulsa, as well as Oklahoma.
With two books on the subject, both he and are sure it will only raise the level of interest in this fascinating true crime saga. Congratulations to the author on a job well-done.
Book Summary: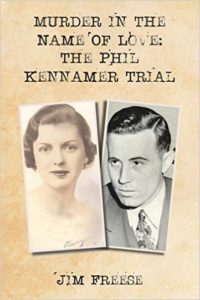 In Tulsa, Oklahoma, during the Great Depression, a young Phil Kennamer, the son of a prominent federal court judge, is lovesick for Virginia Wilcox, the teenage daughter of an oil millionaire. Phil is obsessed and will do anything to win her heart. But she is not interested.
Phil learns of a plot to kidnap Virginia for ransom. He feels compelled to protect her and her family from harm. He intervenes with an unconventional plan to stop it. But the intervention goes awry. John Gorrell, the conspirator and son of a well known Tulsa physician, is killed in a wealthy neighborhood on Thanksgiving evening in 1934. The murder stuns the city. Phil confesses to the killing but declares it was in self-defense. Days later, Phil's friend, Sidney Born, is dead with a bullet to the head. Was his death a suicide? Or was it Gorrell's gang looking for revenge? Regardless, a key witness has been silenced. And Sidney's death sends the residents into a state of panic. Who will die next?
A true story of a forgotten crime that made national headlines, Murder in the Name of Love: The Phil Kennamer Trial is full of intrigue and drama as Phil's attorneys battle to save his life. But will the jury believe that this teenager is a hero or see him as a cold-blooded murderer?
Available on Amazon.
—###—
Posted: Jason Lucky Morrow - Writer/Founder/Editor, April 30th, 2016 under New Books.
Tags: Oklahoma
Comments: none