Home
|
Mug Shot Monday
| Mug Shot Monday! William T. Horton, 1946-2011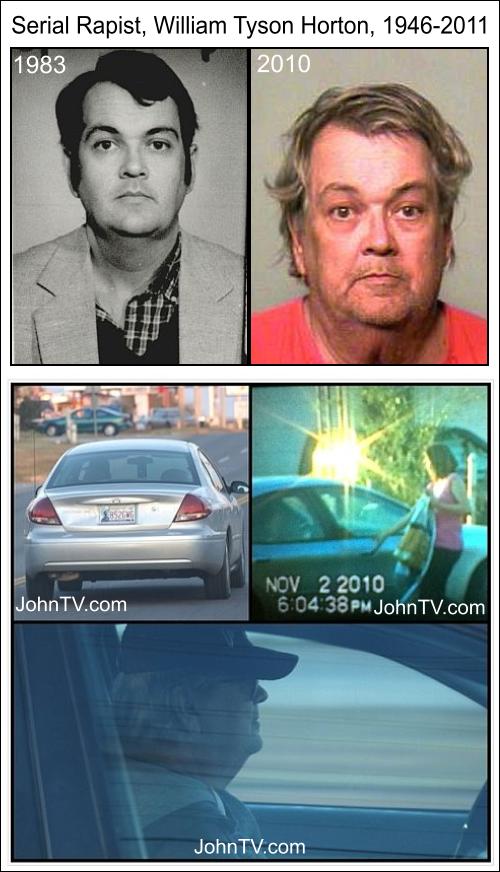 William Tyson Horton was a serial rapist and child molester from Oklahoma City who operated between 1970 and 2010. The unique aspects of his life of crime is that between 1970 and 1983, Horton repeatedly was able to wiggle out of many serious rape and molestation charges against him by lenient judges and high priced attorneys. Born in 1946, Horton was the only son of wealthy father who owned the local Ford dealership, as well as an amateur baseball team in Texas. Between 1963 and 1969, Horton stacked up dozens of very serious traffic violations for which he was never punished because his father, one observer speculated, was on the city's Safety Board which promoted safe driving practices. By 1970, however, his license is suspended for 90 days. During that time, Horton discovers his real passion for sex crimes when he burglarizes a neighbor's apartment, makes an obscene phone call to another woman, then chloroforms and rapes another woman.
Between 1970 and 1983, Horton solicits prostitutes, commits more rapes, assaults, and molestations. In one incident, he cuts a prostitutes throat with a knife, who, fortunately, survives her wounds. For that crime, he is arrested, charged, and held accountable in court in 1983. Before he can be sentenced, however, Horton flees with the bail bondswoman who posted his bond. He is captured a few months later in Kansas City, Missouri, where police found a pair of boy's underwear in his room. He also fits the description, Kansas City police reported, of the man responsible for committing numerous rapes in the area. While Horton was on the run, the judge in his trial sentenced him in absentia to sixty years in prison.
He serves 27 and gets out in 2010. He moves into what is called a "safe community" for registered sex offenders and quickly resumes his practices of picking up and assaulting prostitutes. A famous OKC video vigilante who records local men picking up prostitutes and posts the videos on his website, JohnTV.com, posted video stills of Horton cruising for prostitutes and one of them getting into his car. The "Video Vigilante" also reported that several girls informed him that Horton had picked up several prostitutes, duct taped them, and raped them at knife point.
But things had changed since Horton was able to wiggle out of punishment in the 1960s and 70s and he was arrested a few days later on four complaints of assault and battery with a deadly weapon, two complaints of kidnapping and two complaints of forcible sodomy.
According to JohnTV, Horton was looking for young children to have sex with before he was arrested. "…several Oklahoma City street prostitutes were claiming that Horton was violently attacking women and offering others cash if they could introduce him to drug addicts with young children he could then pay to have sex with."
Horton died in 2011 while in custody awaiting court action in his case.
A summary of his life of crime can be read here: "To Best Meet The Needs of Justice" : : William Tyson Horton (1946-2011)
You can read about his 2010 arrest here: Man arrested in kidnappings, sexual assaults in Oklahoma City,
And a very interesting article from JohnTV.com here: Man suspected of attacking and raping several OKC prostitutes arrested; Previously identified by JohnTV
His death reported here: OKC street prostitute rapist dies in jail awaiting trial
Estimated Reading Time: 45 to 60 minutes.
—###—
Posted: Jason Lucky Morrow - Writer/Founder/Editor, February 16th, 2015 under Mug Shot Monday.
Comments: none