New Book: Notorious San Francisco: True Tales of Crime, Passion and Murder, by Paul Drexler
Home
|
New Books
| New Book:
Notorious San Francisco: True Tales of Crime, Passion and Murder
, by Paul Drexler
Editor's Note: From an anecdotal standpoint, there are four major cities in the United States in which the most interesting murder cases unfold: New York City, Chicago, Los Angeles, and San Francisco. Interesting crimes, famous crimes, and infamous serial killer cases have occurred in all other major American cities, but it seems like the best of the best, for whatever reason, occur in those four major cities.
When it comes to true crime stories, San Francisco is special. Over the last 150 years, the city's history includes the infamous cases of: Cordelia Botkin, William Henry Theodore Durrant, the unsolved murder of Nora Fuller, the "Gas-Pipe" killers, Lloyd Sampsell, and the Zodiac Killer, just to name a few.
Having spent more time in the San Francisco area than in the other three, infamous murders known to that city draw me in to learn more.
So when my fellow crime historian friend Paul Drexler recently released his new book, Notorious San Francisco: True Tales of Crime, Passion and Murder, I was excited to buy a copy and start digging into a fascinating anthology of the most dramatic criminal cases known to this one-of-a-kind city.

Drexler is the most qualified individual in the United States to write about San Francisco crimes. He is the director of "Crook's Tour of San Francisco," a guided tour he provides to tourists curious to visit the city's most notorious locations tied to 150 years of killin' and criminal mayhem.
This is a guy who knows what he's talking about when it comes to San Francisco history. He has appeared on the Investigation Discovery Network show Deadly Women as an expert on San Francisco murderesses. In 2017 He received the Oscar Lewis award from the San Francisco History Association for his writing on San Francisco.
With the Amazon Kindle version selling for only $5.96, the book is a must read for true crime lovers across the entire United States who want to peek into the dark side of a city known for some of the best true crime stories in the world.
Book Description: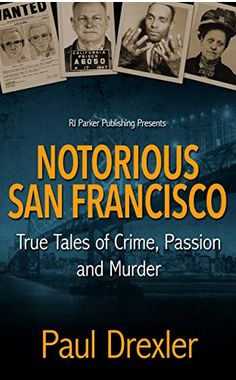 San Francisco, a city founded in part by criminals, was once one of the most dangerous cities in America. Its Barbary coast was called "a unique criminal district that was the scene of more viciousness and depravity, but it possessed more glamour, than any other area on the American continent."
"San Francisco Notorious" brings back the glamorous depravity and noir atmosphere that made it the premier location for murder thrillers like "The Maltese Falcon," "Vertigo," and "Zodiac."
This book contains more than 20 compelling tales of serial killers, deadly women, con-men, masters of escape, and unsolved mysteries. San Franciscan criminals were as colorful as the city they inhabited. Take William Thoreson, a murderous millionaire who hid the nation's largest private armory in his Pacific Heights mansion. Then there's Isabella Martin, the murderous "Queen of Grudges" who tried to poison an entire town, or Ethan McNabb and Lloyd Sampsell, the "Yacht Bandits," who used a luxurious sloop as a getaway vehicle for their dozens of bank robberies.
Most of these unusual cases are largely unknown and have never appeared in book form. Included are cases that are still mysteries today, including the mysterious tale of the Zodiac Killer, complete with a new analysis and a startling new theory on the murder.
A peak into his new book and guided tours can be viewed on Youtube.
—–###—–
True Crime Book: Famous Crimes the World Forgot Vol II, 384 pages, Kindle just $3.99, More Amazing True Crime Stories You Never Knew About! = GOLD MEDAL WINNER, True Crime Category, 2018 Independent Publisher Awards.
---
Check Out These Popular Stories on Historical Crime Detective
Posted: Jason Lucky Morrow - Writer/Founder/Editor, June 5th, 2019 under New Books.