Free Audiobook Sample Chapter Available
'The Carver Family Hatchet Murders, 1930'
Home
|
Feature Stories
| Free Audiobook Sample Chapter Available
'The Carver Family Hatchet Murders, 1930'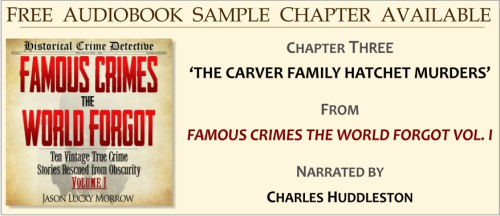 Last year, 2019, I was approached by former Broadway actor and audiobook narrator Charles Huddeston, who offered to narrate my two books in the Famous Crimes the World Forgot series. I've been approached before by other narrators, but passed on their offers for one reason or another. I'm so, so thankful that I did not so with Mr. Huddleston's offer as you will soon learn that his rich, baritone voice is the stuff of legends. My personal opinion is that he is one of the top 10 narrators in the world.
He is just that good.
When I listened to Mr. Huddleston narration for Volume I, I was so captivated in the telling of the story that I actually forgot for a time or two that I wrote the book. My self-dialogue was (Wow. This is a really good story…. Long pause… Oh, wait, I wrote this story!) Lost in the story as told Mr. Huddleston, I truly forgot I wrote it. When something that is read becomes something you listen to, its a different experience.
I have posted the audio file for Chapter 3 of Volume I, 'The Carver Family Hatchet Murders,' to the blog, seen below. Downloadable audio files are also available. You can listen to the story from the blog, or download the audio files to your device.
I'm confident you will enjoy the 45 minute experience of a world class storyteller.
…
Click

to Play or Download 62mb File as MP3 or WAV
– – – – –
True Crime Book: Famous Crimes the World Forgot Vol II, 384 pages, Kindle just $3.99, More Amazing True Crime Stories You Never Knew About! = GOLD MEDAL WINNER, True Crime Category, 2018 Independent Publisher Awards.
---
Check Out These Popular Stories on Historical Crime Detective
Posted: Jason Lucky Morrow - Writer/Founder/Editor, November 1st, 2020 under Feature Stories.
Tags: 1930s, Audio, Florida