Jason Lucky Morrow & HistoricalCrimeDetective.com
Welcome to HistoricalCrimeDetective.com where you will discover forgotten crimes and forgotten criminals lost to history. You will not find high profile cases that have been rehashed and retold ad infinitum to ad nauseam. If you like history, true crime, and interesting stories about people from the past you've come to the right place.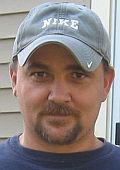 About Me: When I was twelve-years-old, I won first place in a county-wide creative writing contest. Long before then, I knew I wanted to read stories and write stories. By age 14, I was a published poet and in high school, I wrote for the school newspaper. I graduated with a Bachelor of Arts degree from the University of South Alabama in 1995 with a double major in Journalism and Creative Writing. I worked as a newspaper reporter and feature editor for six years in Alabama and Nebraska where I won an award from the Nebraska Press Association. For the last 15 years, I have worked in internet marketing and website management. I have lived and worked in Nebraska, Texas, Alabama, Romania, and now, Oklahoma where I currently reside in the Tulsa area.
HistoricalCrimeDetective.com combines my interest in history, research, psychology, true crime, and writing non-fiction. I built this historical true crime blog to present stories from our past that I believe are being lost and ignored. I believe they still have value, and that the lives of those who lived them are still important. I truly care about discovering these forgotten crime stories, researching each case as thoroughly as I can, digging up all the pieces, and then crafting everything into what I hope is a well-written story that informs and entertains the reader.
I really enjoy what I do and I hope that is passed on to every reader.
You can discover the latest stories and posts by following us on Facebook. You can also browse around this website and find interesting stories on every page.
Favorite Quote: I was never tempted to write non-fiction, primarily because it's too much work. – John Grisham
Thank you for visiting my website.
Jason Lucky Morrow
June 20, 2013
(Updated March 23, 2017)

NOTICE: Due to a hectic work and parenting schedule , I am not able to respond to every email I receive. Please don't ask me to do free genealogical research into your family. Please don't ask me to do free research or writing for your project. Also, I will also not be posting any new book notices for awhile due to a lack of reciprocation in the past. I apologize for any inconvenience this may cause.
---