Was a Mermaid Captured in 1890?
Home
|
Rediscovered Crime News
| Was a Mermaid Captured in 1890?
Okay, this isn't crime related, but it is mysterious. And weird. A short news story published in 1890 about a captured mermaid–with a well-developed bosom, apparently. I find all kinds of weird stories when digging around in old newspapers and this is just one example. — JLM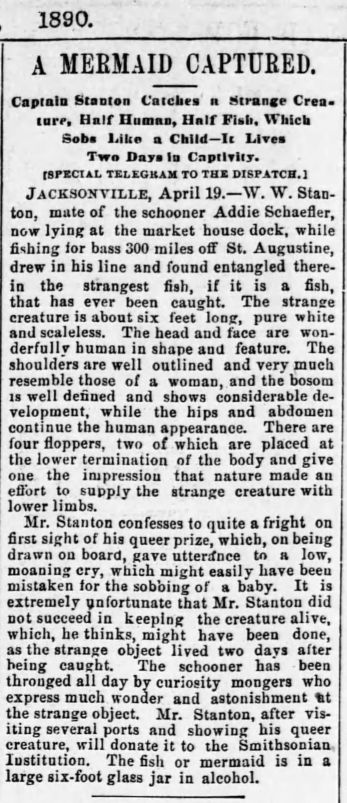 —###—
True Crime Book: Famous Crimes the World Forgot Vol II, 384 pages, Kindle just $3.99, More Amazing True Crime Stories You Never Knew About! = GOLD MEDAL WINNER, True Crime Category, 2018 Independent Publisher Awards.
---
Check Out These Popular Stories on Historical Crime Detective
Posted: Jason Lucky Morrow - Writer/Founder/Editor, May 5th, 2017 under Rediscovered Crime News.