Mug Shot Monday! Emma LeDoux, Housewife, Prostitute, Bigamist, Murderer
Home
|
Mug Shot Monday
| Mug Shot Monday! Emma LeDoux, Housewife, Prostitute, Bigamist, Murderer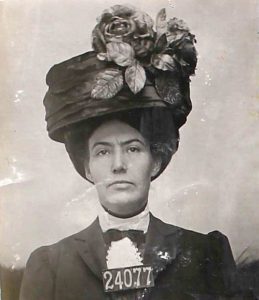 Emma Head was born near Jackson, Amador County, California, where her parents were in comfortable circumstances.
While quite young, she married a man named Barrett, but after living with him a short time in Fresno, Cal., a divorce was granted, and she then married a man named Williams, with whom she went to Arizona.
The woman had his life heavily insured and shortly afterward he died under peculiar circumstances.
In September 1902, she was married to Albert N. McVicar in Bisbee, Arizona, by Rev. H. W. Studley.
They soon separated and she finally became an inmate of a brothel.
Without being legally separated from McVicar, she married one Eugene LeDoux in Woodland, Cal., on August 12, 1905, and the couple resided at her mother's home near Jackson.
---
True Crime Book: Famous Crimes the World Forgot Vol II, 384 pages, Kindle just $3.99, More Amazing True Crime Stories You Never Knew About! = GOLD MEDAL WINNER, True Crime Category, 2018 Independent Publisher Awards.
---
Check Out These Popular Stories on Historical Crime Detective
Posted: Jason Lucky Morrow - Writer/Founder/Editor, April 24th, 2017 under Mug Shot Monday.
Tags: 1900-1919, California, Love Triangle, Murder, Women