The Acid Doctor: The Most Horrendous Murder in American History, 1962
Home
|
Short Feature Story
| The Acid Doctor: The Most Horrendous Murder in American History, 1962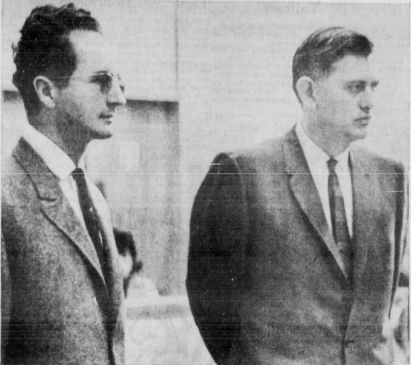 On the left, Hungarian born Dr. Geza de Kaplany during his trial in January 1963
One of the most painful and horrific murders in American history was committed by Hungarian born Dr. Geza de Kaplany, whose jealousy and insecurities led him to torture his young wife to death by pouring acid on her as she was bound to the bed in their San Jose, California, home on August 27, 1962. Beautiful Hajna de Kaplany, a twenty-five-year-old model, did not die right away. Police were alerted to the home when neighbors complained of loud music and wailing of someone in pain. When the ambulance attendants arrived, their hands were burned when they tried to handle the body.
Hajna, unfortunately, lived for thirty-three more days in a hospital where her mother prayed for her death and the attending nurses were barely able to look upon the damage de Kaplany had caused. One observer, wrote veteran crime writer Carl Sifakis, said it was "the most horrendous single murder in American history."
During his trial, de Kaplany pleaded not guilty and not guilty by reason of insanity. His attorney argued he was driven to insanity because of frustration over his own impotence, and an unfounded rumor that his wife was having an affair. During the trial, he claimed he never meant to kill her, but only wanted to "destroy her beauty."
The jury found him guilty and when they considered his punishment, they were assured that if they sentenced him to life in prison, he would be classified a special interest prisoner and would never be released. But this turned out not to be true and the country was surprised to discover that Dr. de Kaplany was quietly paroled in 1975. Forced to defend their actions to an angry public, the California Adult Authority (the state parole board) reported that a missionary hospital in Taiwan desperately needed a cardiologist with Dr. de Kaplany's skills.
Prior to coming to the United States, de Kaplany worked in Hungary, as a heart specialist. When he came to America, he was forced to repeat his medical education and chose to specialize in anesthesiology. His parole was contingent on leaving the United States and that he serve in the missionary hospital, which he did, but only for a few years.
In 1980, Dr. de Kaplany was fired from a Munich hospital he was working at when a magazine article recounting his crimes was made known to administrators.
In 2002, reporters for the San Jose Mercury News tracked de Kaplany down to a home in Bad Zwischenahn, Germany, where he lived with his second wife whom he met in Taiwan. When the reporter interviewed de Kaplany, the doctor claimed he had suffered enough for his crime.
"I have done one mistake in my life," de Kaplany stated. "I paid enough for it."
He then begged the reporter not to publish his story. "It would ruin my life." He said before adding "I was insane."
As it turned out, de Kaplany had found the Taiwan missionary himself by reading news accounts, then told the parole board, "[I will] devote the rest of my life—however long or short it may be—to serving the poor in underdeveloped countries, whose pain and suffering I would alleviate."
That pledge only last four years and in 1979, de Kaplany jumped bail and flew to Germany where he found work using his Hungarian credentials.
As the Mercury reporters revealed in their 2002 article, de Kaplany's parole was a fiasco from beginning to end. The wife-killer had secured the support of several Catholic priests and one archbishop who lobbied the parole board, in secret, on the doctor's behalf.
Two years before he was tracked down, de Kaplany became a German citizen in 2000, which placed him permanently out of the reach of California authorities, who could have returned him to prison for violating his parole.
The hypocritical audacity of de Kaplany continued in that interview when he insisted on being called "Doctor, Doctor Geza de Kaplany, because he had both medical and philosophical doctorate degrees. The seventy-six-year-old then blamed the parole board for why he left the country.
"If I stayed in California, I would be on parole. But they gave up the authority with kicking me out of the country. You can't eat your chicken and have it too."
It is unclear of Dr. de Kaplany still is alive or not. If so, he would be eight-eight-years-old (in 2015).
Read More:
San Jose Mercury News archived article from 2002
Dr. Geza de Kaplany – Wikipedia
—###—
True Crime Book: Famous Crimes the World Forgot Vol II, 384 pages, Kindle just $3.99, More Amazing True Crime Stories You Never Knew About! = GOLD MEDAL WINNER, True Crime Category, 2018 Independent Publisher Awards.
---
Check Out These Popular Stories on Historical Crime Detective
Posted: Jason Lucky Morrow - Writer/Founder/Editor, March 19th, 2015 under Short Feature Story.
Tags: 1960s, California, Murder, Wife Killer