Little Demon in the City of Light
by Steven Levingston
Home
|
New Books
| Little Demon in the City of Light
by Steven Levingston
This gem of a true crime story, which takes place in Paris 1889, is now out in paperback—making it affordable to everyone with a price range of $7.87-$11.36 on Amazon. Author Steven Levingston is the non-fiction editor for the Washington Post.
Book Description:
A delicious account of a murder most gallic—think CSI Paris meets Georges Simenon—whose lurid combination of sex, brutality, forensics, and hypnotism riveted first a nation and then the world.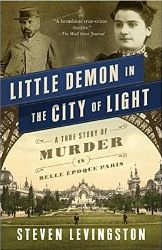 Little Demon in the City of Light is the thrilling—and so wonderfully French—story of a gruesome 1889 murder of a lascivious court official at the hands of a ruthless con man and his pliant mistress and the international manhunt, sensational trial, and an inquiry into the limits of hypnotic power that ensued.
In France at the end of the nineteenth century a great debate raged over the question of whether someone could be hypnotically compelled to commit a crime in violation of his or her moral convictions. When Toussaint-Augustin Gouffé entered 3, rue Tronson du Coudray, he expected nothing but a delightful assignation with the comely young Gabrielle Bompard. Instead, he was murdered—hanged!—by her and her companion Michel Eyraud. The body was then stuffed in a trunk and dumped on a riverbank near Lyon.
As the inquiry into the guilt or innocence of the woman the French tabloids dubbed the "Little Demon" escalated, the most respected minds in France debated whether Gabrielle Bompard was the pawn of her mesmerizing lover or simply a coldly calculating murderess. And, at the burning center of it all: Could hypnosis force people to commit crimes against their will?
From The New York Times Sunday Book Review:
Levingston has unearthed a whopper of a story, and lovingly crafted a dense, lyrical yarn that hits the true-crime trifecta of setting, story and so-what. Such books remind us that times may change, but the human animal does not. Erik Larson's "The Devil in the White City" hit that mark so profitably that the reader can be forgiven for assuming Levingston has created a mere echo in "Little Demon in the City of Light." But this is no copycat crime book. First, this isn't Chicago's 1893 World's Fair, but Paris's 1889 International Exposition, where we are introduced to Eiffel's iron monstrosity, and our main characters: a randy dandy, a femme fatale (the "Little Demon" of the title) with a weakness for being hypnotized, her manipulative con man lover and a soulful chief detective who packs a magnifying glass rather than a gun. Boxing kangaroos and a vaudevillian who sings "Au Claire de la Lune" through his anus add to the riotous circus.
Available from Amazon in Kindle, Paperback, Hardcover and Audible.
—###—
True Crime Book: Famous Crimes the World Forgot Vol II, 384 pages, Kindle just $3.99, More Amazing True Crime Stories You Never Knew About! = GOLD MEDAL WINNER, True Crime Category, 2018 Independent Publisher Awards.
---
Check Out These Popular Stories on Historical Crime Detective
Posted: Jason Lucky Morrow - Writer/Founder/Editor, March 28th, 2015 under New Books.