Mug Shot Monday! Joe Crowe, 1938
Home
|
Mug Shot Monday
| Mug Shot Monday! Joe Crowe, 1938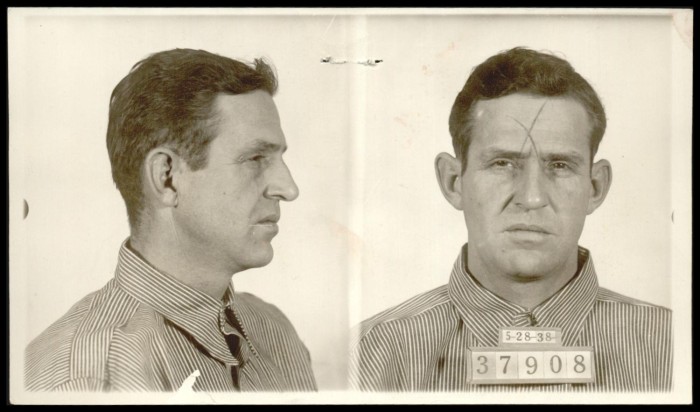 Joe Crowe's Prison Mug Shot
Oklahoma State Penitentiary convict Joe Crowe is a great example of the laxness with which prisons once guarded their inmates. In 1938, Crowe was a prison trustee on a dam project near Fort Towson, Oklahoma, where state convicts provided a large portion of the labor force. That November, Crowe left his post, gained access to a car, and drove to Paris, Texas, where he robbed a gas company office of $20. He then returned to dam site and resumed his trustee position as a supervisor over the other inmates.
Authorities later discovered his unauthorized field trip, and gas company employees identified him as the man who robbed them. He was already serving a five-year sentence for armed robbery of a loan office. The legal outcome of the gas company robbery is unclear.
The X on his forehead was done by a newspaper editor who used this photograph in 1938 to publicize his field trip. It signals to the staff who lays out the newspaper he only wants to use the photo on the left.
—###—
True Crime Book: Famous Crimes the World Forgot Vol II, 384 pages, Kindle just $3.99, More Amazing True Crime Stories You Never Knew About! = GOLD MEDAL WINNER, True Crime Category, 2018 Independent Publisher Awards.
---
Check Out These Popular Stories on Historical Crime Detective
Posted: Jason Lucky Morrow - Writer/Founder/Editor, March 30th, 2015 under Mug Shot Monday.
Tags: 1930s, Escape, Oklahoma