Mug Shot Monday! Murderer Paul Clein, 1909
Home
|
Mug Shot Monday
,
Short Feature Story
| Mug Shot Monday! Murderer Paul Clein, 1909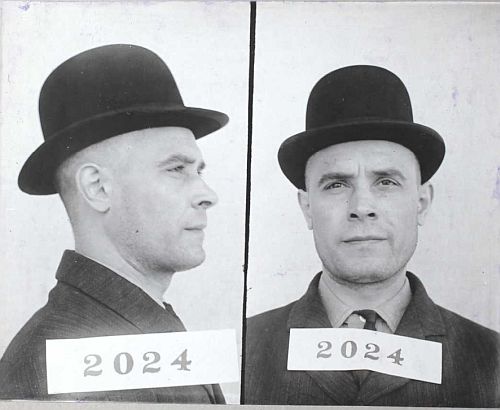 Paul Clein
On March 1, 1909, thirty-six-year-old German immigrant, Paul Clein, and Polish immigrant John Saudawski, also in his late thirties, were seen together eating supper at a German bakery in Spokane, Washington. Three weeks later, Saudawski's partially burned body was found on the Fort George Wright military reservation[1] on the outskirts of Spokane. When city coroners performed an autopsy on Saudawski, they found partially undigested beans in his stomach, and estimated he had eaten two to four hours before his death. They also discovered and removed two .32 caliber bullets–one from the victim's neck, and the other from his skull.
Investigators quickly determined that Clein was the last known man seen with Saudawski. They also discovered he had recently traded off a .32 caliber pistol—the same caliber used to kill Saudawski. When confronted with this fact, Clein denied it, and said he gave the weapon to his fiancé, Mrs. Ida Douglas, one month earlier, and that she had since parted with it. Douglas declined to speak with police or reporters, but would not alibi her lover, either.
Clein had arrived in Spokane by way of British Columbia where he served as a mounted police officer. Before immigrating to Canada, Clein was a soldier in the German army. From his military and law enforcement experience, Clein was a tough customer during his interrogation, which may have included violence. He was smart enough to know that any confession on his part would be fatal, but to wiggle his way out of the murder charge, he gave multiple statements that conflicted with each other.
After three days of questioning, Clein eventually placed himself with Saudawski on March 1, when he admitted having dinner with the Polish immigrant. As the last known person with Saudawski before he disappeared, Clein was formally charged with his friend's murder.
"He has explained things in a way that did not explain them, as subsequent investigations revealed," the Spokane Press newspaper reported on March 25. "He has become entangled in his statements, has told conflicting stories, yet through it all, denies any responsibility for the unoffending Pole, Saudawski."
As soon as Clein was named the chief suspect, both the Spokane police and newspaper reporters began digging into his background and discovered more forensic and circumstantial evidence against him, as well as unsavory facts about his character.
Wagon tracks leading to the area where the body was found matched the rubber padded wheels of a rented buggy that was traced back to a downtown Spokane stable where the owner identified Clein as one who hired the rig. That particular buggy had distinctive yellow running gears which several witnesses identified as being in the vicinity of Fort George Wright military reservation on the Tuesday morning of March 2. Clein's time card at his place of employment revealed that he arrived for work two hours late that same morning.
When investigators searched Clein's hotel room, the found a hidden compartment in his trunk that revealed his true name was Paul Krasnensky, and that he was once married with twins, but that his wife and one of the children had died while they were living in Canada. His remaining child was then placed in someone else's care before Clein set off on his own.
They also found love letters from "a woman of ill repute" back in Kalso, British Columbia. Mae Randall was later described by reporters as a beautiful, young blonde woman who wore the latest fashions. Just prior to Saudawski's murder, Clein had written to her asking for money. When he was arrested, police found him in possession of $30, money which he said he always carried with him. However, his coworkers stated he was "crying poverty" in the days before March 1.
As if his carrying on with two women, one of them a fancy prostitute, wasn't bad enough, Spokane detectives found several tools belonging to his employer in Clein's hotel room.
When the coroners determined Saudawski had been murdered two to four hours after he last ate, the assumption was made, by local prosecutors, that he was murdered on state land. This belief led to state charges and a May trial in a Spokane courtroom where Clein was found guilty and sentenced to death.
After he was convicted, Clein continued to profess his innocence and begged to be turned loose so he could catch the real killer.
"I can find the fellow who did it if they will turn me loose," Clein self-righteously declared to a Spokane Press reporter. "And I will secure his conviction with stronger testimony than circumstantial evidence at that. What can a man do when he is cooped up here?"
However, when the reporter repeated Clein's fanciful proposition to the prosecutor's office, it got a good laugh. During Clein's trial, while Ida Douglass sobbed for her fiancé in the courtroom, Clein's former lover, Mae Randall, dropped a stack of love letters on the prosecutor's desk one night after jury selection. In them, he had written to her of his heartfelt desire for their impending marriage and at the same time, made emotionally manipulative demands for Mae to send him money. To the city of Spokane, Clein's ability to seduce two women at the same time destroyed his credibility—which only made his latest proposal to track down the real killer seem ludicrous to everyone but him.
"At the prosecutor's office Clein is regarded as the most persistent liar prosecuted in Spokane County in years," the Spokane Press writer continued. "No stock is taken in his insinuations that someone else killed Saudawski. Clein, after his arrest, tried to cast suspicion on Paul Fuchs, causing him to be detained for a day or two. Then later, Clein insinuated things against his former roommate, Joe Schultz, which the officers found had no basis."
The only person to believe in Paul Clein's honesty was Paul Clein. Even the woman who cried for him at his trial refused to perjure herself regarding his claim of turning over his revolver to her one month before the murder.
But what he lacked in honesty he made up for with dumb luck and on January 4, 1910, Clein was granted a new trial that would take place in federal court. The motion came from his attorney, who argued that since Saudawski's body was discovered on federal land, the state could not prove that he wasn't killed on federal land. The judge in his first trial agreed and Clein's case was moved to federal court.
Due to internal matters at the federal courthouse, Clein's case was continually postponed but on May 22, 1911, approximately two years after his first trial, he was found guilty a second time and sentenced to life in prison. His life had been spared—but not for long. According to the McNeil Island Federal Prison records, Paul Clein, inmate number 2024, died on May 20, 1914, at 11:20 a.m. He was buried in the prison cemetery the following day. His cause of death was not listed.
[1] Most of the land from this former military base is now home to Spokane Falls Community College.
—###—
True Crime Book: Famous Crimes the World Forgot Vol II, 384 pages, Kindle just $3.99, More Amazing True Crime Stories You Never Knew About! = GOLD MEDAL WINNER, True Crime Category, 2018 Independent Publisher Awards.
---
Check Out These Popular Stories on Historical Crime Detective
Posted: Jason Lucky Morrow - Writer/Founder/Editor, April 13th, 2015 under Mug Shot Monday, Short Feature Story.
Tags: 1900-1919, Murder, Washington State