Serial Killer Anna Marie Hahn, 1933-1938
Home
|
Short Feature Story
| Serial Killer Anna Marie Hahn, 1933-1938
Anna Marie Hahn was a female serial killer who became the first woman ever to be executed in Ohio after it was confirmed that she poisoned five old men to death in order to gain their estates through fraudulently produced wills or by raiding their bank accounts.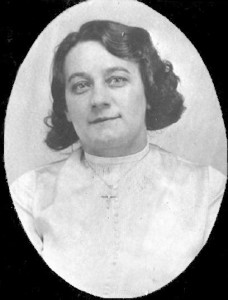 In 1927, Anna emigrated from Germany and settled in Cincinnati where she married Philip Hahn, a telegraph operator. A few years into their marriage, Philip came down with a mysterious illness and over the loud protestations of Anna, his mother had him transported to the hospital where she looked after her son's care.
In 1932, Anna gave up her small bakery she owned and took up a new profession as a home nursemaid to single, elderly men. Between 1933 and 1938, Anna cared for five men who all died while in her care—five men that we know about. Authorities, at the time, stopped exhuming bodies after five of them were found to have traces of arsenic.
Her victims and the profits she gained included:
Erich Koch, 72, May 6, 1933, house.
Albert Parker, 72, date unpublished, a $1,000 loan given to Anna before he died. The IOU she signed disappeared after his death.
Jacob Wagner, 78, June 3, 1937, $17,000 left to his "beloved niece" Anna.
George Gsellman, July 6, 1937, $15,000.
George Obendoerfer, August 1, 1937, $5,000.
One man who escaped her fatal care was George Heiss who became suspicious when flies sipping the beer she brought him keeled over and died in front of him. He ordered her to take a big swallow from his beer stein, and when she refused, he fired her.
Obendoerfer's death, which occurred out of state, raised suspicions and authorities began their investigation which led to Anna's arrested and a four week trial in November 1937, in which she was found guilty and sentenced to death. The motive for the murders, it came out, was to cover losses incurred by her addiction to gambling.
All the way up until the very end of her execution, slated for December 7, 1938, Anna believed the state of Ohio would not put a woman to death and her sentenced would be commuted. She was wrong. As they were strapping her into the electric chair, it dawned on her that she was going to die and in her last words, she pleaded with the warden to save her life. "No, no, no! Mr. Woodward, Mr. Woodward, don't do this to me. Won't someone help me?"
Another report states that her last words were: "Please don't. Oh, my boy. Think of my boy. Won't someone, won't anyone, come and do something for me? Isn't there anybody to help me? Anyone? Anyone? Is nobody going to help me?"
She was also, apparently, in the middle of saying the Lord's Prayer when the switch was thrown.
Read More:
http://murderpedia.org/female.H/h/hahn-anna-marie.htm
—###—
True Crime Book: Famous Crimes the World Forgot Vol II, 384 pages, Kindle just $3.99, More Amazing True Crime Stories You Never Knew About! = GOLD MEDAL WINNER, True Crime Category, 2018 Independent Publisher Awards.
---
Check Out These Popular Stories on Historical Crime Detective
Posted: Jason Lucky Morrow - Writer/Founder/Editor, April 17th, 2015 under Short Feature Story.
Tags: 1930s, Execution, Ohio, Serial Killer, Women