Oklahoma Executioner Rich Owens Discusses His Long Career in 1948 Article
Home
|
Feature Stories
,
Rediscovered Crime News
| Oklahoma Executioner Rich Owens Discusses His Long Career in 1948 Article
Rich Owens was the executioner for the state of Oklahoma from 1915 to 1947. In addition to being a guard, his took the position as executioner because the state paid him $100-150 for every man he executed.
During his life, he killed a total of 75 men: sixty-six of those were by execution, and the other nine were men he killed under various circumstances.
Below, he describes a prison escape by two inmates. They had snuck-up behind him, stabbed him in the back, left the knife in, and were going to walk him out the front gate. Here is his story of how he killed both of them with his own hands.
"By then, I had my other hand loose. I grabbed that so and so by the hair and socked that knife in to the neck bone, nd I didn't pull it out straight. I just ripped 'er out and let 'er slice clear across. Then I kicked him a couple of times in the mouth and said now die, you so and so and go to hell with the others.
"You ought of seen how that so and so looked," he said.
"I went in the tool shed after that other one. He began to cry for mercy—Oh. Mr. Rich, oh, Mr. Rich, don't kill me.
"I said, you so and so, I said I'd kill you if you didn't kill me. I told you not ever to ask me for mercy. He jumped through the window and a guard shot him in the knee.
"He went down bellering and I finished him with a long-handled shovel. I sure smashed his brains out. Then I jumped up and down on his temple 'til I felt the skull crush in."
Please click on this LINK to read the rest of the story which is available by .pdf only.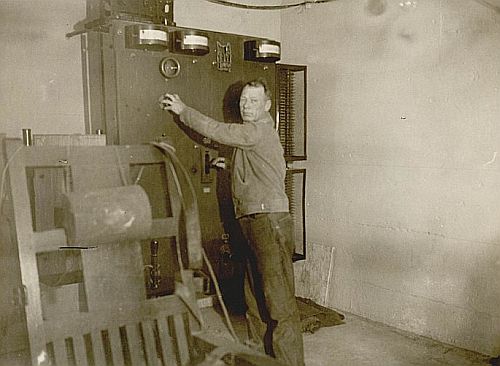 Photo Citation: Oklahoma Publishing Company. [Photograph 2012.201.B1046.0404], Photograph, November 22, 1933; (http://gateway.okhistory.org/ark:/67531/metadc538212/ : accessed October 26, 2015), Oklahoma Historical Society, The Gateway to Oklahoma History, http://gateway.okhistory.org; crediting Oklahoma Historical Society, Oklahoma City, Oklahoma.
—###—
True Crime Book: Famous Crimes the World Forgot Vol II, 384 pages, Kindle just $3.99, More Amazing True Crime Stories You Never Knew About! = GOLD MEDAL WINNER, True Crime Category, 2018 Independent Publisher Awards.
---
Check Out These Popular Stories on Historical Crime Detective
Posted: Jason Lucky Morrow - Writer/Founder/Editor, October 28th, 2015 under Feature Stories, Rediscovered Crime News.
Tags: Execution, Oklahoma