Mug Shot Monday! Serial Killer Herbert Mullin
Home
|
Mug Shot Monday
| Mug Shot Monday! Serial Killer Herbert Mullin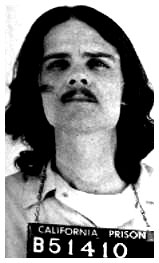 Herbert William Mullin is a serial-killer who murdered thirteen people in California between 1972 and 1973. After he was voted most likely to succeed when he graduated from a Santa Cruz high school in 1965, Mullin begins to exhibit bizarre behavior that would have him in and out of mental hospitals several times over the next few years. As it turns out, Mullin was a paranoid schizophrenic whose primary delusion was that he could prevent earthquakes by "sacrificing" the blood of his victims to the earth. His birthday, which came on April 18, was the same date of the devastating 1906 San Francisco earthquake, and Mullin believed this was significant. Before he began killing people, Mullin tried to self-medicate his mental illness with illegal drugs.
Among his thirteen victims were a twenty-four-year-old college coed, a catholic priest, and four young boys camping in a state park.
Mullin is serving his time at Mule Creek State Prison
A forty-two minute documentary about his case can be viewed below:
—-###—-
True Crime Book: Famous Crimes the World Forgot Vol II, 384 pages, Kindle just $3.99, More Amazing True Crime Stories You Never Knew About! = GOLD MEDAL WINNER, True Crime Category, 2018 Independent Publisher Awards.
---
Check Out These Popular Stories on Historical Crime Detective
Posted: Jason Lucky Morrow - Writer/Founder/Editor, October 12th, 2015 under Mug Shot Monday.
Tags: 1970s, California, Murder, Serial Killer