New Book: Blood Legacy – The True Story of the the Snow Axe Murders
Home
|
New Books
| New Book: Blood Legacy – The True Story of the the Snow Axe Murders
In BLOOD LEGACY: THE TRUE STORY OF THE SNOW AXE MURDERS, James Pylant sheds new light on a tale of 20 shocking deaths fueled by greed, insanity and revenge.
Book Description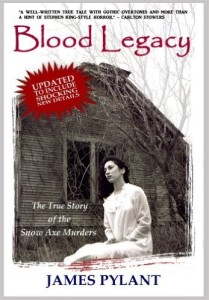 In 1925 Texans were stunned when a teenager's severed head was found in an abandoned farmhouse near the town of Stephenville. An investigation led to ex-convict F. M. Snow and the mysterious disappearances of his wife and mother-in-law.
But this shocking, bloody saga began 50 years earlier…
Beautiful, vivacious Samantha Jones had a penchant for dangerous men. Her teenage marriage to gambler Amos Smith ended when he was gunned down in a hit orchestrated by his wife's alleged lover, who was lynched. The widow then married the abusive Bill Olds who was later arrested for theft, forgery and murder.
Violence stalked the next generation when Samantha's daughter, Maggie Olds, was twice widowed with the murders of her second and fourth husbands. Yet, Maggie's unfortunate choice for a fifth husband, F. M. Snow, led to a gruesome, triple tragedy.
—###—
True Crime Book: Famous Crimes the World Forgot Vol II, 384 pages, Kindle just $3.99, More Amazing True Crime Stories You Never Knew About! = GOLD MEDAL WINNER, True Crime Category, 2018 Independent Publisher Awards.
---
Check Out These Popular Stories on Historical Crime Detective
Posted: Jason Lucky Morrow - Writer/Founder/Editor, October 8th, 2015 under New Books.