New Book: Suburban Nightmares: Australian True Crime Stories, by Emily Webb
Home
|
New Books
| New Book: Suburban Nightmares: Australian True Crime Stories, by Emily Webb
Australian journalist and true crime author, Emily Webb, has recently released her third true crime book with Suburban Nightmares: Australian True Crime Stories, which features 28 incredible true crime stories most Americans have never heard about. And, of course, the very first chapter is about an American who killed a girl with a crossbow.
Yes, a crossbow. More about him in a moment.
Author Emily Webb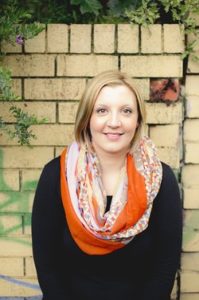 You might remember Webb from her last book I reviewed, Murder in Suburbia, which had 20 great stories about some of Australia's most horrific, gruesome, and terrifying crimes. (There were some in there I will never forget. Really, really, messed up killers.)
Besides being a true crime author and journalist, Webb is also a busy mum of two, and runs the highly respected blog — TrueCrimeReader.com True Crime Book Reviews, News & Views — which is where I go when I'm looking for a good, contemporary TC read.
You should follow her on Facebook. Seriously. She posts reviews on books I didn't even know were out yet. If you're an avid TC reader, click on that link and press like to get info on new books, as well as info about crimes happening a half-a-world away.
Here's the short but tantalizing description of Suburban Nightmares.
Book Description: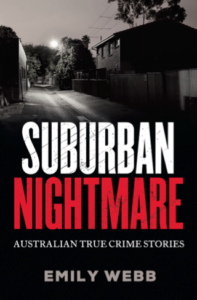 Think nothing ever happens where you live?
Suburban Nightmare is a collection of stories that are hard to believe, except they really happened – and all in the streets and homes of the Australia many of us know and live. The suburbs.
These cases range from recent murders to some historical stories that will shock and surprise.
One of Australia's best young true crime writers, Emily Webb probes the black underbelly of our towns and suburbs, and exposes the darkness at the heart of Australian life.
An afternoon of random violence by a nursing student armed with a shovel
18-year-old Annette Morgan, murdered in the grounds of Sydney University and still unsolved
The sad tale of 60 animals slaughtered at the Adelaide Zoo by two 18-year-olds on a murderous rampage
A series of cases about men who kill their families – sadly, there was no shortage of cases
The main suspect for the Tynong North and Frankston murders is now in his 80s – will there be justice for the victims of these 1980-81 murders?
Kurt "Crossbow" Dumas
Now, back to that American in Australia. His name is Kurt Dumas and he is doing time in California right now thanks to lenient sentencing laws down under. We had them here, too, up until the mid 1980s when Americans finally got fed up with it.
Here's an excerpt from the chapter on Kurt Dumas.
Kurt Michael Dumas and Lyndell Martin were friends. The pair, aged 20 and 19 respectively had met each other around three years before when they were both patients at the Parkville Adolescent Unit in Melbourne in 1982 and kept in sporadic contact.
On 18 November 1985 Dumas popped around to Lyndell's flat in inner-city Melbourne and arrangements were made for her to come to his place that night for dinner.  It had been several months since they had seen each other.
What went on in the flat that evening is not known for sure but Lyndell never made it home.
She was found dead in the bathroom of Dumas's flat four days later. It was Dumas's mother Gail who found her body. There was a 14cm steel-tipped arrow embedded in the victim's abdomen.
From court records and newspaper archives the picture emerged of Dumas as an extremely dangerous young man. Mrs Dumas told the coroner's court that her son had suffered severe head injuries after falling from a table at the age of three months. She said that since that accident Dumas had several brain operations.
Mrs. Dumas said he became violent, unpredictable and had been asked to leave three schools because of this behavior.  He also spent some years as an inpatient in mental hospitals including the one where he met Lyndell.
Dumas was born in Michigan, USA, on 12 December 1965. The family emigrated to Australia in 1972. He returned to the United States for short time in 1978 and came back to Australia in 1979.
On 19 December 1986 Dumas was sentenced to life imprisonment but Justice Hampel fixed a minimum term of 18 years before the young killer could be considered for parole.
Justice Hampel said: "The evidence and all the surrounding circumstances, in my view, plainly demonstrate that there is a real likelihood that a crime of the kind committed on Lyndell Martin may be again committed by you".
Dumas's sentence was lengthy but he was released after his minimum term, which would have been around 2003.
Dumas ended up back in America, renting a room from a woman called Denise Ann Howes in Redford, Wayne County.
She had no idea how dangerous he was.
When Denise's partner Todd could not get in contact with her on December 7, 2004 he held grave concerns for her safety. He'd spotted her car – a 2000 Jeep Cherokee – but it was Dumas who was in the driver's seat.
When police attended the address they found Denise dead in her bedroom. She'd been shot. There was duct tape over her mouth.  At that point The Redford Police didn't know of the arrestee's violent past and how he'd committed an almost identical crime almost 20 years ago.
Dumas was arrested and he told police he'd served time in an Australian jail for killing a woman in "similar circumstances".
He pleaded guilty to second-degree homicide and felony firearms. He was sentenced on 8 April 2005 to a minimum of 43 years (maximum 80 years) for the homicide charge and two years for firearms offense.
—###—
True Crime Book: Famous Crimes the World Forgot Vol II, 384 pages, Kindle just $3.99, More Amazing True Crime Stories You Never Knew About! = GOLD MEDAL WINNER, True Crime Category, 2018 Independent Publisher Awards.
---
Check Out These Popular Stories on Historical Crime Detective
Posted: Jason Lucky Morrow - Writer/Founder/Editor, August 18th, 2016 under New Books.