New Book: In the Company of Evil:
Thirty Years of California Crime, 1950-1980
Home
|
New Books
| New Book: In the Company of Evil:
Thirty Years of California Crime, 1950-1980
Inside Look at Serial Killers, Assassins, Bank Robbers, and More
Crime Overviews, Evidence Gathered, and Theories for Solutions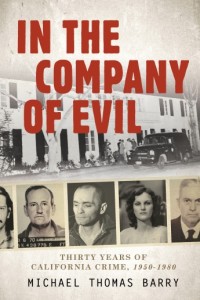 California's picturesque shores have always been a magnet for outcasts and criminals. Read about 64 of the most horrifying crimes ever committed in The Golden State, from the early 1950s into the 1980s.
These accounts tell of man's inhumanity toward his fellow man and provide an inside look at infamous serial killers, assassins, sadistic rapists, bank robbers, kidnappers, Satan worshippers, and a plethora of other notorious criminals.
Revisit "The Sex Club Slaying," "The Chowchilla School Bus Kidnapping," and the "Real House on Haunted Hill." Be glad you're not on the helpful list of "The Lonely Hearts Killer" or "Souls for Satan."
Written in an accessible, chronological sequence and enhanced by over 60 photographs, each entry provides an overview of the crime, the parties involved, evidence gathered, and leading theories about solutions. This reference is indispensable for the study of the history of modern crime in California.
About the Author: Award-winning author and columnist Michael Thomas Barry is a graduate of the California State University Fullerton with degrees in criminal justice and history. He is a columnist for CrimeMagazine.com where he pens, "This Week in Crime History." He is the author of six nonfiction books and has received numerous literary awards that include the 2014 Readers Favorite International Book Awards (gold medal). Barry resides with his wife Christyn and their golden retriever Jake in Orange, California. Visit Michael's website at http://www.michaelthomasbarry.com for more information.
—###—
True Crime Book: Famous Crimes the World Forgot Vol II, 384 pages, Kindle just $3.99, More Amazing True Crime Stories You Never Knew About! = GOLD MEDAL WINNER, True Crime Category, 2018 Independent Publisher Awards.
---
Check Out These Popular Stories on Historical Crime Detective
Posted: Jason Lucky Morrow - Writer/Founder/Editor, March 26th, 2016 under New Books.
Tags: 1950s, 1960s, 1970s, California