Mug Shot Monday! Bert Martin, Horse Thief, 1900
Home
|
Mug Shot Monday
| Mug Shot Monday! Bert Martin, Horse Thief, 1900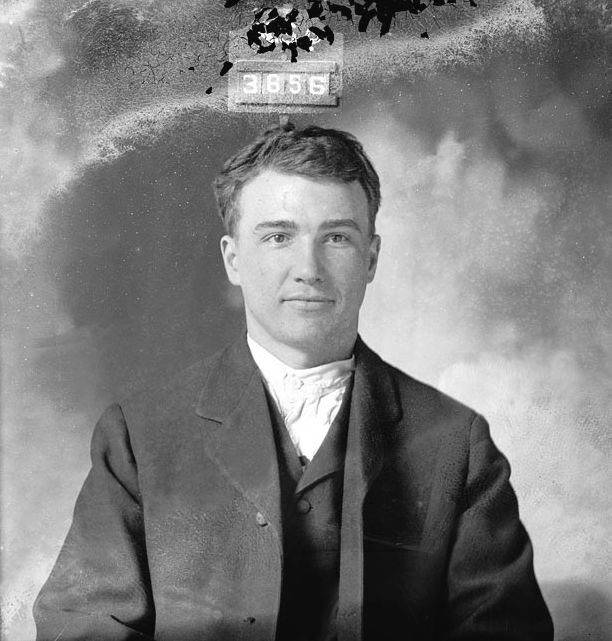 Bert Martin, Horse thief, 1900/01
In October 1900, ranch hand Bert Martin went on trial for stealing horses in Springview, Nebraska, the county seat of Keya Paha County. During his trial, he was supported by his wife and step-child, as well as his widowed-mother.
On October 13, he was found guilty and sentenced to serve two years at the state penitentiary. His conviction was probably no surprise to anyone in the county since Martin already had the reputation as "an expert 'borrower' of steeds."
Due to what prison officials saw as Martin's "ill health," he was put on light-duty and worked in the prison's broom factory.
"The convict Martin was always regarded as a delicate prisoner. Ill health seemed to be undermining his constitution," read a newspaper report from 1901. "Small feet, small hands…standing five-feet four-inches, weighing but 120 pounds…Martin was employed in the prison broom factory, and performed the duties well, but was not assigned to heavy work."
After Martin was eleven months into his sentence, he became the subject of prison gossip and an air of mystery about his identify was forged. His cellmate told prison officials that an investigation into Martin would reveal "a sensation."
Soon, an examination by the prison physician uncovered Martin's secret: Bert Martin was a woman.
Her real name was Lena Martin. Unable to find employment as a woman that was suitable to her liking, she ventured to a sparsely populated county in northeast Nebraska, dressed as a man, and found work as a ranch hand. She also met and married a single mother who agreed to keep her secret. Lena's mother was also in on the deception.
On September 22, 1901, Lena Martin was transferred to the women's prison in York, Nebraska. Before she was transported, Lena was taken to Lincoln where prison officials were forced to purchase a new dress for her because "women's clothing is not carried in stock at the penitentiary."
Seven months later, Governor Ezra Savage was so disgusted with Lena Martin that he commuted her sentence to time served and she was released. In his biennial address, Savage referred to Martin as "it" four times in a single sentence.
"[She is] a sexual monstrosity, unfit for association with men or women even in a penal institution, and on the solemn promise of its aged mother to care for it and guard it, and that prison morals imperatively demanded its removal, sentence was commuted to one year, six months, February 3, 1902."
Note: I could not locate this particular Lena Martin in the US Census records from 1890 to 1940.
Similar Story posted on HCD: Handsome Jack Hill Was a Woman, 1913
—###—
True Crime Book: Famous Crimes the World Forgot Vol II, 384 pages, Kindle just $3.99, More Amazing True Crime Stories You Never Knew About! = GOLD MEDAL WINNER, True Crime Category, 2018 Independent Publisher Awards.
---
Check Out These Popular Stories on Historical Crime Detective
Posted: Jason Lucky Morrow - Writer/Founder/Editor, March 28th, 2016 under Mug Shot Monday.
Tags: 1900-1919, Nebraska, Petty Crimes, Women