Suspect Arrested in 1976 California Cold Case
Home
|
Recent News
| Suspect Arrested in 1976 California Cold Case
SAN BERNARDINO, CBSLA.com, April 2, 2016 — The San Bernardino County District Attorney's Office has announced the arrest of a suspect in a murder that took place in 1976.
Larry James Allred, now 61, has been charged with the murder of then 19-year-old Cynthia May Hernandez.
The DA said that Hernandez left her home on the evening of August 26, 1976 to catch a movie at the Fox Twin Theaters in Covina.
Hernandez, a recent graduate of Charter Oak High School, never came home.
The next morning, her family located her unoccupied vehicle in the theater parking lot. They immediately filed a missing person's report with the Glendora Police Department.
Nearly 40 years after her disappearance, a suspect has been formally charged in connection with her murder.
Read More on this recent story:
San Bernardino County DA's Office Announces Arrest In 1976 Cold Case Murder
From 2012
Woman's disappearance still unsolved, 2012, San Gabriel Valley Tribune
Also Read:
In 2011, a Larry James Allred and Robert Edward Smyrak were arrested for importing $2 million worth of knock-off Disney Pins. "In 1975, he was convicted of rape; in 1978, for kidnapping and rape," the 2011 report
Allred's 2011 arrest photo: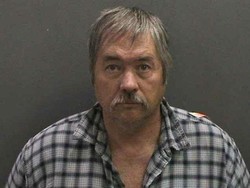 —-###—-
True Crime Book: Famous Crimes the World Forgot Vol II, 384 pages, Kindle just $3.99, More Amazing True Crime Stories You Never Knew About! = GOLD MEDAL WINNER, True Crime Category, 2018 Independent Publisher Awards.
---
Check Out These Popular Stories on Historical Crime Detective
Posted: Jason Lucky Morrow - Writer/Founder/Editor, April 4th, 2016 under Recent News.
Tags: 1970s, California, Murder