Mug Shot Monday! Jay Kelly Pinkerton, 1979, Texas, Executed 1986
Home
|
Mug Shot Monday
,
Short Feature Story
| Mug Shot Monday! Jay Kelly Pinkerton, 1979, Texas, Executed 1986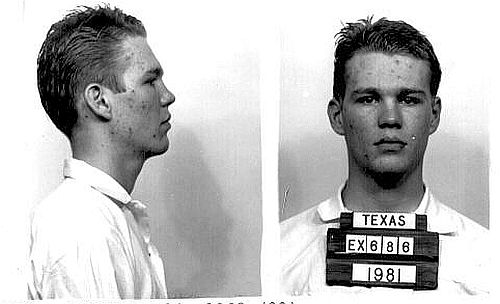 Jay Kelly Pinkerton
Warning: This story contains graphic content, near the end.
Jay Kelly Pinkerton was executed by the state of Texas on May 15, 1986, for the rape and murder of two women. On October 26, 1979, Pinkerton entered the Amarillo home of David and Sarah Lawrence between the hours of 9:30 and 11:30 p.m. where he murdered, mutilated, and raped (possibly in that order) Sarah with a large Bowie knife found in the master bedroom. While he did so, her children were asleep in another room.
Fresh footsteps outside the residence led police two blocks away to the home of a known and experienced burglar, Jay Pinkerton, who was just seventeen-years-old. Although he was wearing tennis shoes with similar tread patterns, the forensic skills of the Amarillo Police Department at that time were not at a level that could conclusively match them together and Pinkerton was released for lack of evidence. A bloody palm print at the Lawrence home was also not immediately identified as belonging to Pinkerton.
Six months later, on April 9, 1980, Pinkerton broke into an Amarillo furniture store and raped and stabbed to death twenty-five-year-old former beauty queen, Sherry Welch. The brutality and knife wounds of the Welsh and Lawrence murders were similar, with each victim being stabbed approximately thirty times. Because of his unverified connection to the Lawrence murder, police had a good idea who was responsible for murdering Welch, but it would take them a few more months to match the bloody palm print found at the Lawrence home to Pinkerton. He was eventually arrested and paraded on local television on September 26, 1980.
Due to the intense fear and anxiety of Amarillo residents had following each murder, Pinkerton's trial for killing Sarah Lawrence was held in Corpus Christi—approximately 660 miles away. Pinkerton, who relished the media attention, was found guilty and sentenced to death on May 30, 1981.
Eleven months later, he was put on trial for the murder of Sherry Welch after bite marks found on her breasts were matched to dental impressions taken from Pinkerton. Another trial, another change of venue (El Paso), more savoring of the media attention, and another guilty verdict got him a second death sentence.
Pinkerton's skills as a burglar, and the creepiness with which he applied that skill, are explained in this 1999 Amarillo Globe article by Amy Porter. She also carefully illustrates his narcissistic and dangerous personality while in prison.
Pinkerton, who converted to Islam before his execution, gave a final statement just minutes before he was declared dead at 12:25 a.m.
"Be strong for me," Pinkerton told his father, Gene Pinkerton, as witnesses entered the execution chamber. "I want you to know I'm at peace with myself and with my God." He recited a prayer to Allah, the supreme being of Islam. "I bear witness that there is no God but Allah. With your praise I ask for forgiveness and I return unto you," Pinkerton said. "I love you, Dad."
At one point, unclear when from official documents, Jay said to his father: "Say good-bye to mom. Keep your spirits up for me."
"Good-bye Jay," his father said.
"I love you dad," he replied.
Pinkerton was twenty-four-years-old when he was executed. If still alive today, Sarah Lawrence would be approximately sixty-six-years-old, and Sherry Welch, sixty-years-old.
The following report comes from the prosecution's reply to Pinkerton's 1983 appeal and described in graphic detail the Lawrence crime scene, the evidence, her mutilation, and rape.
Warning: Graphic Content.
JAY KELLY PINKERTON v. STATE TEXAS (07/13/83), COURT OF CRIMINAL APPEALS OF TEXAS
…David Lawrence, husband of the deceased, testified that he called his wife at 9:30 on the night of October 26, and told her he would be home about 11:00.
Upon arriving home at 11.30 p.m., Lawrence found his wife with blood on the side of her face on the floor of their living room. His wife was lying face-up between the couch and the coffee table. The lower portion of her body was entirely nude. After examining her more closely, Lawrence noticed a large gaping hole in her throat with blood still running out of it. Her legs were spread apart and her panties had been rolled down to the bottom of her right leg.
Missing from the house was a large Bowie knife which had been displayed on a rack in the master bedroom. Lawrence had last seen the knife in its place on the rack when he left for work at 3:00 p.m. on the 26th. The deceased's purse was also missing.
Lawrence testified that on the 27th he noticed the bottom of a window screen in the master bedroom had been pulled out somewhat and that there were red stains on the window sill underneath the screen.
Carolyn Sue Porter, an officer in the Amarillo Police Department, took several pictures at the crime scene. Porter took a photograph which revealed a palm print in blood on the inside of the deceased's left leg. State's Exhibit Number 17 is a latent palm print in blood which Porter lifted from the coffee table next to the deceased's body.
Sergeant Claude Free of the Amarillo Police Department took an inked palm print of the appellant as did Raymond Thomas of the same department.
Peter Belecastro, a fingerprint expert with the Federal Bureau of Investigation, compared photographs of the palm print on the deceased's leg with the print found on the coffee table and the palm prints of appellant taken by Free and Thomas. Belecastro testified that all of these prints were made by the same person, namely, the appellant.
Gary Chadwick, another police officer with the City of Amarillo, testified that he saw footprints in the alleyway outside the deceased's residence and followed them to an alleyway on 45th Street in Amarillo, right across from the appellant's residence.
Officer Everett Smith testified that he also viewed the footprints going down the alley from the Lawrence house to a point in an alleyway across from appellant's residence and described the footprints as tennis shoe tracks with dimple patterns on them. Smith stated that he saw the appellant on October 27, at 2:30 a.m. At that time appellant was wearing a tennis shoe with a dimple pattern on the bottom which appeared to match in size and pattern the footprints seen in the alleyway. No measurements were made of the prints in the alley.
Dr. Jose Diaz-Esquivel, a pathologist who examined the deceased at the scene of the crime and later performed the autopsy, testified that the deceased suffered thirty stab wounds or more to her arms, shoulders, neck, back, left hand, face, and abdomen. The cause of death was a stab wound to the neck with transaction of the hyoid bone and larynx and associated asphyxia. With reference to the abdomen wound, Dr. Diaz-Esquivel stated that the introduction of a male penis into the wound would be compatible and consistent with the evidence he found.
The doctor also testified that the deceased's vagina was distended and that something cylindrical in shape, possibly a penis, had been introduced into the vagina after death. Dr. Diaz-Esquivel stated that the stab wounds found on the deceased were consistent with wounds caused by a large knife and could have been caused by a Bowie knife.
Officer Ken Ten Brink (sp?) was the first to encounter appellant three and one-half hours after the murder. Ten Brink went to appellant's home and, not finding him there, searched the surrounding neighborhood, ultimately spotting appellant running across the parking lot of a bookstore a few blocks from the deceased's home. Though Ten Brink chased appellant through several well-lit areas yelling "police halt" and "police stop," appellant would not stop. Ten Brink finally caught up with the appellant as he attempted to climb over a tall picket fence. Appellant had on jeans and tennis shoes and his hair was slicked back.
Investigator Dennis Hendley helped Ten Brink capture the appellant. Hendley said appellant looked as if he had just stepped out of the shower.
Officer Greg Soltis testified that the blood found in the Lawrence house was located on and in the immediate area of the victim's body with a small amount being found on the window sill. When the body of the deceased was moved, Soltis discovered what was later determined to be the brass weight for the missing bowie knife. Soltis observed that the latent palm print lifted from the coffee table beside the deceased appeared to have been made in blood.
John Alley was a fellow inmate of appellant's in the Randall County Jail. He testified that over a six-month period appellant made several admissions of guilt in the deceased's murder:
"Q. What did he say to you specifically, sir, do you recall?
"A. The first thing that I ever heard him say was that he cut her tits off and set them on the television and he started laughing about it and that was it.
"Q. Did he say he had done anything else concerning the killing of Sarah Donn Lawrence?
"A. Do you want the whole gruesome details of it?
"Q. Yes, sir I wish you would tell the jury.
"A. Sexually assaulted her.
"Q. Is that what he said in those words sir?
"A. Well, I'll get to it.
"Q. All right.
"A. He cut her stomach open and f—ed her in the wound until he cum and [then] he slashed her throat and he cut her breasts off."
Alley chose to testify because "I have got a little three-year-old girl and pretty little wife and I'll be damned if I'm going to sit there and see somebody like that go free after he bragged for six months that he done it and it might be my wife or my daughter next time."
—###—
True Crime Book: Famous Crimes the World Forgot Vol II, 384 pages, Kindle just $3.99, More Amazing True Crime Stories You Never Knew About! = GOLD MEDAL WINNER, True Crime Category, 2018 Independent Publisher Awards.
---
Check Out These Popular Stories on Historical Crime Detective
Posted: Jason Lucky Morrow - Writer/Founder/Editor, March 14th, 2016 under Mug Shot Monday, Short Feature Story.
Tags: 1970s, bizarre, Execution, Psychopath, Sex Crimes, Texas