New Book: Murder & Mayhem in Boston
Home
|
New Books
| New Book: Murder & Mayhem in Boston
"Murder & Mayhem in Boston: Historic Crimes in the Hub," a new book by Christopher Daley, contains nine riveting chapters exposing the dark underbelly of Boston.  Daley chronicles the history of murder in Boston from the mid-nineteenth century up until the 1970's.  Most of the cases are unknown today but in their time, they were sensational news items, some of which were of national and international fame.
The chapters contained in the book are: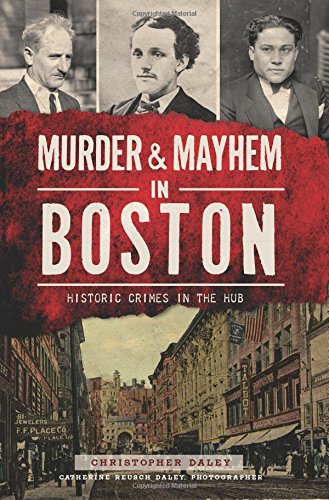 The Prostitute & the Somnambulist,
Monster in the Woods,
the Boston Barrel Butchery,
the Boston Skull Cracker,
Sadistic Youth,
the Unrelenting Cop,
Death Comes to Prince Street,
Dismembered, and
The Giggler.
"Murder & Mayhem in Boston" is written in an easy to read manner, with many period photographs accompanied by the modern photography of Catherine Reusch Daley, the author's wife and professional photographer.  Many of the sites still exist today and Daley provides maps and exact addresses for those that want to take it further and actually visit some of the crime scenes.
About the Author: Christopher Daley has been lecturing in New England for over twenty-five years on historical topics of interest at libraries, historical societies, schools and many different clubs and organizations. He holds a BA in political science and an MAT in history from Bridgewater State University. He was formerly the president of the historical society and chairman of the historical commission in Pembroke, Massachusetts, and was a docent and chairman of the educational outreach program at the John Alden Historical Site in Duxbury, Massachusetts. He is currently a history teacher in the Silver Lake Regional School System in Kingston, Massachusetts. He resides in Wareham, Massachusetts, on the shores of Buzzards Bay with his wife, photographer Catherine Reusch Daley; their two dogs, Grady and Lincoln; and three cats, Bo, Chloe and Penelope.
Visit website http://daleyhistory.com/ for more information on the book and lectures!
—###—
True Crime Book: Famous Crimes the World Forgot Vol II, 384 pages, Kindle just $3.99, More Amazing True Crime Stories You Never Knew About! = GOLD MEDAL WINNER, True Crime Category, 2018 Independent Publisher Awards.
---
Check Out These Popular Stories on Historical Crime Detective
Posted: Jason Lucky Morrow - Writer/Founder/Editor, May 14th, 2016 under New Books.
Tags: Massachusetts, Murder, Serial Killer