Steven T. Judy, Indiana's Most Hated Killer, 1979
Home
|
Short Feature Story
| Steven T. Judy, Indiana's Most Hated Killer, 1979
Many years after he murdered three young children just so he could rape and kill their mother in 1979, Steven T. Judy, a diagnosed sexual psychopath, was the most hated man in Indiana. Although I kept this feature story short, it could have been five-times longer and still just as fascinating. A book written in 1981 called Burn, Judy Burn, was recently released for Kindle and epub readers and sells for 3.99. A link to both versions is posted below. More images related to this crime can be found through Google Images.
Story by Jason Lucky Morrow
.
On Saturday, April 28, 1979, the naked body of twenty-three-year-old Terry Chasteen was found strangled along White Lick Creek, near State Road 67 and Mooresville in Morgan County Indiana. Not far from her, were the naked bodies of her three young children, Misty, 5, Mark, 4 and Steven, 3.
Terry's hands and feet were bound by material torn from her clothing. Her slacks covered her head and a scarf was wrapped around her throat. An autopsy would later reveal the children were forcibly drowned, their heads pushed into the shallow water until they died.
The death of a divorced, single-mother and her three-children shocked the quiet, Midwestern-minded residents of Indiana. Within a day of their discovery, numerous witnesses came forward to report they saw a red and gray truck decked out for construction work, near the area where the bodies were found on Saturday morning. Getting into the truck, one witness said, was a blond-haired man.
This was enough information to lead them to a young, Indianapolis man with blond hair and a violent criminal record named Steven Judy. The twenty-two-year-old denied having anything to do with the murder of the Chasteens, but investigators were positive he was their guy.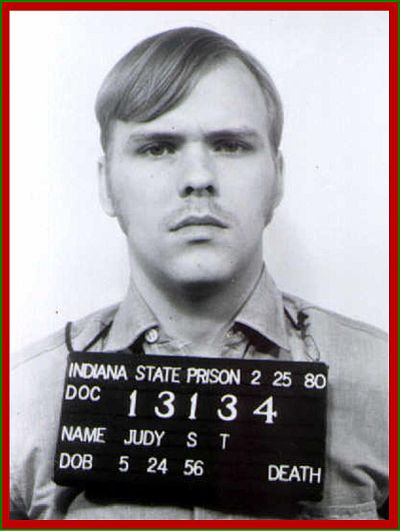 As they would soon discover, Judy had the kind-of past that told them they were on the right track. When he was just thirteen-years-old, Judy posed as a Boy Scout and forced his way into the home of an Indianapolis woman. He then raped her and tried to kill her with a pocket-knife but the blade broke before he could finish. Finding a hatchet, Judy fractured her skull and cut off one of her fingers as she tried to block the blows.
He was later caught and sentenced to six months in a juvenile detention center. From there, he was sent to a mental hospital where he confined from October 1970 to January 1973. While receiving treatment, Judy was diagnosed as "sexual psychopath."
Instead of sending him home, Judy was put into the foster care system and sent to live with Robert and Mary Carr. Although they had children of their own, they were told nothing about his past.
Judy went right back to his life of crime. Between 1975 and his arrest in 1979, for one reason or another, he was in jail or prison forty-four out of forty-eight months. Although the allotted time doesn't fit, Judy
Judy would later recount his criminal career saying "he had been involved in approximately two hundred shoplifting incidents, a like number of burglaries, twenty to fifty robberies, approximately twenty-four car thefts, and from twelve to sixteen rapes."
[Although some of these crimes were confirmed, it's hard to say how much of his claim is true when it comes from a narcissistic, sexual psychopath. He lied often, and likely exaggerated his criminal career to increase his status. Furthermore, he was easily captured after the Chasteen family slaughter, and doesn't seem bright enough to have gotten away with as many crimes as he claimed. Just my personal opinion, not stating as fact. – JLM]
On the morning of her murder, Terry was on her way to work at a supermarket, and was taking the children to a baby-sitter. Sometime before 6:00 a.m., Judy passed Terry's car on Interstate 465. He then drove alongside, indicated there was something wrong with her tire and motioned for her to pull over. When she pulled over, Judy pretended to help her, then got under the hood of her car and removed the coil wire. When the car wouldn't start, Judy offered to give Terry and her three children a ride.
Court documents described what happened next.
"Judy then drove the victims to the location of the killings and pulled his truck off the road. He testified that he directed them on foot toward the creek, and that he sent the children down the path ahead of Terry and him. Judy testified that he then raped Terry Chasteen and bound her hands and feet and gagged her. When Terry cried out, the children ran back up the path to them. Judy stated that the children stood around him and yelled. At that point, he strangled Terry Chasteen and murdered the children and removed their clothes which were later found downstream."
Judy's arrest triggered an emotion-laden outcry and media circus that would last for the next two years. Judy eventually confessed to the murders but at trial, he pleaded insanity. The jury found he was sane at the time of the murders and was guilty.
When the trial moved into the punishment phase, Judy initiated a self-led, fast-track course towards his own execution. He instructed his attorneys any evidence of mitigating factors. Then, he threatened the judge and the jury and promised to kill again unless they sentenced him to death.
"I honestly want you to give me the death penalty because one day I may get out," he said to the trial judge. "If you don't want another death hanging over your head, I think that's the only thing you can do."
Then, he threatened each member of the jury one-by-one, beginning with the foreman. "I know where you live," he told the man, "and I know you have a daughter."
The jury of nine men and three women obliged him. All of Indiana hated Steven Judy and if there was ever a case in the state's history that merited the death penalty, this was it.
According to Bette Nunn who wrote a book about the case called Burn Judy, Burn, [epub here] her synopsis describes a narcissist who not only enjoyed the attention he received for committing one of worst crimes in the state's history, but also by how he was able to keep the media attention going.
Twenty-three-year-old Steven T. Judy gloried in being "the star" of television. He loved hearing the sound of his own voice on radio. His name was splashed in dynamite headlines on the front pages of newspapers across the state of Indiana and it thrilled him — he clung to every word. When he walked, he threw his head back and pranced, like the grand stud of the stable. His deep-set blue eyes danced from side-to-side, making sure everyone's attention was on him.
To achieve his stardom, Judy committed the worst crime Morgan County, Indiana, had ever known. He beat, raped and strangled to death a young mother, and then drowned her three small children. When he was apprehended, reporters and TV news crews began following him around like he was the second coming of John Dillinger, a man Judy was said to have idolized and historically the state's most notorious criminal. But even Dillinger, the bank robbing 1930s FBI public enemy No. 1, was never accused of such heinous crimes.
Judy was able to halt his automatic appeal and his march toward the electric chair continued. There were no delays, no court-filings, no last-minute stays of execution, no decades on death row.
It took just two years.
His Monday, March 9, 1981, execution date came quickly and in the days leading up to it, made news around across the country. He was famous, and the case became one that was more about him then it was the victims. He was even quoted as saying he had no regrets for murdering a young mother and her children during a press conference held on March 6.
During his last day, he spent time with his attorney and foster parents with whom he made wise-cracks and jokes about his death. At one point, his foster-father later said, Judy broke down and cried. Otherwise, he was hyped-up and made an impulsive decision to call one of his ex-girlfriends that he hadn't seen in five or six years. Prison officials tracked her down in Texas and the two spoke by phone.
More than sixty reporters and cameramen were there to cover the execution. Judy would be the first man executed in Indiana since 1961, and since the state reinstated the death penalty following the United States Supreme Court's suspension and reinstatement of the death penalty.
Judy's manic state ended when he was given an injection of ten milligrams of valium. Just after midnight, Judy was strapped into the electric chair and as the curtain to the witness box was opening, officials placed the black cloth across his face. There were no last words. When Judy was hit with 2,300 volts, his body stiffened and smoke came from the cap on his head. He was declared dead at 12:12 a.m. He was twenty-four-years-old.
The day after his death, his foster mother told newspapers she was going to sue the state of Indiana who failed to inform them that Judy almost killed a woman when he was thirteen-years-old.
"We were only told that he accosted a woman and had a nervous breakdown," Mary Carr said. "We feel the juvenile authorities at (the mental hospital) jeopardized our safety; they jeopardized the entire society by putting Steve in our home without making us fully aware of his past and without recommending psychiatric treatment."
Today, if still alive, Terry Chasteen would be fifty-nine-years-old. Her children would be: Misty, 41, Mark, 40, and Steven, 39.
More images related to this crime, including some of the murder scene, Terry's bound feet, and the family in happier times can be found through Google Images.
—###—
True Crime Book: Famous Crimes the World Forgot Vol II, 384 pages, Kindle just $3.99, More Amazing True Crime Stories You Never Knew About! = GOLD MEDAL WINNER, True Crime Category, 2018 Independent Publisher Awards.
---
Check Out These Popular Stories on Historical Crime Detective
Posted: Jason Lucky Morrow - Writer/Founder/Editor, April 19th, 2016 under Short Feature Story.
Tags: 1970s, Execution, Indiana, Murder, Psychopath, Sex Crimes