Mug Shot Monday! Ronald O'Bryan: 'The Candy Man,' & 'The Man Who Ruined Halloween,' 1974
Home
|
Mug Shot Monday
,
Short Feature Story
| Mug Shot Monday! Ronald O'Bryan: 'The Candy Man,' & 'The Man Who Ruined Halloween,' 1974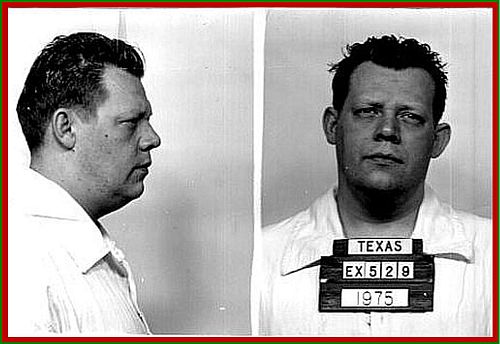 On Halloween night, 1974, Ronald O'Bryan took his eight-year-old-son, Timothy, and his daughter, trick-or-treating with some other neighborhood friends near their home in the Deer Park suburb of Houston. Since there was a light rain falling, they only collected candy in a two-block area for half-an-hour before returning home.
As he went to bed, Ronald agreed to let both of his children eat one piece of candy before they went to sleep. They both chose a large "Pixie Stix" they had received.
"Thirty seconds after I left Tim's room, I heard him cry to me, 'Daddy, Daddy, my stomach hurts,'" Ronald later told reporters as he sobbed loudly. "He was in the bathroom convulsing, vomiting, and gasping and then suddenly he went limp."
His son died ninety-minutes later at the hospital and by the next day, police had determined the Pixie Stix was full of cyanide. His daughter, five-year-old Elizabeth, who also chose a the same candy before going to bed, still had it in her hand the next morning—unable to open it because of the staples that kept it shut. It too contained poison.
News that a child had been poisoned to death exploded across Texas and the entire United States. One local detective working the case told an Associated Press reporter that parents should get rid of all the Halloween candy collected by their children. "It's just not worth the risk," the detective said. "If parents want their children to eat candy, let them go to the store and buy candy."
Parents followed his advice and threw all of their children's candy away and the event helped to forever spoil a once popular children's holiday.
Ronald, an optician, aided police in their efforts to narrow down the location where the Pixie Stix were handed out. During their search, five other poisoned Pixie Stix were found with children who had also gone trick-or-treating with the O'Bryans.
Early in the investigation, Ronald's "help" raised their suspicions. He couldn't seem to locate the house although it was in a small area. They also learned that he had recently taken out several life insurance policies on both of his children, and that his son was insured for $30,000 (the 2015 equivalent of $145,000 when adjusted for inflation).
On Monday, November 4, Ronald O'Bryan was arrested for the murder of his son. Police were tight-lipped over their evidence but one week later a recorded grand jury hearing revealed there was little doubt he was behind the murder. Two months before his son's death, O'Bryan telephoned a friend who was a chemist asking about how he could get cyanide and how much would be fatal. When the chemist inquired why he was asking these questions, O'Bryan replied that he was just curious, and nothing more.
Then, a chemical salesman testified that O'Bryan tried to purchase potassium cyanide but the only size they had available was their typical bulk size of five pounds. Since that was too much, O'Bryan politely backed out of the sale.
On the night of Halloween, friends who went with the O'Bryans reported Ronald had gone to one particular house alone, and was seen returning with Pixie Stix which he gave to his own children, and their two children and another neighborhood child. For those attempted poisonings, O'Bryan was also charged with four counts of attempted murder.
And finally, Ronald's own brother told the court that he "was a poor manager who had trouble keeping a job…and was in poor financial condition at the time of Timothy's death."
During his trial held in May, 1975, these witnesses and his own wife testified against him. Daynene O'Bryan told the jury that life with her husband bore a constant struggle with debt and financial pressure. Although they were behind on some loan payments, she revealed that her husband had bought $10,000 of accidental life insurance policies for both of their children. After Timothy's funeral, she learned he had spent another $108 on premiums for two more polices valued at $20,000 each. When her husband began talking about how they were going to spend the money after their son had just died, she became alarmed. He wanted to pay off bills and then take a trip to Florida, she said.
The Associated Press captured her sentiment toward her husband during his trial. "Mrs. O'Bryan, testifying in a trial that could send her husband to the electric chair, appeared cool and without emotion. She spoke in a clear, steady voice and kept her eyes averted from her husband."
Later, his insurance agent testified that Ronald called him within hours of Timothy's death to begin the process of filing the claim.
During the defense's case, character witnesses were called who testified that Ronald O'Bryan was "a sweet guy" who was always kind to children and attended church regularly where he donated his time.
"He was a very concerned parent, very sensitive their needs," one of his coworkers told the court.
His attorney also tried to counter some of the more damaging claims by prosecution witnesses including his attempt to purchase cyanide, and his discussions of cyanide with coworkers. Later, during closing arguments, he pointed out that the prosecution was unable to prove his client actually purchased cyanide from any chemical company.
But it wasn't enough and on June 3, 1975, "The Man who Ruined Halloween," was declared guilty after the Houston jury deliberated for just forty-six minutes. The next day, the thirty-one-year-old former auxiliary police officer, optician, and future ex-husband was sentenced to die in the electric chair.
But by March 31, 1984, the execution method had changed to lethal injection. Eight years, nine months, and twenty-eight days after he was sentenced to die, Ronald Clark O'Bryan, the "Houston Candy Man," and "The Man Who Ruined Halloween," was pronounced dead at 12:48 in the morning. He maintained his innocence all the way to the end. In an interview before he died, the reinvigorated Christian said: "Because I have no guilt, I've really got nothing to worry about."
The miracle he was hoping for never came.
In his final statement, he applied his faith to forgive those who were about to wrong him.
What is about to transpire in a few moments is wrong! However, we as human beings do make mistakes and errors. This execution is one of those wrongs yet doesn't mean our whole system of justice is wrong. Therefore, I would forgive all who have taken part in any way in my death. Also, to anyone I have offended in any way during my 39 years, I pray and ask your forgiveness, just as I forgive anyone who offended me in any way. And I pray and ask God's forgiveness for all of us respectively as human beings. To my loved ones, I extend my undying love. To those close to me, know in your hearts I love you one and all. God bless you all and may God's best blessings be always yours. Ronald C. O'Bryan P.S. During my time here, I have been treated well by all T.D.C. personnel.
Outside the Huntsville, Texas prison, employees from a local bar handed out Pixy-Stix to the 200 to 300 people who had gathered outside the death chamber.
—-###—-
True Crime Book: Famous Crimes the World Forgot Vol II, 384 pages, Kindle just $3.99, More Amazing True Crime Stories You Never Knew About! = GOLD MEDAL WINNER, True Crime Category, 2018 Independent Publisher Awards.
---
Check Out These Popular Stories on Historical Crime Detective
Posted: Jason Lucky Morrow - Writer/Founder/Editor, November 16th, 2015 under Mug Shot Monday, Short Feature Story.
Tags: 1970s, Execution, Filicide, Murder, Poison, Texas