Mug Shot Monday! Bomb Slayer Rex Brinlee Jr., 1971
Home
|
Mug Shot Monday
| Mug Shot Monday! Bomb Slayer Rex Brinlee Jr., 1971
This is Rex Brinlee Jr. He was a Tahlequah, Oklahoma plumber and operator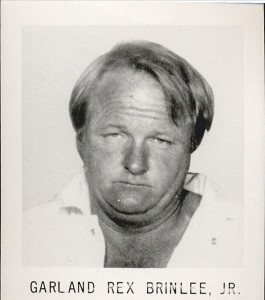 of a night club, called "The Library Club," in 1971 when he was the chief suspect in the theft of a pick-up truck from a used car-lot. A witness in that case, Don Bolding, of Bristow, was set to testify against him.
On Feb. 2, Don's wife, Fern, a 28 year-old kindergarten teacher, got into the family pick-up and turned the ignition switch which set off a massive bomb that killed her instantly and blew her body into the neighbor's yard. The explosion was so enormous that one investigator characterized it as a "massive dose of overkill."
Police quickly surmised Don was likely the intended target and their suspicion rested on Brinlee. He was later charged with murder, convicted and sentenced to life in prison.
During a 1973 prison riot at Oklahoma State Penitentiary, Brinlee was able to escape. The day before the FBI was to place him on its top 10 list, he was recaptured near Shreveport, LA. He escaped again three years later but was also recaptured.
During his 38 years in prison, Brinlee was a dynamic character and maintained his innocence. He died on Dec. 18, 2009.
Check out more of our Vintage Mug Shots.
Photo Source: FBI. [Photograph 2012.201.B0107.0463], Photograph, September 17, 1973; digital image, (http://gateway.okhistory.org/ark:/67531/metadc259376/ : accessed May 12, 2014), Oklahoma Historical Society, The Gateway to Oklahoma History, http://gateway.okhistory.org; crediting Oklahoma Historical Society, Oklahoma City, Oklahoma.
—###—
True Crime Book: Famous Crimes the World Forgot Vol II, 384 pages, Kindle just $3.99, More Amazing True Crime Stories You Never Knew About! = GOLD MEDAL WINNER, True Crime Category, 2018 Independent Publisher Awards.
---
Check Out These Popular Stories on Historical Crime Detective
Posted: Jason Lucky Morrow - Writer/Founder/Editor, May 12th, 2014 under Mug Shot Monday.
Tags: 1970s, Murder, Oklahoma