Mug Shot Monday! Henry Martinez Porter, 1975, Executed 1985
Home
|
Mug Shot Monday
,
Short Feature Story
| Mug Shot Monday! Henry Martinez Porter, 1975, Executed 1985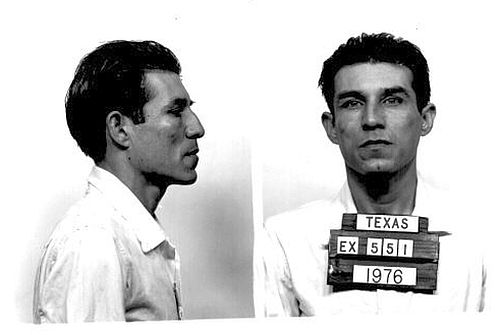 During the month of November 1975, three armed robberies in the Fort Worth area eventually produced a description of the suspect's vehicle. On the morning of November 29, a car driven by Henry Martinez Porter was pulled over by Fort Worth Police Officer Henry Paul Mailoux. A confrontation between the two men led to a struggle in which Porter was shot in the left side of his abdomen, and Mailoux was shot and killed. Porter then fled the area to San Antonio (270 miles south) where he hid out on the city's northwest side.
By 1975, thirty-three-year-old Porter was a hardcore heroin addict with a long-history of mental problems, (diagnosed psychopathic personality with indications of paranoid-schizophrenic behavior), who had served terms in a mental institution, reform school, and then prison—dating back to when he was fifteen-years-old. Past charges included car theft, burglary-robbery, assault, and forgery.
Three days later, a tip led San Antonio police to an apartment building in the 1300 block of Donaldson Street. Fifteen police officers surrounded the building, entered the apartment, and found Porter in the bathroom, unarmed and nursing his bullet-wound. He was taken to a hospital where he was treated and released back into police custody.
During his 1976 trial, Porter's defense argued the shooting was an accident, rather than intentional. The jury didn't buy it. He was convicted of capital murder and sentenced to death.
Porter's case was appealed in state court 1979 and 1981, and again in 1983 in federal court followed by a 1984 effort before the United States Supreme Court. All efforts failed and by July 6, 1985, the Los Angeles Times reported Martinez had asked his lawyer not to intervene or prevent his execution scheduled in three days, July 9.
During the last hours of his life, Porter, forty-three-years-old then, visited with relatives in his holding cell and asked for steak, refried beans, flour-tortillas, salad, ice-cream, and chocolate cake for his last meal.
After he was strapped down, the prisoner, with the words "Love" and "Hate" tattooed across his fingers, was asked if he had any last words. It was from this moment, more than any other moment in his life, that he is most remembered today.
I want to thank Father Walsh for his spiritual help. I want to thank Bob Ray (Sanders) and Steve Blow for their friendship.
What I want people to know is that they call me a cold-blooded killer when I shot a man that shot me first. [This differed from his first trial when he claimed it was an accidental shooting]. The only thing that convicted me was that I am a Mexican and that he was a police officer.
People hollered for my life, and they are to have my life tonight. The people never hollered for the life of the policeman that killed a thirteen-year-old boy who was handcuffed in the back seat of a police car. The people never hollered for the life of a Houston police officer who beat up and drowned Jose Campo Torres and threw his body in the river.
You call that equal justice. This is your equal justice. This is America's equal justice. A Mexican's life is worth nothing.
When a policeman kills someone he gets a suspended sentence or probation. When a Mexican kills a police officer this is what you get. From there you call me a cold-blooded murderer. I didn't tie anyone to a stretcher. I didn't pump any poison into anybody's veins from behind a locked door. You call this justice. I call this and your society a bunch of cold-blooded murderers.
I don't say this with any bitterness or anger. I just say this with truthfulness. I hope God forgives me for all my sins. I hope that God will be as merciful to society as he has been to me. I'm ready, Warden.
Officer Henry Mailloux is remembered on the Officer Down Memorial Page database. He would be sixty-nine-years-old if he were alive today.
—###—
True Crime Book: Famous Crimes the World Forgot Vol II, 384 pages, Kindle just $3.99, More Amazing True Crime Stories You Never Knew About! = GOLD MEDAL WINNER, True Crime Category, 2018 Independent Publisher Awards.
---
Check Out These Popular Stories on Historical Crime Detective
Posted: Jason Lucky Morrow - Writer/Founder/Editor, October 3rd, 2016 under Mug Shot Monday, Short Feature Story.
Tags: 1970s, cop killer, Execution, Murder, Texas