The Golden State Killer: FBI Hunts Serial-Killer in 40 Year-Old Cold Case: 12 Killed, 45 Rapes, 120 Burglaries
Home
|
Recent News
| The Golden State Killer: FBI Hunts Serial-Killer in 40 Year-Old Cold Case: 12 Killed, 45 Rapes, 120 Burglaries
Do You Recognize this Face as it Looked in the late 1970s?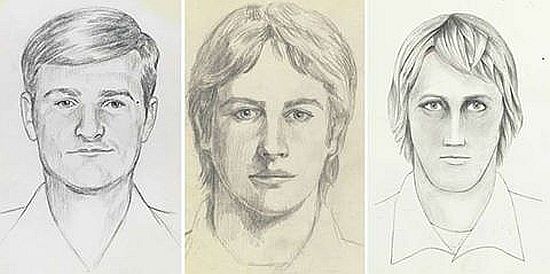 Listen to the Killer's Voice on Recording
(Audio Recording of Victim Statements at Bottom of Post).

Press Release: 06/15/16
Although four decades have passed since a prolific serial rapist and murderer terrorized California communities from Sacramento to Orange County, the FBI and local law enforcement announced a national publicity campaign today—and a significant reward—in the hopes of locating the suspect and finally bringing him to justice.
Between 1976 and 1986, the violent and elusive individual known as the East Area Rapist, and later as the Original Night Stalker and the Golden State Killer, committed 12 homicides, 45 rapes, and more than 120 residential burglaries in multiple California communities. His victims ranged in age from 13 to 41 and included women home alone, women at home with their children, and husbands and wives.
At a press conference today in Sacramento, the FBI and local law enforcement agencies announced a $50,000 reward for information leading to the arrest and conviction of the killer along with a nationwide multimedia campaign to once again bring the case to the public's attention.
"Regardless of the amount of time that has passed," said Sgt. Paul Belli, the Sacramento County Sheriff's Department detective assigned to the case, "the sheriff's department never gave up on the investigation. This person ruined a great number of lives, and he should be held accountable."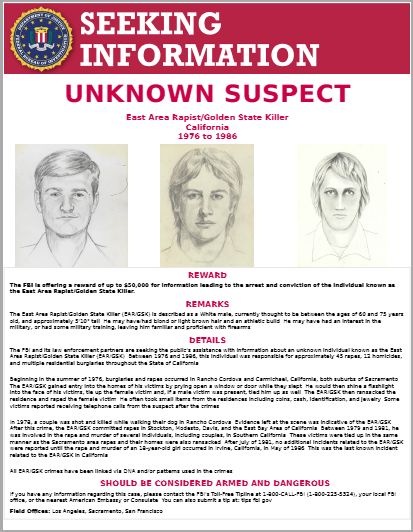 Background Information
During the time he was operating in Sacramento, between 1976 and 1978, the East Area Rapist struck fear and anxiety into the community. "Everyone was afraid," said Special Agent Marcus Knutson, who was born and raised in Sacramento and now heads the FBI's portion of the investigation. "We had people sleeping with shotguns, we had people purchasing dogs. People were concerned, and they had a right to be. This guy was terrorizing the community. He did horrible things."
If he is still alive, the killer would now be approximately 60 to 75 years old. He is described as a white male, close to six feet tall, with blond or light brown hair and an athletic build. He may have an interest or training in military or law enforcement techniques, and he was proficient with firearms.
Detectives have DNA from multiple crime scenes that can positively link—or eliminate—suspects. This will allow investigators to easily rule out innocent parties with a simple, non-invasive DNA test.
"Just like any homicide investigation," Belli said, "our lifelines are people who give us information. It all boils down to people helping." He added that the $50,000 reward could motivate someone to come forward. "It may push somebody over the edge who knows something. It could provide us with that one tip we need."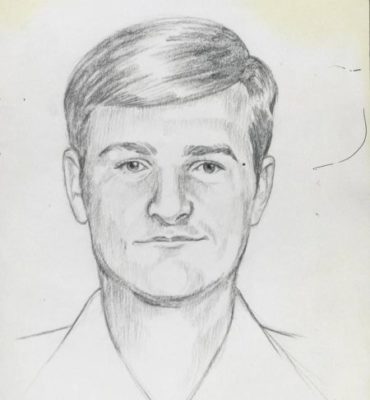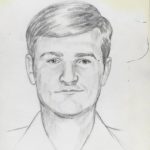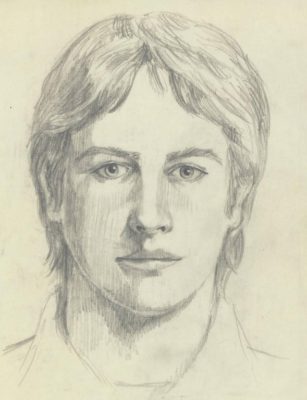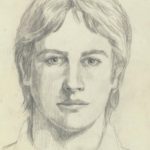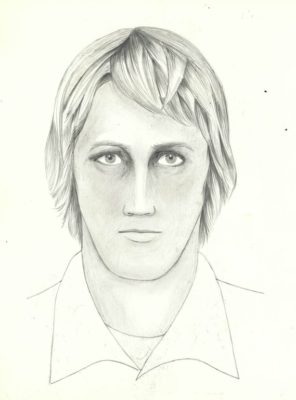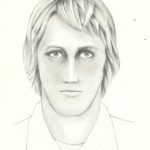 Investigators are urging the public to provide law enforcement with any information, no matter how insignificant it may seem. If someone knows a person in the right age range who lived in the area at the time and who seemed suspicious or who may have had some involvement, "we can determine where they are living," Belli said. For those who come forward, he added, "we are very discreet about privacy and confidentiality."
It is known that the East Area Rapist took things from crime scenes—coins and jewelry in particular. The public is asked to be mindful of that. "We know that our guy took items," Knutson said. "So if for some reason people—whether their family member is deceased or they're cleaning out a storage unit—come across a weird collection of items such as women's ID's, rings, earrings—anything that's out of the ordinary—it could be significant."
In addition to supplying the reward money, the FBI is assisting local investigators by following leads all over the country, Knutson said, ruling out suspects based on DNA tests and other evidence. When the crimes were committed, DNA testing was not available, nor was other technology such as cell phones, neighborhood surveillance cameras, or, in many areas, the 911 emergency call system.
Burglaries and rapes began occurring in the eastern district of Sacramento County—hence the name East Area Rapist—in the summer of 1976. The subject ransacked homes and took coins, jewelry, and identification. Neighborhood burglaries were often followed by clusters of sexual assaults. Then, on February 2, 1978, Brian Maggiore and his wife, Katie, were on an evening walk with their dog in their Rancho Cordova neighborhood when they were chased down and murdered.
Ray Biondi, a retired Sacramento County Sheriff's Department detective, investigated the double homicide, which was quickly linked to the East Area Rapist. "This threw a whole different light on the rape series," said Biondi, who spent 17 years as a homicide detective and investigated hundreds of murders.
One of his few regrets about retirement, Biondi said recently, "was leaving the cases I didn't solve." What strikes him about the Maggiore murders and the East Area Rapist is how the subject has managed to elude capture. "It is mind-boggling that he committed so many crimes without a slip up," the veteran detective said. And yet, one of Biondi's first homicide cases decades ago was recently solved through DNA evidence. So it is entirely possible, he said, that the East Area Rapist can be brought to justice. "That would elate me."
After his crimes in the Sacramento area, the subject continued primarily in the East Bay Area of Northern California, where his activity escalated into rapes and homicides along the California coast. He would attack couples, tie up both victims, rape the female, and then murder them. After July 1981, no associated incidents are known until 1986, when an 18-year-old woman was raped and murdered in Irvine, California—the last known crime associated with the subject.
Knutson, too, believes that capturing the East Area Rapist is still possible. "Sometimes it's just one call that makes a difference," he said. "If we get that one call and we are able to compare DNA and say, 'Yes, it's him,' then we have him. But it starts with that one call, and that's why we are seeking the public's assistance."
Being a Sacramento native makes this case even more meaningful for Knutson. "This is my home," he said. "This is where I'm from. The fact that he did his crimes here I take personally, and I'm proud that I'm able to work with the local sheriffs' offices to investigate this case and try to get this guy in custody."
We need your help. Individuals with information are urged to call 1-800-CALL-FBI (1-800-225-5324). Information may also be submitted online at tips.fbi.gov.
Surviving the East Area Rapist
She went to sleep that night at home in her bed, and her world was normal. She woke up in the middle of the night with a man's hand over her mouth. She tried to fight back and run, but he hit her, stuffed a sock in her mouth, blindfolded her, tied her hands and feet. "He put me back in bed and said, 'If you move, I'm going to kill you."
Although she feared for her life during that terrifying night decades ago, the woman survived the East Area Rapist's sexual assault. She and another survivor have come forward to talk about the attacks, how it changed their lives, about revenge and forgiveness, and how they support law enforcement's continuing efforts to capture this violent individual.
Listen to their stories:
–
–
We need your help. Individuals with information are urged to call 1-800-CALL-FBI (1-800-225-5324). Information may also be submitted online at tips.fbi.gov.
—###—
True Crime Book: Famous Crimes the World Forgot Vol II, 384 pages, Kindle just $3.99, More Amazing True Crime Stories You Never Knew About! = GOLD MEDAL WINNER, True Crime Category, 2018 Independent Publisher Awards.
---
Check Out These Popular Stories on Historical Crime Detective
Posted: Jason Lucky Morrow - Writer/Founder/Editor, June 16th, 2016 under Recent News.
Tags: California, Psychopath, Serial Killer, unsolved, Women