Photo Gallery of NYC Murder Victims, 1915-1920
Home
|
Rediscovered Crime News
| Photo Gallery of NYC Murder Victims, 1915-1920
Warning: Gallery contains very graphic photos.
The New York City Department of Records has a great collection of photographs related to all things early 20th Century New York City.
Among their different categories are photographs related to crime, criminals, criminal identification, and most interesting of all, Murder—as in dead bodies. During the early 20th Century, it was standard procedure for a NYC police photographer to set up a tripod camera over the top of a murdered victim, with the lens pointing down. This had a strange effect rarely seen in homicide photographs and the viewer feels an uneasy connection to the victim's last moment alive.

The photographs in this collection are from 1915 to 1920. There is little to no information to that accompanies each image and therefore, we have no context for understanding what happened in the photograph, other than what we see.
However, if you look to the left sidebar, you might find a date which you can then attempt to match with newspaper stories from digital archive collections of NYC papers like the Library of Congress Chronicling America Archive.
For example, the photograph below is from a double homicide dated June 17, 1915. A story I found in the New York Evening World contains information that matches the photograph, but IT IS NOT a double homicide. What you're looking at is a photograph that tells a bizarre story of murder and suicide between an admirer and a woman who recently married a man who knew nothing about his new wife's friend.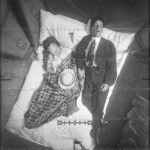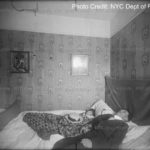 A .pdf copy of the original newspaper story about this murder-suicide can be downloaded/read by clicking on the image below.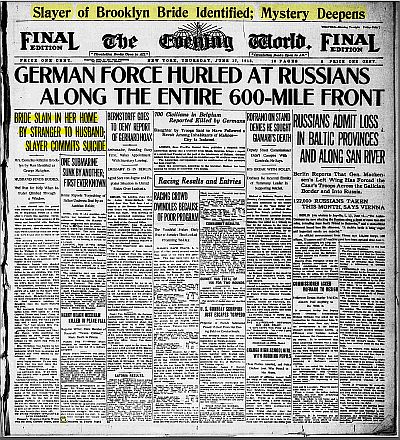 All of these photographs are graphic, many of them are disturbing, and some of them are just revolting.
Photo Gallery of NYC Murder Victims, 1915-1920
—###—
True Crime Book: Famous Crimes the World Forgot Vol II, 384 pages, Kindle just $3.99, More Amazing True Crime Stories You Never Knew About! = GOLD MEDAL WINNER, True Crime Category, 2018 Independent Publisher Awards.
---
Check Out These Popular Stories on Historical Crime Detective
Posted: Jason Lucky Morrow - Writer/Founder/Editor, July 1st, 2016 under Rediscovered Crime News.
Tags: 1900-1919, Love and Jealousy, Murder, New York