Book Review: Murder in Battle Creek
Home
|
New Books
| Book Review: Murder in Battle Creek
Review: Murder in Battle Creek, The Mysterious Death of Daisy Zick, by Blaine Lee Pardo,
One of the golden rules when it comes to writing a true crime book is to never write about a murder that hasn't been solved. It's a good rule to follow until it's broken, and it produces a well written crime book in which there is an eeriness and unsettling quality about the crime NOT being solved.
One such book published in 2006 led BTK killer, Dennis Rader, to poke his head up which led to his arrest. And hopefully, Murder in Battle Creek, The Mysterious Death of Daisy Zick, by Blaine Lee Pardo, and published by History Press, is another such case.
An unsolved murder conflicts with human nature. It disturbs our psyche. Our mind doesn't like to leave things unfinished, unanswered and never knowing what happened or who did it. And when a book elicits those emotions, well, I argue that it is valid entertainment. Similar to a how a good ghost story makes us feel. We try to put answers to it but always fall short –and that disturbs us. It makes us think. It makes us feel.
And that's one formula for a good book.
Book Synopsis
On a bitterly cold morning in January 1963, Daisy Zick was brutally murdered in her Battle Creek home. No fewer than three witnesses caught a glimpse of the killer, yet today, it remains one of Michigan's most sensational unsolved crimes. The act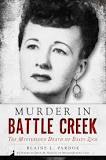 of pure savagery rocked not only the community but also the Kellogg Company, where she worked. Here, Blaine Pardoe artfully takes the reader into this true crime thriller. Utilizing long-sealed police files and interviews with the surviving investigators, the true story of the investigation can finally be told. Who were the key suspects? What evidence does the police still have on this five-decades-old cold case? Just how close did this murder come to being solved? Is the killer still alive? These questions and more are masterfully brought to the forefront for true crime fans and armchair detectives.
Character development and Clarity: Pardoe does an excellent job of presenting the crime scene and secondary scene, giving depth and details to all the major characters, following a chronological timeline with clarity (a lot of writers can stray from a clear message), and unraveling all the major and minor facts and clues accordingly.
One thing a reader has to understand about a true crime book is that it can represent boxes and boxes of research, tens of thousands of pages, and it all has to be taken apart and reassembled into a 50,000 to 100,000 word book.
That's not an easy thing to do and Pardoe does a good job of it.
Sense of Place: Some writers forget that the city or region is a character all itself. Pardoe doesn't make that mistake and he does a masterful job of establishing "a sense of place." I've never been to Battle Creek, Michigan. I never knew anything about it. But after I read Pardoe's book, I've got a pretty good feel for what it was like in the 60s and how it evolved over the coming decades.
Writing: Pardoe's writing style is solid and entertaining. He doesn't put you "in the scene" as much as some other crime books, but I don't think he could have with this particular story. I think his point-of-view for the writing was the right choice.
Summary: I am recommending to Historical Crime Detective readers, Murder in Battle Creek, The Mysterious Death of Daisy Zick," by Blaine Lee Pardoe. 160 pages, 45 images. (I can appreciate that many images. Wise decision from the publisher).
True Crime Book: Famous Crimes the World Forgot Vol II, 384 pages, Kindle just $3.99, More Amazing True Crime Stories You Never Knew About! = GOLD MEDAL WINNER, True Crime Category, 2018 Independent Publisher Awards.
---
Check Out These Popular Stories on Historical Crime Detective
Posted: Jason Lucky Morrow - Writer/Founder/Editor, March 11th, 2014 under New Books.