The Evil Dr. Hyde of Kansas City
Home
|
Feature Stories
| The Evil Dr. Hyde of Kansas City
.
Originally Published: "The Diabolical Plot Concocted by Dr. B. C. Hyde of Kansas City to Gain Control of Col. Swope's Millions," by Thomas Samuel Duke, Celebrated Criminal Cases of America, The James H. Barry Company, 1910. Note: This is very famous case in Kansas City.
Kansas City, Missouri, 1909-1910
Thomas Hunton Swope, afterward known as Colonel Swope, was born in Kentucky in 1829. After accumulating a few thousand dollars in his native state, he proceeded to Kansas City, Mo., in 1860, where he invested a large portion of his savings in suburban lands which were practically worthless then but which subsequently enhanced in value until Swope became a multi-millionaire.
He conceived a plan of devoting to public benefactions a large part of his wealth and as a part of this philanthropic plan he gave to Kansas City a magnificent tract of territory embracing 1,354 acres, which is now known as Swope Park, the second largest park in America. In his later years Swope became extremely eccentric and seldom appeared in public.
He had two sisters and two brothers. One brother, Logan Swope, died in February, 1900, leaving a widow and seven children, named Chrisman, Frances, Thomas, Lucy, Margaret, Stella and Sarah. In 1909, Chrisman, the eldest, was 31 years of age, and Sarah, the youngest, was 14 years of age. Mrs. Logan Swope resided with her family in a large mansion near Independence, Mo., which is a short distance from Kansas City. Colonel Swope, who never married, and his cousin, J. Moss Hunton, resided in the same house.
Colonel Swope's property was valued at $3,600,000 and he made a will which provided that Mrs. Logan Swope's children should each receive about $200,000, with the exception of Francis, who was to receive but $135,000. There was also a residuary fund amounting to $1,405,595 which was to be equally divided among these seven children, but Swope had about decided to change his will and leave the residuary to charity. The entire Swope family knew the contents of this will and also knew of Swope's determination to change it. The executors of this will were J. Moss Hunton, Attorney John Paxton and Steward Fleming, Colonel Swope's nephew.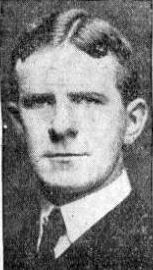 Bennett Clarke Hyde was born in Cowper County, Missouri, in 1872, but spent his boyhood days in Lexington, Mo., where his father was a Baptist preacher. Young Hyde received a college education and afterward graduated from the University Medical College in Kansas City, Mo.
In 1898-99 Dr. Hyde was demonstrator of anatomy at this college and during this time several graves were robbed. Finally two African-Americans named Sam McClain and Charley Perry were arrested for robbing the grave of Michael Kelly at St. Mary's Cemetery in Independence, Mo. They subsequently confessed to this crime and several others of a similar nature, and swore that they sold the bodies to Dr. Hyde. The doctor was arrested but the case never came to trial and was dropped from the calendar on March 4, 1899.
Continue reading this story by clicking on the link below.
—###—
True Crime Book: Famous Crimes the World Forgot Vol II, 384 pages, Kindle just $3.99, More Amazing True Crime Stories You Never Knew About!
---
Check Out These Popular Stories on Historical Crime Detective
Posted: Jason Lucky Morrow - Writer/Founder/Editor, August 1st, 2014 under Feature Stories.