Dark Bayou: Infamous Louisiana Homicides
Home
|
New Books
| Dark Bayou: Infamous Louisiana Homicides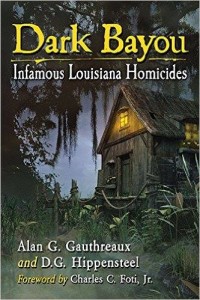 If you're from Louisiana or love Louisiana like I do, you'll want to read this book. It's from a great team of authors who know their history well. Great stories of murder and mayhem with a gumbo flavor.
This collection chronicles the most mysterious, bizarre and often overlooked homicides in Louisiana history. Drawing on contemporary records and, where available, the recollections of those who provide a coherent version of the facts, these mesmerizing tales detail some of the more gruesome episodes: the rise of the first Mafia godfather in the United States; the murder of two New Orleans police chiefs; the brutal murder of a famous New Orleans madam; the story of a respectable young woman who "accidentally" poisoned her younger sister and is a suspect in other family deaths; the ritual killing of blacks in southwestern Louisiana and eastern Texas; the mysterious death of a young housewife which still generates debate; and the demise of a local celebrity who believed in his own invincibility.
–
—###—
True Crime Book: Famous Crimes the World Forgot Vol II, 384 pages, Kindle just $3.99, More Amazing True Crime Stories You Never Knew About!
---
Check Out These Popular Stories on Historical Crime Detective
Posted: Jason Lucky Morrow - Writer/Founder/Editor, November 25th, 2015 under New Books.