A New Book Presented by HCD – 'Vintage True Crime Stories: An Illustrated Anthology of Forgotten Cases of Murder & Mayhem Volume I' – will be released Sept 10.
Home
|
New Books
| A New Book Presented by HCD – 'Vintage True Crime Stories: An Illustrated Anthology of Forgotten Cases of Murder & Mayhem Volume I' – will be released Sept 10.
Vintage True Crime Stories: An Illustrated Anthology of Forgotten Cases of Murder & Mayhem, Volume I, is a new book from HistoricalCrimeDetective.com that will be released Monday, September 10.
All this week leading up to the Monday launch date I will be posting more information about the book including a sample chapter or two, images, and information about free digital advance copies with a chance for reviewers to win one of two $50 Amazon gift cards.
—–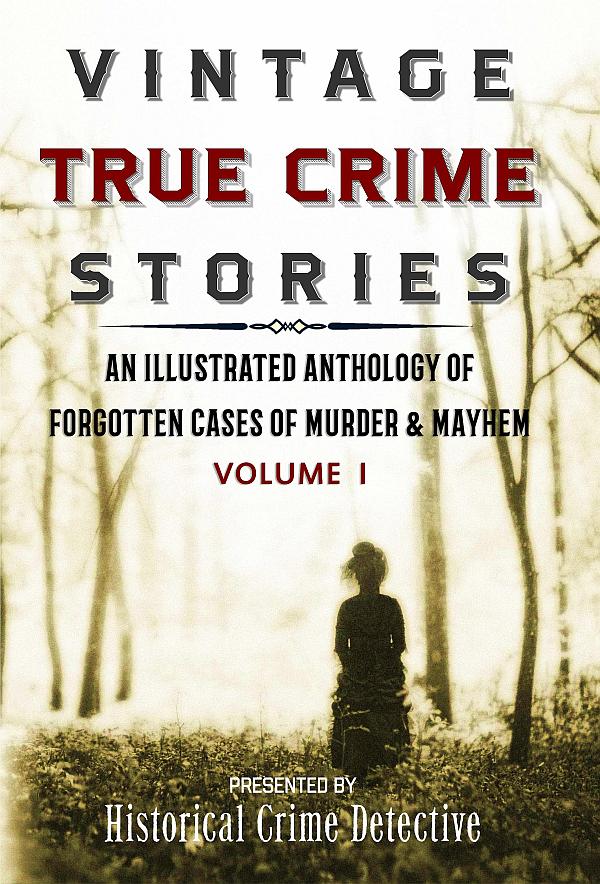 When it comes to committing murder, nothing has changed in the last 100 years.
One of the questions I hear the most from those who read vintage true crime stories goes like this: "Is crime worse today than it was back then?" I know it may seem like capital crimes and the deprivations of society are the worst they have ever been in American history, but the upcoming release of a new anthology series surmises that—when it comes to murderers, they haven't changed much in the last one-hundred years. Catching them, yes. The motive, means, and opportunity, no. The cold-blooded killers of today are the same as they were long ago.
To prove this theory, consider the cases below that appear in our new book, Vintage True Crime Stories, Volume I scheduled for release this Friday, September 7, by Historical Crime Detective Publishing.
Chapter One: Twenty years before the 1932 kidnapping and murder of Charles Lindbergh Jr., there was the Marie Smith case of 1910. The nine-year-old went missing while walking home from school. Her killer was German, spoke with a thick German accent, and his last name was even similar to Hauptmann's. Both men were entrapped by scientific advancements that were landmarks for future cases. And, in the end, both men were executed in the same electric chair.
Chapter Two: Like a scene in a contemporary action movie, two hitmen on a motorcycle roar down a Rhode Island road late at night. At the designated location, they come to a stop beside the chauffeur driven automobile of a wealthy doctor who was accompanied by his mistress. At point blank range, the assassins emptied their pistols into the two figures in the backseat. They ignored the driver and sped away, disappearing into the darkness. That event led to a one-of-a-kind murder trial with an outcome that reinforced the duality of American justice for the next one-hundred years.
Chapter Seven: During the late hours of January 10, 1895, two burglars break into the parsonage of Rev. William Hinshaw and his wife Thurza. A fight breaks out; Thurza is shot in the head and dies on the steps leading up to the back door. Bravely, William fights back in a desperate struggle with the man holding the gun. His partner, a smaller but 'wirey' man, slashes him a dozen times with a razor, forcing Hinshaw to release his hold on the taller one who then fires one round into the reverend's left shoulder. Fearing others may have heard the shots, the robbers flee through the backdoor and disappeared down a snow-covered lane.
Neighbors, friends, and newspaper editors declared Rev. William Hinshaw a hero. One needed only to look at his many wounds to see that that he fought as hard as any man could against the two robbers—the ones who never left footprints on the snow covered lanes of Belleville, Indiana.
Chapter Eleven: On January 1, 1914, the cabin of a local photographer burns to the ground. Inside, they find his body. Three days later, it happens again to another man. Autopsies prove the men were killed before the fires were set. The evidence leads investigators to an elderly Civil War veteran with a dark past filled with dead bodies.
These four stories were recently discovered in one of the rarest true crime books known to exist, Enemies of the Underworld: Embracing Sixty-Eight Stories by America's foremost Detectives, by Frank Dalton O'Sullivan.
His 700-page tome is a combination manual for new detectives, and true crime book featuring true stories co-authored by senior detectives and police chiefs from across the United States. Self-published in 1917, the book sold for five-dollars, the 2018 equivalent of $108–which might explain why it's nearly impossible to find a copy of it today.
With this artifact, Historical Crime Detective Publishing saw it as the perfect foundation to structure a new anthology series simply titled: Vintage True Crime Stories: An Illustrated Anthology of Forgotten Cases of Murder & Mayhem.
Volume I contains fifteen stories from O'Sullivan's book, while the remaining five chapters were selected from Fifty Years a Detective by Thomas Furlong, published in 1912.
Mixed in with these twenty stories are sixty-five images, fifty-two footnotes, a dozen epilogues, and ten annotations.
But wait, there's more! – Volume I of this series comes with a companion webpage where readers can find more information including fifty more images, and more than 130 pages of newspaper coverage about the cases covered in this book.
Editor: Jason Lucky Morrow
True Crime Book: Famous Crimes the World Forgot Vol II, 384 pages, Kindle just $3.99, More Amazing True Crime Stories You Never Knew About! = GOLD MEDAL WINNER, True Crime Category, 2018 Independent Publisher Awards.
---
Check Out These Popular Stories on Historical Crime Detective
Posted: Jason Lucky Morrow - Writer/Founder/Editor, September 4th, 2018 under New Books.