Small Town, Vigilante Justice in 1907
Home
|
Rediscovered Crime News
| Small Town, Vigilante Justice in 1907
While searching my newspaper archive sources for specific stories, or just on fishing expeditions for new ones, I often come across stories about a lynch mob serving up vigilante justice to an unconvicted murderer. In most cases, the lynch mob would storm the jail where the prisoner was held and grab him while others held their guns on the local sheriff and his deputies, or, like in the case below, they would capture him while he was being transported somewhere else.
Below is just one of the many stories I come across of lynch mob justice. I have placed a map at the bottom of the newspaper article for a reference. Also at the bottom of the story are a few more links to 1907 newspapers with more reports on this specific incident.
Update: October 9, 2016, photos added, bottom of page, submitted by reader.
Back Story to Lynching:
A farmhand working for the Copple family near Rosalie, Nebraska, got drunk one Saturday night in May of 1907, and just decided to kill his employers, Walter and Eva Copple. After Loris Higgins, using the alias Fred Burke, grabbed a shotgun and went outside, he called for Walter to come out of the house. When he did, he shot the farmer with both barrels. When Eva came running out to help her husband, he fired both barrels at her while the couple's seven children watched in horror.
Higgins then stole $900 from his employer, sexually assaulted the Copple's 13 year-old daughter, and threw the bodies of his victims into a hog pen where the pigs disfigured their corpses. He then saddled up a mule and rode off.
Higgins was captured one day later and held in the county jail in Omaha, Nebraska. When he was being transported to Pender, Nebraska, the county seat of Thurston County, where the crime took place, he was accosted by a vigilante mob when his train reached Bancroft, Nebraska, which is 11 miles from Pender.
"Higgins Is Lynched"
– Red Cloud Chief, Red Cloud, Nebraska, Aug. 30, 1907, page 7.
Loris Higgins, alias Fred Burke, who shot and killed Mr. and Mrs. Walter Copple, farmers of Rosalie, Nebraska, [near the Iowa border] May 12, was lynched one mile from the town by a mob of twenty masked men.
Higgins reached Bancroft [seven miles from Rosalie] on the Northwestern train in custody of Sheriff Sid Young of Thurston Country and a deputy, at 8:37 a.m. from Omaha while he had been confined in the Douglas County jail since his arrest soon after the murder. The masked men met the train, brushed the sheriff and his deputy to one side, threw a rope around the murderer's neck and led him forth. He was placed in a wagon and hauled to the Logan Bridge one mile west of town where the lynching was performed.
The rope was tied to the highest beam of the bridge and after the victim made a statement he was thrown by the mob into the air and reached the end of the rope with a terrible sound, snapping his neck and producing instant death. Forty bullets were then shot into his body which was left dangling in the air for the officers to care for, while the executioners unmasked themselves and scattered in all directions in the timber which skirts the scene of the lynching.
The whole affair was performed with little excitement and was over before most of the people of Bancroft knew it was contemplated.
Sheriff Young, finding himself confronted by a resolute mob of masked men offered no forcible resistance to the taking of the prisoner. The sheriff was visibly affected by the demonstration, far more so than was Higgins. Higgins appeared little concerned, and when the rope which was to send him to his death in a few minutes was slipped over his head, he did not even flush or move, but stepped lightly from the train to the platform, surrounded by the masked crowd. He prayed as he alighted and continued his prayer until the train had gone and he was loaded into a wagon which was standing conveniently by.
Deputy Sheriff Knocked Down.
The sheriff's deputy pulled his revolver when the mob appeared. The men told him to put up his gun and when he refused they knocked it out of his hand and knocked the deputy down and told him "not to be foolish."
None of the mob had much to say to the victim and he was not assaulted until the bridge was reached. At the bridge, after the rope was tied and just before he was thrown into the air, he was given permission to make a statement. He availed himself of the opportunity saying he had long ago repented for his terrible deed, that he had made his peace with his God and was now ready to go and face Him, feeling that all would be well hereafter, he said he had tried atone for his wanton murder, but had no excuse to offer as he had no cause for committing it. He reavowed his faith in the religion he had found through the help of the "good women" in Omaha who came to his cell and prayed with him.
Hard to Fix Responsibility
He asked God to bless the little children whom he had left without parents by his deed and then to the I, masked men around him, he requested that a note be sent his mother asking her to write to his father at Nanta, Idaho.
The possibility of finding out the names of those who formed the mob is exceedingly remote. No one is standing on street corners condemning them nor professing that he knows a single man who engaged in the affair. So far as Sheriff Young is concerned, he does not appear to know them.
Thurston County authorities declare that they have proof that Higgins mistreated the thirteen year-old daughter.
More Reading:
"Murder Near Pender," Omaha Daily Bee, May 14, 1907, page 1. This story details the crime after it happened, and before the arrest of Higgins, alias Fred Burke.
"Burke in Omaha Jail," Omaha Daily Bee, May 16, 1907, pages 1. This story is about his capture and placement in jail.
"Higgins Mother Hears News," The Norfolk Weekly News-Journal, Aug. 30, 1907, page 8. This story is about the reaction of Higgins' mother when she heard the news her son had been lynched.
Map:
Images added 10/09/2016, Click to open larger in new window.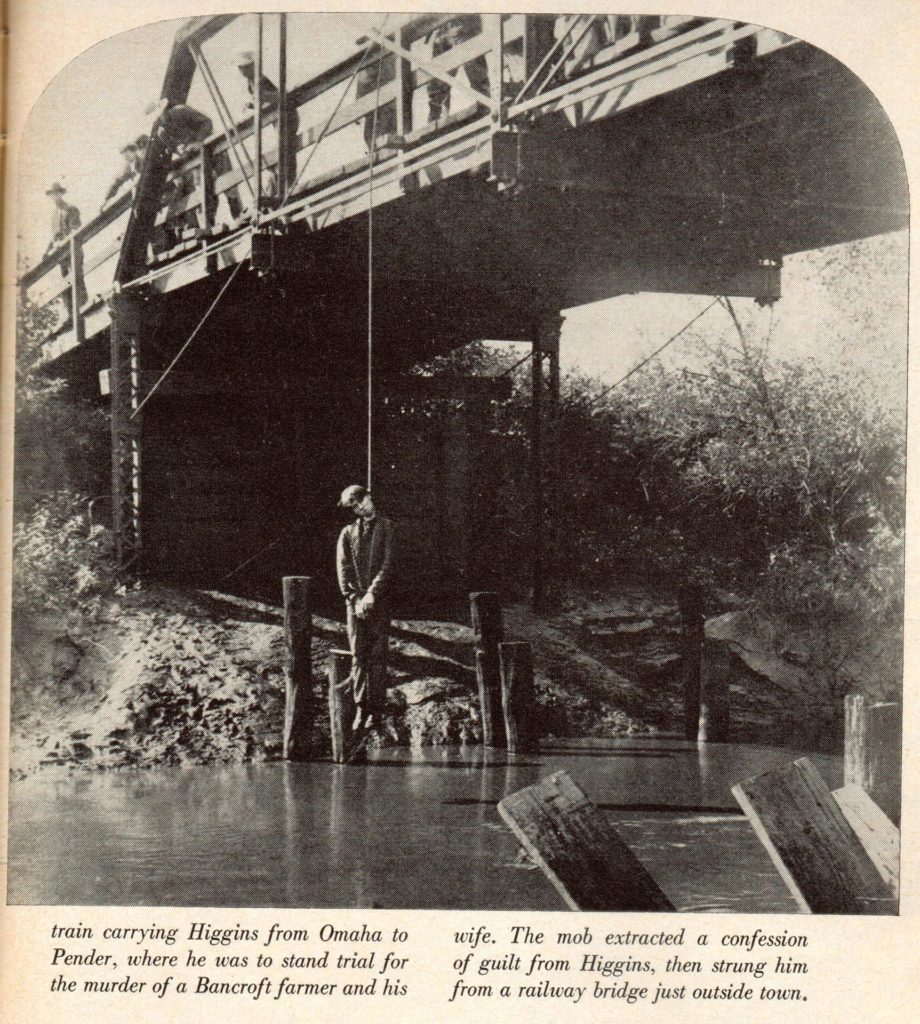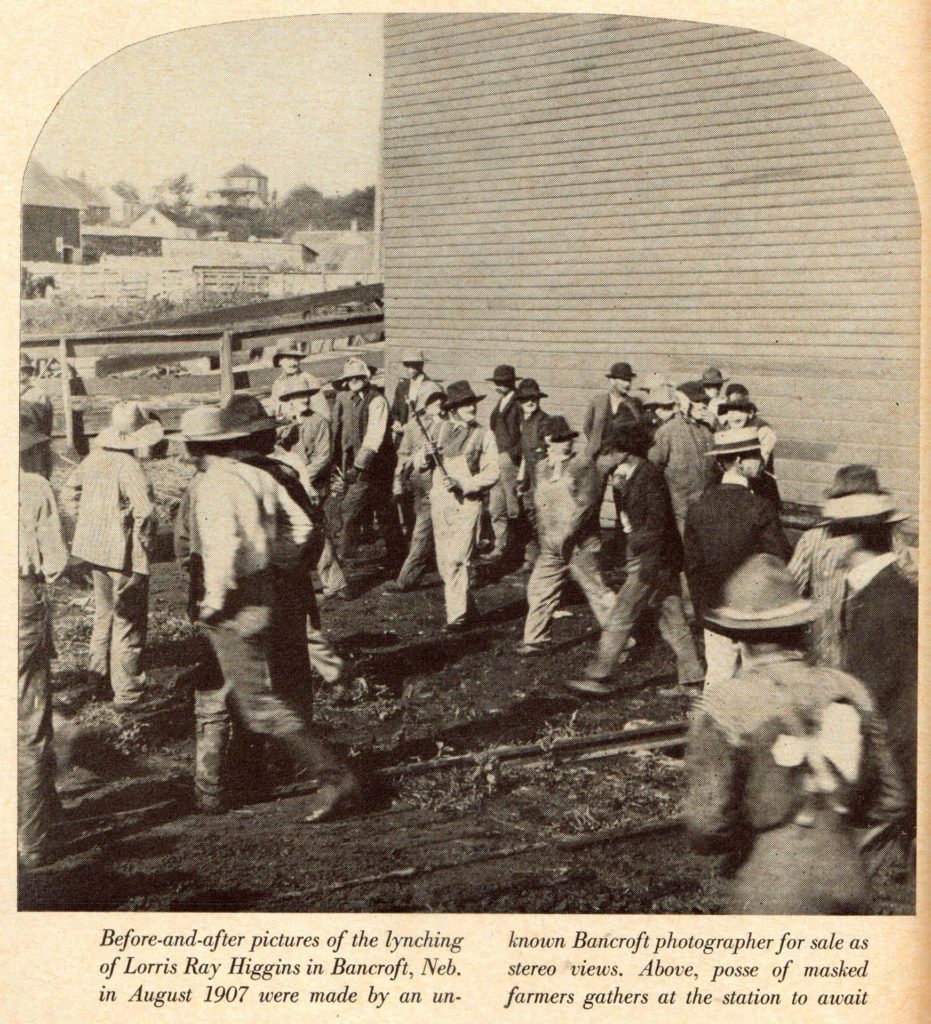 —-###—-
True Crime Book: Famous Crimes the World Forgot Vol II, 384 pages, Kindle just $3.99, More Amazing True Crime Stories You Never Knew About! = GOLD MEDAL WINNER, True Crime Category, 2018 Independent Publisher Awards.
---
Check Out These Popular Stories on Historical Crime Detective
Posted: Jason Lucky Morrow - Writer/Founder/Editor, October 15th, 2014 under Rediscovered Crime News.
Tags: 1900-1919, Murder, Nebraska