Mug Shot Monday! William Hutton Coble, 1964
Home
|
Mug Shot Monday
,
Short Feature Story
| Mug Shot Monday! William Hutton Coble, 1964
William Hutton Coble was an escaped fugitive who got into a running gun battle with police after robbing a bank in Charlotte, North Carolina. While fleeing police, he dropped the stolen loot, shot a woman in the leg to steal her car, then turned down a dead end street where he surrendered after a shoot-out with another police officer.
Story 1: Comedy of Errors: Polite Bank Robber Departs Unlocked Cell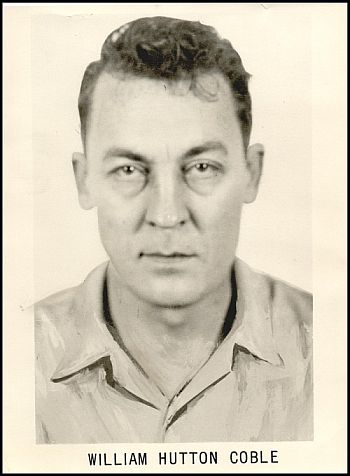 NASHVILLE, Tenn. Freshly-sentenced bank robber William Hutton Coble broke out of the Nashville metropolitan jail yesterday [May 15, 1964] in a comedy of errors. A dragnet is out for him and police officers here say they are investigating possible negligence.
Chief Deputy Fate Thomas said the 41-year-old Coble, with a recent record of one escape and three attempted escapes, was not locked in his cell as he should have been when two U.S. marshals left him at the jail for safekeeping until he could be taken to federal prison. He escaped less than an hour later in broad daylight.
Thomas said the well-dressed prisoner apparently sauntered down a jail, corridor, borrowed a blanket from another federal prisoner, used it to muffle the sound as he broke out a window, then politely returned the blanket to the prisoner, climbed out the window, crossed a roof and climbed to the street. The other prisoner, Jack Gordon, said he loaned Coble the blanket because he thought from his well-dressed appearance that he was a detective. Gordon said he later shouted for 15 or 20 minutes, trying to tell jail officials of the escape. He said no one paid any attention to him. Six hours later the same two federal marshals that had guarded Coble came to the jail to confine two other federal prisoners.
"Where's my boy Coble?" asked one jail employee, thinking that Coble was still in federal custody.
"He should be in his cell," answered one of the surprised marshals. It was then that the escape was discovered.
Deputy Thomas said a jail turnkey, Donald Eli, has been suspended pending an investigation and other suspensions may be forthcoming.
Coble was sentenced Thursday to 17 years after he pleaded guilty to the $34,623 robbery of a bank in Pulaski, TN last September.
Associated Press via Tucson Daily Citizen, May 16, 1964, page 1.
Story 2: Bank Robber Nabbed After Two Wounded
CHARLOTTE, N.C. (AP) — William Hutton Coble, 41, one of the FBI's 10 most wanted criminals, was captured Monday after he robbed a branch bank and terrorized a residential area after a running gun battle with police.
Mrs. E. B. Vosbough, a 37-year-old housewife and model, and 7-year-old Ken Ewing, were wounded, neither seriously, by gunfire.
Police said they cornered Coble, a fugitive from a Nashville, TN jail, on a dead end street less than a mile from the bank where he took $8,869. He had dropped the bag containing the money as he fled.
The FBI described Coble as an escape artist. A heavy guard was placed around his cell. The Ewing boy was struck in the right forearm by a bullet as police pursued Coble along a street. Coble tried to break into two homes but was unsuccessful.
He then spotted Mrs. Vosbough parked with two of her children and two of her neighbor's in a late model station wagon. He fired at the car, the bullet going through Mrs. Vosbough's right thigh and into her left thigh. After forcing her and the children out, he raced away in the car.
Associated Press via The Robesonian, Lumberton, NC March 2, 1965, page 1.
Story 3: Bandit Loses Gunfight with North Carolina Police
CHARLOTTE. N C. Police prevented a daring bank robbery attempt Monday and captured William Hutton Coble, one of the FBI's 10 most: wanted fugitives. A woman and a child were wounded by gunfire.
Coble, 41, from Pulaski, TN was arraigned Monday night before US Commissioner Winfred Ervin and taken by federal marshals to a detention center at Asheville, about 115 miles west of here, to stand trial. He was already convicted of a previous bank robbery at Frankewing, Tenn.
Smashed Glass Door
Coble used a 38-caliber pistol to smash a glass door at a bank in a shopping center. He terrorized two woman tellers and fled with $8,000 after shooting it out with patrolman J. G. Bruce.
He dropped the money as he fled however, and it was all recovered. Coble then commandeered a car from a passing motorist, Mrs. Edwin B. Vosbough, and shot her in the leg.
A police cruiser driven by Sg.t T. W Williams chased Coble down a dead-end, residential street and captured him during another burst of gunfire.
United Press International via Port Arthur News March 3, 1965, Page 39.
Story 4: Coble Receives 25 Year Term
William Hutton Coble got 25 years in prison for robbing two Charlotte branch banks.
He also received a Bible and a letter of sympathy from a woman he shot in the leg as he commandeered her station wagon following the second robbery March 1. Coble, an escapee from a Tennessee jail and listed among the FBI's 10 most wanted criminals when captured, burst into tears.
Mrs. E. B. Vosburgh Jr., mother of three girls, gave Coble the Bible and letter Tuesday after sentencing in federal court. Her letter read in part: "There have been many prayers and thought's running through my mind these past days. I have thought of all the many people involved and how much worse this episode could have been. You certainly showed compassion for us by letting the children and me out of the car.
Associated Press via Rocky Mount Evening Telegram April 8, 1965, page 1
Check out our other Mug Shot Monday photos!
—###—
True Crime Book: Famous Crimes the World Forgot Vol II, 384 pages, Kindle just $3.99, More Amazing True Crime Stories You Never Knew About! = GOLD MEDAL WINNER, True Crime Category, 2018 Independent Publisher Awards.
---
Check Out These Popular Stories on Historical Crime Detective
Posted: Jason Lucky Morrow - Writer/Founder/Editor, August 11th, 2014 under Mug Shot Monday, Short Feature Story.
Tags: 1960s, Escape, FBI Most Wanted