Mug Shot Monday: Nathan Jerry Ellis, 1956-1986
Home
|
Mug Shot Monday
| Mug Shot Monday: Nathan Jerry Ellis, 1956-1986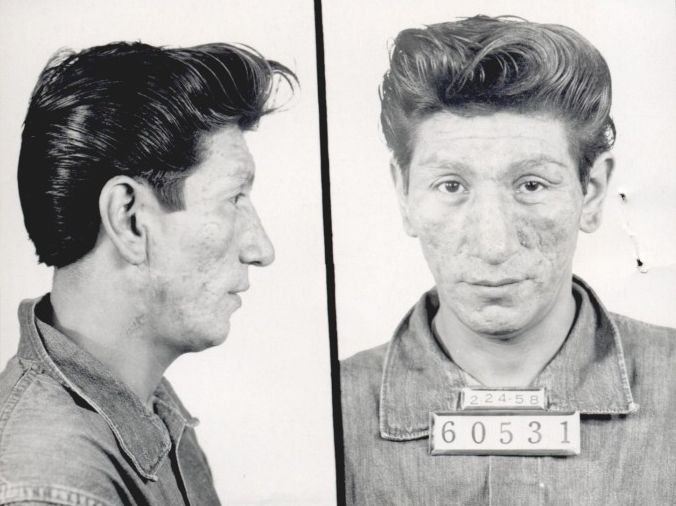 This unfortunate face belongs to Nathan Jerry Ellis, killer and rapist.

In 1956, Ellis and another man were convicted for the murder of Victor Quick in Custer County, Oklahoma. He was sentenced to life in prison for first degree murder. He appealed, received a new trial, and was re-sentenced to serve sixty-years for manslaughter. In a era of long prison sentences and early paroles, sixty years in his case actually meant eleven years. He was paroled in 1967 but was back in prison two months later for violating the terms of his release. While he was out, he racked up several minor alcohol offenses and also tried to molest a fifteen-year-old girl.
He was given a second chance for parole in March 1974. This time, he was able to stay out of prison for two years but was returned again for parole violation after he was convicted of a simple assault charge and other minor offenses.
Ellis got another chance for parole in 1979. During his parole hearing, which was called to consider Ellis's request to attend to his ailing mother, the forty-nine-year-old was cautioned about drinking. Ellis responded with a promise that this was the last time they would ever see him and stated: "I feel 21 years is sufficient time to do on this crime."
The parole board agreed and he was released.
On July 12, 1985, Ellis broke his promise to the parole board when he was arrested for driving under the influence. He was not sent back to prison and instead, the fifty-six-year-old was arrested the following May for first-degree rape. In that case, he duped a mentally-handicapped woman into going to a motel with him where he raped her with a sexual-aid device. A jury found him guilty and recommended a sentence of 300 years.
The photo above appears to be from his 1958 retrial.
Photo Credit: [Photograph 2012.201.B0357.0256], Photograph, March 24, 1971; (http://gateway.okhistory.org/ark:/67531/metadc215226/ : accessed January 05, 2015), Oklahoma Historical Society, The Gateway to Oklahoma History, http://gateway.okhistory.org; crediting Oklahoma Historical Society, Oklahoma City, Oklahoma.
—###—
True Crime Book: Famous Crimes the World Forgot Vol II, 384 pages, Kindle just $3.99, More Amazing True Crime Stories You Never Knew About! = GOLD MEDAL WINNER, True Crime Category, 2018 Independent Publisher Awards.
---
Check Out These Popular Stories on Historical Crime Detective
Posted: Jason Lucky Morrow - Writer/Founder/Editor, January 5th, 2015 under Mug Shot Monday.
Tags: 1950s, Murder, Oklahoma, Sex Crimes