Mug Shot Monday! Michael Wayne Evans, 1977
Home
|
Mug Shot Monday
,
Short Feature Story
| Mug Shot Monday! Michael Wayne Evans, 1977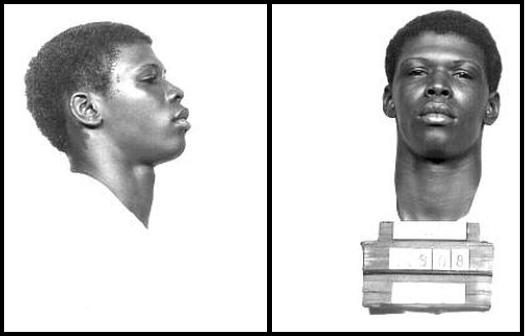 During the summer of 1977, Elvira Guerrero, 36, and Mario Alvarado Garza, 28, were deeply in love with plans to soon get married. After attending services at the Second Mexican Baptist Church in the Oak Cliff section of Dallas–where Elvira played the piano, and Mario, a Mexican national, had just been baptized earlier that day– the two drove to a local park to discuss their upcoming nuptials.
As they sat talking in Elvira's car that warm afternoon on June 26, two men spotted the pair and selected them as their victims that day. Michael Wayne Evans, 20, and Earl Stanley Smith, 23, walked to the park from Smith's apartment with plans to mug someone. They had been planning all morning to rob and kill someone and their arrival at the small city park was no accident.
They were hunting.
Smith was the first to reach the car, where he shoved his pistol in the open window and ordered the pair to take him and Evans across town. The two climbed into the car, and directed Guerrero and Garza to drive to a remote area in South Dallas where they were robbed of $40 in church donations and $12 from Garza's wallet.
Then, they shot Guerrero and Garza with a .22 caliber pistol. Garza was hit five times and Guerrero was shot twice in the head.
Somehow, Guerrero survived and prayed out loud to ask God to forgive the two men, Evans later confessed to police.
"She was holding my hand and looking into my eyes. Then she said, 'God, help him, God help him,'" Evans' stated in his confession. "I cut the lady (with a carpet knife) from the bottom of her chin to her hairline above her forehead. I also think I cut her eyes.
"I was trying to get her to quit talking."
..think I cut her eyes?
That's a watered-down way to describe how he had slashed and gouged them with a knife.
After a haul of just $52 and Guerrero's watch, Evans and Smith dumped the bodies in a south Dallas hay field, covering them with bushes and leaves. Evans gave the watch to his girlfriend and kept Guerroro's car for his personal use.
The bodies were discovered four days later. At the scene, investigators found a cylinder rod (used for ejecting bullets), to a .22 caliber revolver.
Eleven days after the victims were discovered, on July 11, Evans was spotted driving Guerroro's car by one of one of her relatives who recognized the vehicle. He tailed the car which resulted in a high-speed chase. During the pursuit, the relative flagged down a police officer and the two followed it to an apartment complex in Dallas.
Evans was able to park the car, and enter his apartment before the officer arrived.
By questioning area tenants, police determined the car may have belonged to a woman named Belinda Key, whose apartment was fifteen feet from where the car was parked. With Key's consent, officers entered the apartment but missed Evans, who fled through a back window.
Inside, a snub-nosed .22 caliber revolver, the type often referred to as a "Saturday Night Special," was found inside a dresser drawer in a bedroom where Evans and his girlfriend, Juanita Ingram, slept. The ejector rod was missing.
Key, who was roommates with Evans, said it belonged to him. When police questioned her further, they learned that on the morning after the double homicide, Evans had returned with blood on his hands and clothing. Later that day, Key's boyfriend helped Evans clean "blood and flesh" from inside Guerrero's car.
Knowing he didn't have money to buy a car, Key asked Evans where he got it. He replied that he and Smith "had jacked some people and hit them in the head and tied them up and covered them with bushes."
Uniformed officers and marked police cruisers were ordered to leave the area, and plain-clothed officers moved in to stakeout Key's apartment. Around 4:30 that afternoon, Evans returned to the area and was arrested.
Over the next few days, Evans readily gave several confessions, putting most of the blame on Smith. He also confessed to the June 15 robbery and murder of Daniel Potts, and said Smith participated with him in that crime as well.
Later, Evans recanted his confession claiming police beat him. At trial, Evans' girlfriend, Juanita Ingram, testified that she was also at Key's apartment when Evans returned covered in blood. She said that Evans told her that he had killed "some Mexicans," and gave her a watch from "the Mexican lady that he had killed."
Evans was found guilty and sentenced to death. His partner, Earl Stanley Smith, received three life sentences.
In 1980, the criminal court of appeals overturned Evans' conviction, citing improper cross-representation of jurors. He was tried and convicted of capital murder a second time in October 1981, and again received the death sentence. In 1983, the appeals court upheld his conviction and the United States Supreme Court declined to review the case in March 1984.
With an execution date for set for December 4, 1986, Evans' lawyer appealed to the US Supreme Court for of a stay of execution but was turned down in a 5-4 decision that came on December 2.
When told of the Supreme Court action, Evans said, "OK" and returned to his bunk in a holding cell adjacent to the Texas death chamber. Earlier that day, he had spoken with his mother by telephone.
The thirty-year-old former plumber and auto-mechanic spent most of his final day sleeping and rejected a last meal. Shortly after midnight, he was strapped to the gurney and was asked if he'd like to make a final statement. With tears in his eyes, Evans said: "I want to say I'm sorry for the things I've done and I hope I'm forgiven. I don't hold nothing against no one. – Everyone has treated me well and I know it's not easy for them. That's all, I'm sorry."
The lethal combination of chemicals was then injected into his body through an intravenous tube. He was pronounced dead at 12:21 a.m.
According to the Texas Department of Criminal Justice Online Offender search page, Smith is sixty-two-years-old and is serving out his time at the O.B. Ellis Unit, in Huntsville, Texas. Oddly, his inmate file shows that on November 22, 1994, he received an additional ten-year sentence for the aggravated sexual assault of a child which occurred on September 27 of that year. I could not find any information related to the 1994 sexual assault case through my usual sources before today's deadline.
—###—
True Crime Book: Famous Crimes the World Forgot Vol II, 384 pages, Kindle just $3.99, More Amazing True Crime Stories You Never Knew About! = GOLD MEDAL WINNER, True Crime Category, 2018 Independent Publisher Awards.
---
Check Out These Popular Stories on Historical Crime Detective
Posted: Jason Lucky Morrow - Writer/Founder/Editor, August 1st, 2016 under Mug Shot Monday, Short Feature Story.
Tags: 1970s, Execution, Murder, Texas