Mug Shot Monday! Lloyd Sampsell,
Famous California Criminal, 1920s-1952,
Home
|
Mug Shot Monday
| Mug Shot Monday! Lloyd Sampsell,
Famous California Criminal, 1920s-1952,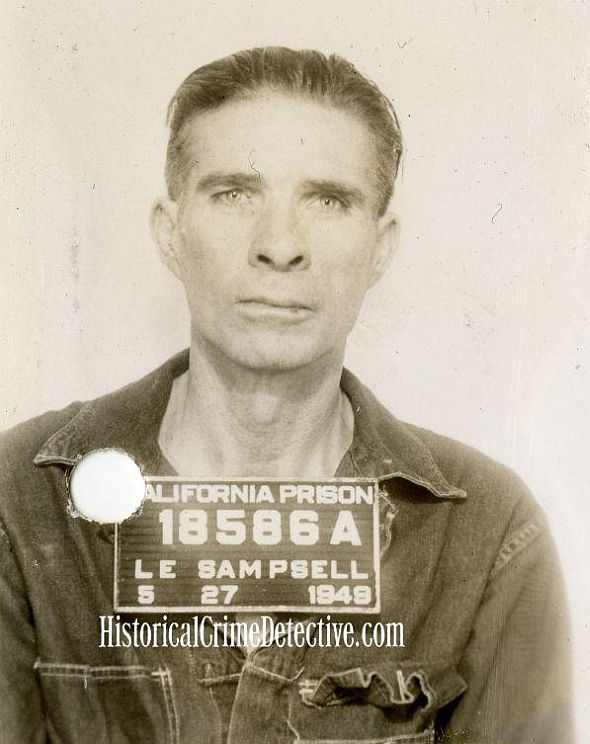 I am really proud [because of its rarity] of today's mugshot of Lloyd Sampsell, a career bank robber whose amazing escapades spanned three decades. This is the only mugshot of him to known exist on the internet, outside of an FBI wanted circular.

From the early 1920s to 1952 Lloyd Sampsell was one of the most famous criminals in California. During the 20s, he and partner Ethan McNab robbed banks up and down the West Coast and used a yacht to make their escape and to travel from one city to the next, robbing banks along the way. This unique method of travel earned Sampsell and McNab the nickname "The Yacht Bandits," which would follow them the rest of their lives.
He was arrested and convicted of bank robbery in 1929 and served 18 years in prison. His first stint was at Folsom where he was recognized by other inmates and prison staff as highly intelligent and was labeled an intellectual, by prison standards. Some books credit him with "running" Folsom Prison after he ingratiated himself with the warden.
During World War II, he was moved to a less secure prison farm where his power and influence grew to the point that the warden would let him take "French leave" from the camp. This meant that on Friday afternoon, he would go to his girlfriend's apartment, and then return on Sunday night or Monday morning. When the press found out about this, the warden lost his job.
He was released in 1947 and went back to robbing banks. During the 1948 robbery of the Seacrest Finance Company, he shot and killed a clerk and wounded a policeman. This earned him a spot on the FBI's Most Wanted List. It was his first murder and after he was captured and tried in 1949, he was sentenced to die in the gas chamber at San Quentin. While in prison, Sampsell connected with the most famous prisoner in the United States, author Caryl Chessman, and wrote brilliant legal briefs that earned him several stays of execution as his case was argued.
Eventually, he lost his battle and was executed on April 25, 1952. In an interview before he died, he pointed to what he was most proud of when it came to his legacy. "They say I've lived a wasted life," he told a reporter. "But look, here's something I've never told anyone. I've got a son. He's six-foot-three and 170 lbs. He's married, got two kids. He's in the service overseas now. So I've left something good. You can't say my life was wasted."
Below is an article published the day before he was executed.
"Yacht Bandit Plea Denied by High Court," Berkeley Daily Gazette, April 24, 1952, page two.
The State Supreme Court in San Francisco today denied the last-chance appeal of bank robber Lloyd Sampsell, scheduled to die tomorrow in San Quentin's lethal gas chamber for a San Diego hold-up murder.
Sampsell, notorious Berkeley "Yacht Bandit" of the 1920's, has been in the State penitentiary's death row for three years for slaying, of Arthur W. Smith, a by­stander, during the holdup of the Seaboard Finance Company in 1948.
He was originally scheduled to die in the gas chamber on July 21, 1950, but was granted a stay of execution on July 19 by the US District Court of Appeals.
His appeal was finally denied by the US Supreme Court on Jan. 28, 1952, and his execution was rescheduled for April 25. The tall, gaunt killer, once listed among the FBI's "10 most wanted men," was arrested in Phoenix, AZ, March 25, 1949, less than 24 hours after pulling his last job—the $8700 robbery of the Bank of America in Los Angeles.
Sampsell won notoriety in the late 1920's when he and his partner," Ethan Allen McNabb, cruised the Pacific Coast from Vancouver to Los Angeles in the luxurious yacht "Sovereign," pulling robberies in port cities, and then putting to sea to escape capture. Their crimes included a $17,000 Berkeley bank robbery.
They were finally arrested in San Francisco in 1929 and Sampsell served 18 years in Folsom Prison for his part in the crimes. McNabb was sentenced to San Quentin where he was later hanged for killing a fellow convict.
Sampsell, who has spent more than half his lifetime behind bars and was known to have bragged that he stole more than $200,000 during his career of crime.
Check out more of our Vintage Mug Shots.
—###—
True Crime Book: Famous Crimes the World Forgot Vol II, 384 pages, Kindle just $3.99, More Amazing True Crime Stories You Never Knew About! = GOLD MEDAL WINNER, True Crime Category, 2018 Independent Publisher Awards.
---
Check Out These Popular Stories on Historical Crime Detective
Posted: Jason Lucky Morrow - Writer/Founder/Editor, June 23rd, 2014 under Mug Shot Monday.
Tags: 1920s, 1930s, 1940s, 1950s, California, Execution, Murder