Mug Shot Monday! Kenneth Christiansen, 1964
Home
|
Mug Shot Monday
| Mug Shot Monday! Kenneth Christiansen, 1964
.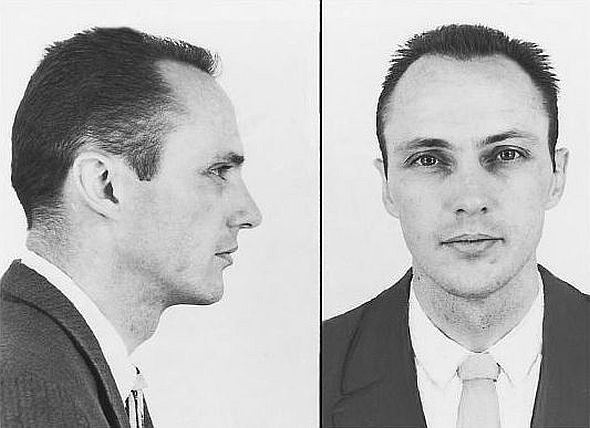 Kenneth Malcom Christianson – 1964, FBI Most Wanted, Escaped convict
Kenneth Malcolm Christiansen, was a tall, tattooed California prison escapee who engaged in a "white collar" holdups, was added to the FBI's list of "Ten Most Wanted Fugitives" on July 27, 1964.
On Christmas Eve, 1963, Kevin Malcolm Christiansen escaped from the California Institution for Men at Chino where he was serving two consecutive sentences of five years to life for armed robbery.
After his escape, Christiansen robbed banks, restaurants, bars and jewelry stores in Arizona and California, equipped with a brief case and posing as an attorney. This ruse provided easy access to the office of the manager of these institutions who was then robbed.
On July 27, 1964 Christiansen was placed on the FBI's Most Wanted List. He was captured two months later while trying to rob a seafood restaurant in Silver Spring, Maryland.
Description from FBI circular: Christiansen is distinguished by his height of 6 ft. 5 in., stooped posture and thin, 160-pound build. He is also prominently marked with tattoos, bearing a heart, dagger, scroll and the words "Love To Dad" on the outside of his right forearm. On the outside of his left forearm he bears tattoos of an anchor and the initials "U. S. N.,"
—-###—-
True Crime Book: Famous Crimes the World Forgot Vol II, 384 pages, Kindle just $3.99, More Amazing True Crime Stories You Never Knew About! = GOLD MEDAL WINNER, True Crime Category, 2018 Independent Publisher Awards.
---
Check Out These Popular Stories on Historical Crime Detective
Posted: Jason Lucky Morrow - Writer/Founder/Editor, June 30th, 2014 under Mug Shot Monday.
Tags: 1960s, California, FBI Most Wanted