Mug Shot Monday! Joseph MacAvoy, 1943
Home
|
Mug Shot Monday
,
Short Feature Story
| Mug Shot Monday! Joseph MacAvoy, 1943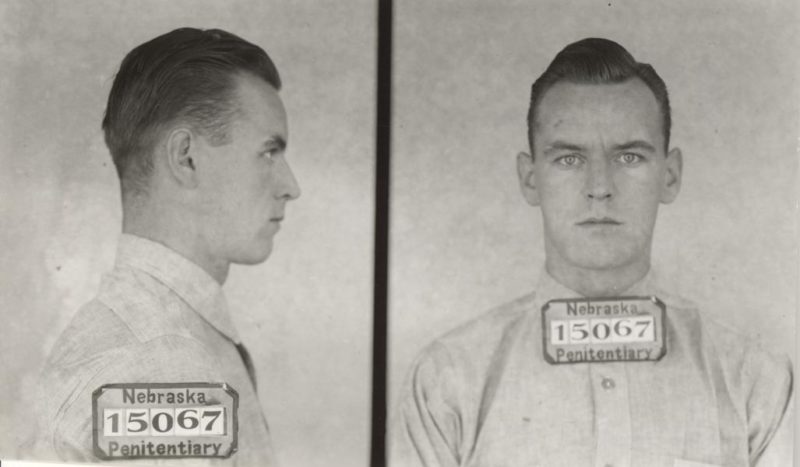 During the summer of 1943, sixteen-year-old Anna Milroy, lived and worked on a farm outside her hometown of Sutton, Nebraska, a small city of just 1,400 people. She was a junior in high school and the oldest of eight children. She worked during the week and on the weekend, she was free to do as she pleased.
On Saturday evening, August 7, she was brought into town by her employer who dropped her off near a movie theater where she met up with her sister, Wilma, and their close friend Barbara Carl. The three spent the day together and prior to going home, their last stop was at Yost's Service Station in Sutton. Anna, who was tired and wanted to go home, told her friends she was going to use the station's restroom. After waiting for several minutes for her to return, Wilma and Barbara assumed she had gone home on her own.
The next day, the family realized Anna had not returned and notified the Clay County Sheriff. At two o'clock in the afternoon Sunday, Sutton officials blew the fire whistle to call for searchers. Despite their efforts, night came and there was still no sign of Anna.
On Monday, a farmer found Anna's nude and battered body while mowing weeds along a gravel road one mile south of Sutton.
An autopsy performed later that day showed she had been raped. Besides having her skull bashed, there were holes in her head which appeared to have been made by a chisel.
Later that evening, county investigators were led to a vehicle that had been purchased on Saturday at Yost's Filling Station. The car, which was parked outside a tavern in Sutton, had what looked to be blood-splatter on the body. The owner, Private Joseph T. MacAvoy was first questioned in Sutton, then taken to an adjacent county and interrogated further.
By 5:30 the next morning, the twenty-four-year-old married solider from Brooklyn had confessed. MacAvoy was serving his second enlistment at nearby Harvard Army Airfield, a small training base sixteen miles south of Sutton. MacAvoy had recently been demoted from sergeant, and was out on bond pending trial for attacking a woman in Hastings. After he was arrested in that case, his wife, Evelyn, returned to Brooklyn. It was later reported that she left because she could not find adequate living arrangements.
In his confession, MacAvoy claimed he knew Anna and had made a date with her that night, the two planning to meet at 11:30 near Yost's station.
"I knew her because I had met her once before," MacAvoy related. "I called her aside and told her I would pick her up at 11:30 on the corner by Yost's garage. We got into the car and drove out to this road."
On that road, the two had an argument when she refused his advances. They both got out of the car and in the middle of the road, he beat her to death.
"I grabbed her by the throat and threw her down. I grabbed the crank and she started hollering. I hit her about four times on the head and body."
"The crank entered at her left ear and was driven through the head coming out at the right temple," a state sheriff told reporters.
Although she was nude, and an autopsy report said she was sexually assaulted, MacAvoy, denied raping the sixteen-year-old, but later said they had intimate relations, implying it was consensual. He also denied driving a chisel into her head.
He further stated that he returned to the airbase at 1:30 a.m., and on Sunday, he drove back out to view the body, then left. As to why he was in a tavern on Monday night in the same small community that was electrified by the tragedy, the same small town that was the girl's home, was never reported on.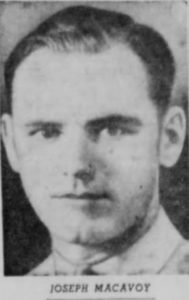 MacAvoy was turned over to civilian authorities and was held at the state penitentiary in Lincoln until his trial could begin one month later in Clay County. Although he initially pleaded guilty at his August arraignment, at the start of his trial, he changed his plea to not guilty by reason of insanity.
Following jury selection, his six day trial began on September 9 and included several outbursts in which he had to be restrained. His fate was left to the jury on September 15. Two hours later, they returned with a guilty verdict and recommendation for the death penalty.
When he heard the sentence, MacAvoy collapsed, and had to be carried out of the courtroom. His mother and sister from Brooklyn attended the trial.
Despite pleading not guilty by reason of insanity, no sanity hearing was granted by the courts, and no doctors are known to have testified at his trial. Instead, prosecutors focused on his confession which was heard and witnessed by eight people, including a stenographer.
Although he was supposed to be electrocuted on December 30, several appeals and a broken electric chair extended MacAvoy's life until March 23, 1945. For most of that time, the state was unable to get the parts it needed to repair the electric chair, not used since young Henry Sherman went crazy and killed three people back in 1928. Sherman was electrocuted the following year, and it went unused for seventeen-years.
But by 5:50 a.m. that Friday morning, the chair was fixed, tested, and ready for its next customer. The day before he died, MacAvoy was visited by his mother between two and four o'clock in the afternoon. Then, he was taken away and his head was shaved. His only visitors, besides prison officials, were Chaplain Lessten and Father Sherman. Chaplain Lessten, who was with him praying and talking most of the night, reported he ate a large portion of fried chicken and was in good spirits.
When the warden went to MacAvoy's cell to get him, a newspaper reported the following conversation.
The warden asked: "How are you?"
MacAvoy: "I'm all right."
Warden: "Are you sure?"
MacAvoy: "Yes."
The former soldier showed no unwillingness as he was taken from his death cell.
After he was strapped in, MacAvoy, who had become resigned to his fate in recent weeks, was asked if he had any last words.
He said only, "Good-bye Chaplin, good-bye Warden."
Both responded, "Good-bye Joe."
At 5:59, MacAvoy was hit with 2,300 volts for twenty seconds, but it didn't kill him. Unconscious, doctors could still detect a heartbeat. A second was shock applied at exactly 6:00 a.m. and at 6:01, MacAvoy was pronounced dead.
Up until the end, MacAvoy denied driving a chisel into her head. At trial, it was proven that a chisel he had access to, and was in his car, was used to make the wounds in Anna's head.
Anna's funeral was held at the Congregational Church in Sutton on Friday, August 13. It's unclear where she was buried, but I assume in Sutton. If she were alive today, Anna Milroy would be eighty-nine-years-old.
Update from Anna's nephew on June 14, 2018.
Joseph and Anna were not dating. Anna was walking home with her sister and brother when she told them she needed to use the restroom. She told her siblings to go on. Joseph was hiding in the restroom with a rag soaked in chloroform and planned to attack the first woman who entered. After using the rag to subdue Anna, he took her out of town to sexual assault her. She woke up during the attack and fought back, as they found hair under her fingernails. Joseph severely beat her and left her.
He returned the next night, found her still alive, and drove the chisel into her head, killing her. This brutal act the second night got him the death penalty. Joseph was actually restricted to base as he had recently assaulted a woman in a nearby town, but he had numerous forged passes which allowed him to leave base. If Anna had survived, the beating was so severe she would have been unable to resume a normal life. Joseph had bought the car he used in the crime the same night he assaulted Anna. Other military men testified he put the chisel in the car the next day. Joseph tried to claim he was drunk the night he assaulted Anna and should be spared the death penalty. However, the next night when he killed her, he was sober and that contributed to the death penalty.
My late mom, Anna's younger sister, and I were able to obtain all the court records to this case. The woman at the courthouse took us into the court room and showed us where Joseph sat and where my grandparents sat. She gave us some information of events in the trail and said my grandparents were within arms reach of their daughter's murderer. She then told us she was the court recorder for the trial. I have more information on this crime which I might share. The last document in the court papers is a letter from the Nebraska Prison Warden advising that the execution of Joseph was carried out.
—###—
True Crime Book: Famous Crimes the World Forgot Vol II, 384 pages, Kindle just $3.99, More Amazing True Crime Stories You Never Knew About! = GOLD MEDAL WINNER, True Crime Category, 2018 Independent Publisher Awards.
---
Check Out These Popular Stories on Historical Crime Detective
Posted: Jason Lucky Morrow - Writer/Founder/Editor, December 5th, 2016 under Mug Shot Monday, Short Feature Story.