Mug Shot Monday! Carrie Sang Sing, 1911
Home
|
Mug Shot Monday
| Mug Shot Monday! Carrie Sang Sing, 1911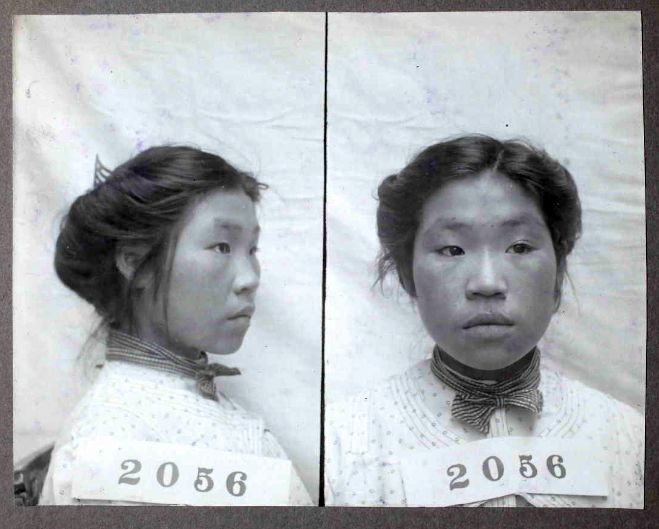 Carrie Sang Sing
On August 1, 1911, seventeen-year-old Carrie Sang Sing was arrested near Nome, Alaska, for slashing an unnamed person with a knife. Since Alaska was a territory at the time, her case fell to federal court where she was tried, convicted, and sentenced to two years in prison—with the option of only serving eighteen months for good time. All Alaskan prisoners were sent to McNeil Island Federal Penitentiary but since the prison had no facilities for women, female prisoners were transferred to Leavenworth prison in Kansas. However, since Leavenworth didn't have facilities for women either, they were sent to the Kansas State Penitentiary.
When she arrived in Kansas, the beautiful, exotic looking Carrie, whose last name came from her Chinese husband, was a source of amazement and amusement to nearly everyone who had never seen an Eskimo before. Her transfer to Kansas was a source of news for several area newspapers. Two of the articles are posted below.
Article #1
"An Eskimo Woman Begins Sentence in Lansing Prison," The Leavenworth Times, Leavenworth, Kansas, October 29, 1911, page 1.
A full-blooded Eskimo woman, Carrie Sang Sing, arrived here last night in the custody of a United States Marshal B. J. Doten, and his wife on her way to the [Kansas State] Penitentiary at Lansing to serve two years for assault with a deadly weapon. She is the first Eskimo to be imprisoned there.
Carrie Sang Sing may not ring like a true Eskimo name. It is because Carrie was married to a Chinaman in Nome. The marshal said he had heard her maiden name, but he couldn't remember it, and Carrie could not spell it.
Carrie's step-mother died in prison at McNeil Island a little more than a year ago and her father, who has been imprisoned at McNeil Island, Lives in Nome, Alaska. His name is Ableruk. Both her father and step-mother were convicted of the same offense for which Carrie was brought all the way from Nome.
Carrie didn't restrict her [debauchery, indulgence] to eating gumdrops and tallow candies, and that is why she is at Lansing. While under the influence of strong drink, an earmark of civilization that she readily adopted, Carrie slashed a fellow native with a knife.
Two years at Lansing may mean a life sentence to Carrie. Eskimos do not live long in temperate climate and, the next summer may kill her. This gave her little worry last night as she stood at the window of the Kansas City Western Railway Company's office, where she was waiting for the car to Lansing, and gaped at the crowd that gaped at her. Carrie is young and probably was an Alaskan belle.
Article #2
"Eskimo in the Kansas Pen," Lincoln County Leader, Toledo, Oregon, February 23, 1912, page seven.
Leavenworth. Kan.—Brought nearly 5,000 miles to serve a sentence In the United States penitentiary hero, Carrie Sang Sing, an Eskimo woman, was refused admission and had to be taken to the Kansas penitentiary at Lansing, where all women Federal prisoners are kept now.
Carrie canto front Cape Nome. Alaska, and is the first Eskimo woman ever a prisoner in the Kansas penitentiary. She was sentenced for two years for an attack with a deadly weapon. While under the influence of whiskey she took the warpath in Nome and severely wounded several persons with a pistol. [Not true, she slashed one person with a knife.]
Carrie's name doesn't sound very much Eskimo, and it isn't. She is the wife of a Chinese. The marshal who brought her said he couldn't pronounce her maiden name and had forgotten it, anyway, so that part of the prison record is a blank. Her father and mother have been in prison at McNell's Island, Wash., for similar offenses. The mother died there and the prison officials fear that Carrie will not be able to survive the heat in the Kansas prison neat summer.
—###—
True Crime Book: Famous Crimes the World Forgot Vol II, 384 pages, Kindle just $3.99, More Amazing True Crime Stories You Never Knew About! = GOLD MEDAL WINNER, True Crime Category, 2018 Independent Publisher Awards.
---
Check Out These Popular Stories on Historical Crime Detective
Posted: Jason Lucky Morrow - Writer/Founder/Editor, June 1st, 2015 under Mug Shot Monday.
Tags: 1900-1919, Alaska, Women