Mug Shot Monday! Adolph Smetak, 1925
Home
|
Mug Shot Monday
| Mug Shot Monday! Adolph Smetak, 1925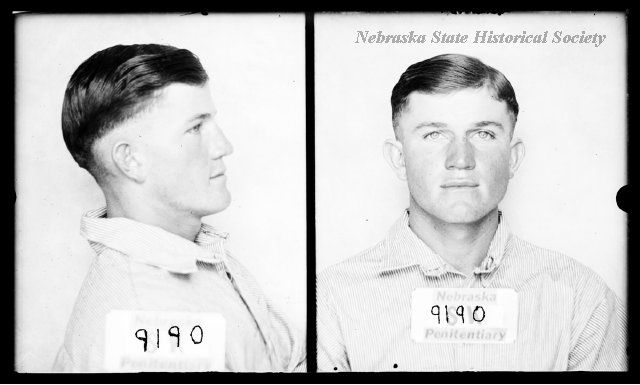 In August 1925, neighbors of Prague, Nebraska, farmer John Smetak grew suspicious when they hadn't seen him since March. His son, Adolph, told neighbors he had gone back to the "old country" (Bohemia) to visit relatives. Their suspicions led them to report the missing man to county deputies who began their search on the Smetak property. There, down a water well, was the body of John Smetak.
His son twenty-one-year-old son, Adolph, confessed to murdering his father during a physical confrontation—one of many John Smetak had with his six children and his wife. During that fight, Adolph hit his father on the head with a hammer and then killed him.
Afterward, Smetak also confessed to taking more than $1,000 in cash savings from his father, and forged his name to three certificates of deposit totaling $2,500.
Smetak was sentenced to life in prison. He came up for parole in 1935, but was denied. At his next parole hearing in 1940, relatives and citizens from Prague attended the hearing and petitioned for his release. A former school teacher told the board how John Smetak had brutalized his six children and wives.
"All the children, but Adolph, had been driven away by their father's tyranny," the Lincoln Star reported as it paraphrased the teacher. His brothers Frank and Anton expressed the belief that their father had poisoned their mother to death. The also pointed out that their father's second wife was brutally beaten and driven to take refuge in an insane asylum.
A local banker also testified and called the boys' father a "brute, moron, and pervert." The newspaper avoided reporting on exactly why he thought John Smetak was a pervert.
After that hearing, Smetak's sentence was reduced to 22 and one-half years, and he was released in March, 1940, after serving fifteen years which was approximately three-fourths of his sentence plus "good-time."
In 1941, Adolph Smetak married thirty-seven-year-old Marie Vrana. For their entire marriage, the couple lived in the same county where Adolph murdered his father in 1925. He died on May 25, 1967. Marie died on September 19, 2001 at the age of ninety-seven. They had no children.
—###—
True Crime Book: Famous Crimes the World Forgot Vol II, 384 pages, Kindle just $3.99, More Amazing True Crime Stories You Never Knew About! = GOLD MEDAL WINNER, True Crime Category, 2018 Independent Publisher Awards.
---
Check Out These Popular Stories on Historical Crime Detective
Posted: Jason Lucky Morrow - Writer/Founder/Editor, January 12th, 2016 under Mug Shot Monday.
Tags: 1920s, Murder, Nebraska