Famous Crimes… Vol II Wins Gold Medal for True Crime
Home
|
Recent News
| Famous Crimes… Vol II Wins Gold Medal for True Crime
Some good news to share…
But first, let me apologize for my long absence from the blog and Fb page. I am taking a long mental health vacation. Or, creative health vacation. Something like that. When I come back, I have some great stories to present including "The Case of the Missing Chocolate Pudding!" Just kidding. I've been putting in a lot of Mr. Mom hours.
The good news is that I found out twenty-four hours ago that my last book, Famous Crimes the World Forgot Volume II, received the Gold Medal in the True Crime Category of the 2018 Independent Publisher Book Awards.
Gold Medal. True Crime. I still can't wrap my head around it. I did not see that coming.
Here's how IndependentPublisher.com describes their book awards – in two sentences.
The "IPPY" Awards, also known as the "World's Largest Book Awards Contest," are open to English-language authors and publishers worldwide and conducted annually to recognize the year's best independently published books. Launched in 1996, the awards have grown from 325 entries in 28 categories, to over 5,000 entries in 125 categories.
After looking at the books and authors, who won the Silver and Bronze Medals, I can say I am impressed by their work. One is a professor of law at the University of Kentucky, and the other is a former prosecutor. Yikes.
But seriously, recognition is awkward because validation of one's work is a tender thing. Mostly, it never happens. When it does, the words that once came so easily slip away and I can only say "from my heart, thank you very much," and I have no better words than those.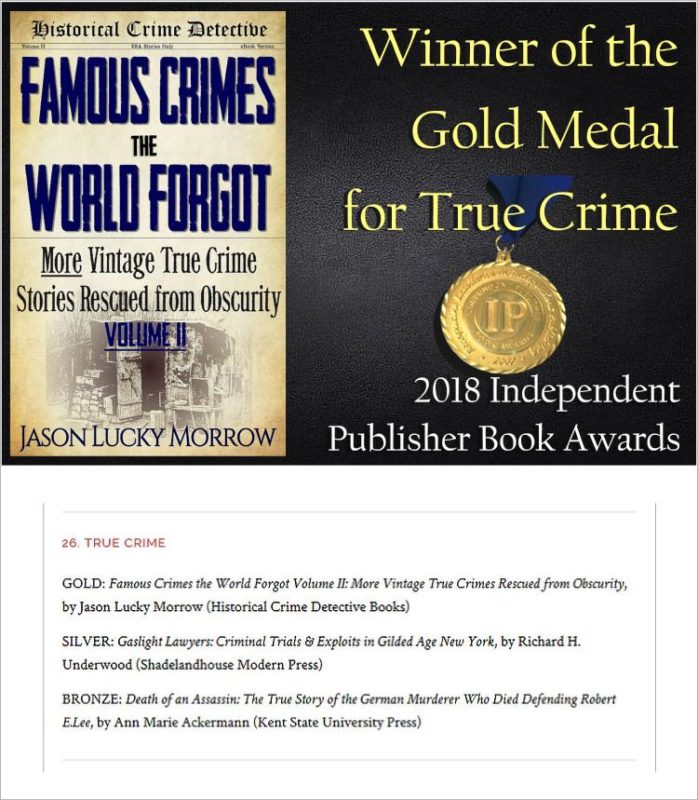 —###—
True Crime Book: Famous Crimes the World Forgot Vol II, 384 pages, Kindle just $3.99, More Amazing True Crime Stories You Never Knew About! = GOLD MEDAL WINNER, True Crime Category, 2018 Independent Publisher Awards.
---
Check Out These Popular Stories on Historical Crime Detective
Posted: Jason Lucky Morrow - Writer/Founder/Editor, April 13th, 2018 under Recent News.