Cop Killer, 1937, Michigan State Policeman Richards F. Hammond
Home
|
Rediscovered Crime News
| Cop Killer, 1937, Michigan State Policeman Richards F. Hammond
Part 1
[MONROE, Michigan, Jan. 20, 1937]—The bullet-pierced body of Michigan State Policeman Richards F. Hammond was found handcuffed to a mail box on a lonely country road today, five hours after he was abducted by a former convict he had arrested.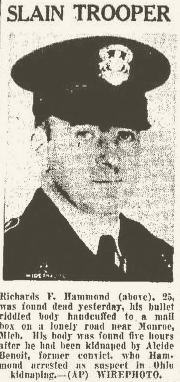 A posse of more than 200 officers from Indiana, Ohio, and Michigan searched wooded areas for Alcide (Frenchy) Benoit; alias, Joe La Rue, who was paroled from the Michigan state reformatory at Ionia a year ago.
Airplanes piloted by Detroit police and Indiana state police joined the search and Michigan state police issued radio appeals for farmers to arm themselves and search their out buildings for the fugitives
Had Halted Pair
Hammond, a husky, six-foot troopers with a fellow officer, Sam Sineni, halted two men while blockading the highway at Monroe shortly before last midnight in search of two gunmen who abducted Fred Williams, a used car salesman, in Detroit, and left him tied to a tree in Toledo. Hammond took Benoit in the state patrol car while Sineni entered a car operated by the second suspect, John Smith, alias Mike Delberto, formerly of Flint, and also a former convict.
En route to the state police barracks at Erie, Mich., Benoit suddenly overpowered Trooper Hammond •and sped away with him in the motor car.
A Running Gunfight
Trooper Sineni pursued the fugitive patrol car for 10 miles, exchanging shots with Benoit until the pursuing car was ditched.
Two Monroe county deputy sheriffs, Joe Dansard and Robert Navarre, came upon the hunted car near Lulu, Mich., and again a gunfight ensued with Benoit finally abandoning the patrol car. He escaped on foot into nearby woods. In the bloodstained car was the uniform coat of Trooper Hammond. It was saturated with blood.
At 5 a.m. officers patrolling roads in the area came upon the body of the missing trooper. Hammond had been shot through the head. His body was slumped against a rural mail box and his wrists were shackled with his own handcuffs to a steal post.
Capt. Lawrence A. Lyon of the Michigan state police, who is directing the search, Identified Benoit as the man sought. He said Trooper Sineni brought Smith to the Erie barracks after the gun battle and then joined the search for the former convict.
Killer Is Parolee
State police Identification bureau records show that Benoit wes sentenced to the state reformatory at Ionia after conviction in Detroit of carrying concealed weapons and of receiving stolen property. Benoit was released on parole Jan. 2, 1936. Smith also served a sentence in the reformatory.
Captain Lyon said the motor car in which Benoit and Smith were arrested last night was stolen from Williams, the Detroit used car salesman, in Toledo last night. Hammond, whose home was in Hanover, Mich., had been a member of the state police for 18 months.
Source: AP via The Miami Daily-News Record, (Oklahoma), Jan. 20, 1937, Pages 1,2
Part 2
[Monroe. Mich.. Jan. 21, 1937] – Alcide (Frenchy) Benoit, youthful paroled convict captured after a 20-hour manhunt, told today how he killed Michigan state policeman Richards P. Hammond and then handcuffed the officer's body to a rural mailbox.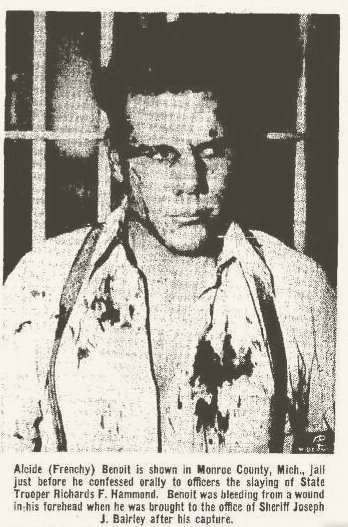 County Prosecutor Francis Ready announced the confession of the 24 year-old black-haired gunman shortly after Benoit's desperate game of hide-and-seek over sleet-covered country areas with officers or three states and the federal government ended In Monroe—a short distance from the spot where he abducted Trooper Hammond of midnight Tuesday.
Hammond and Trooper Sam Sinei halted a stolen car occupied by Benoit and John Lee Smith, 23, alias Delbert, and decided to take the pair to headquarters for questioning In connection with the abduction of Fred Williams, a Detroit used car salesman who was left tied to a tree at Toledo early Tuesday night.
"I got into the patrol car with the officer (Hammond)," Benoit orally confessed to Prosecutor Francis Ready, State Police Captain Lawrence A. Lyon and Sheriff Joseph J. Ready. "Sinei and Smith followed in the seized automobile.
"As the car started, I jammed the gun into the officer's rib and told him to slow down," Benoit said.
"Instead, Hammond started to go faster so I slugged him over the eye with the butt of my pistol and told him to turn onto a side road.
"The other officer (Sineni) behind came up close. I turned around and fired three shot. When I started shooting Hammond said he was going crash the car and I told him if he did, I'd kill him sure.
"Then the other car went into the ditch and I stopped. I was going to take my partner (Smith) away, from the other cop, but a truck blocked the way, so I made Hammond drive down lonely roads until we came to where I left him."
This was five miles southeast of Erie, Mich., about ten miles from the place where Benoit abandoned the blood-stained patrol car and escaped into the woods.
"I made Hammond stop," Benoit was quoted as confessing. "Then got out and put one of the handcuffs on his wrists. When I tried to get him out of the car he put up a fight and we rolled over on the ground. I could see he was getting the best of me. Then I fired during the scuffle and he got limp. I cuffed his hands around the poet lot the mail box."
Benoit, bleeding profusely from cuts on his head insisted to officers, however, that he did not realize, he had shot Trooper Hammond until the officers' body went limp and he succeeded in shackling him to the post.
After leaving the body, Benoit said, the wireless in the police car brought realization that a highway blockade had been set-up which he could not hope to penetrate. He said he heard orders sending all available Michigan officers, into the area, with reinforcements from Ohio and Indiana.
After brief burst of gunfire from county and state officers, Benoit said, he abandoned the patrol car and ran on foot across a field. Later he took refuge in a barn to escape freezing rain, Benoit said, and remained until darkness fell last night. Then, Benoit walked into a farm house near Federman, Mich., and at gunpoint forced Paul Balog, 55, and his son, Steve, 16, to drive him in their light truck.
Another member of the Balog family raised an alarm and four state troopers participated in the capture after Benoit at the wheel of the truck, had narrowly escaped cruising police cars by turning into alleys.
Arraignment
Benoit faced arraignment today. If convicted of first degree murder in the state courts, he faces a mandatory life sentence, the maximum penalty In Michigan.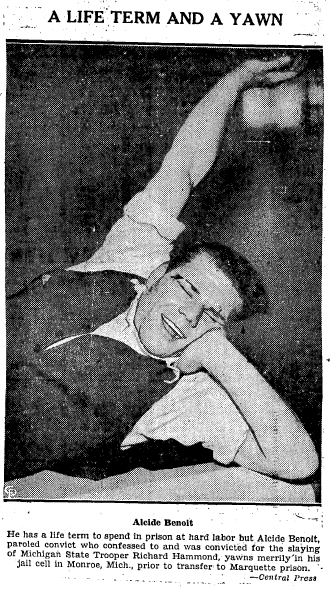 Benoit was captured by four state troopers at the intersection of Michigan state highway 50 and Telegraph Road, about three miles from Monroe.
Harry Nelson and Trooper Russell Moore on duty on Telegraph Road, saw the Balog truck going northeast on Telegraph Road at the edge of Monroe. They forced Benoit to turn onto a side road and there the troopers fired a shot into the hood of the truck, Benoit stopped the truck and got out—his hands in the air as two other officers arrived.
"You've got me, coppers!" he shouted. "Yes, I'm the guy,"
Anna Balog, 13-year old daughter of the Monroe farmer, was credited with giving state police the tip that led to Benoit's capture.
The girl, ignoring her mother's protests, got out in a driving rainstorm over a soggy road to the farmhouse of a neighbor, Irvin Karns to notify him that a stranger had appeared at the farm house about 6:45 p.m. He made the Balogs believe at first they were going to help him out his car out of the ditch.
"When they drove away," Anna said, "I grabbed a lantern and started up the road to the Karns' place.
"I was scared." Steve Balog, telling of the capture, said: "The state police seemed to be all around the car. They pulled him out and, boy was I glad!"
Source: AP via The Daily Mail, (Hagerstown, MD), Jan. 21, 1937, Pages 1, 2
Note: Alcide "Frenchy" Benoit pleaded guilty to first degree murder and was sentenced to life in prison at Marquette State Prison in Michigan.
True Crime Book: Famous Crimes the World Forgot Vol II, 384 pages, Kindle just $3.99, More Amazing True Crime Stories You Never Knew About! = GOLD MEDAL WINNER, True Crime Category, 2018 Independent Publisher Awards.
---
Check Out These Popular Stories on Historical Crime Detective
Posted: Jason Lucky Morrow - Writer/Founder/Editor, July 23rd, 2013 under Rediscovered Crime News.
Tags: 1930s, cop killer, Michigan