The Torture Murder of Alice Porter, 1942
Home
|
Short Feature Story
| The Torture Murder of Alice Porter, 1942
During the early part of April, 1942, Donald Fearn, a twenty-three-year-old railway mechanic living in Pueblo, Colorado, sat in his tan colored Ford Sedan and watch night after night as a bevy of pretty young girls departed from a nursing class. Beautiful sixteen-year-old Alice Porter, a high school student taking night classes, caught his attention and he spent the next week following the girl around and spying on her as she went about her normal routine.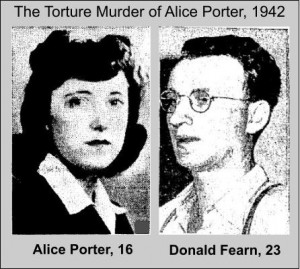 On the night of Wednesday, April 22, a few hours after his wife had given birth to his daughter, Fearn caught up with Porter as she was walking home from class and forced her into his car at gunpoint. He then drove twenty-five miles outside of Pueblo to an abandoned ranch house where he took her inside and beat as he tried to rip off her clothes. To get him to stop, Porter agreed to strip naked for him.
Fearn then bound her ankles, wrists, and mouth with tape. As she lay there, afraid of being raped, afraid of dying, she watched as this normal looking man with spectacles and a receding hairline make a fire in the fireplace. If she thought he was trying to make their accommodations more comfortable, and to heat the cabin while a cold rain fell, she soon realized this was not his intentions.
When it was blazing, he took a long wire, stuck it in the fire until it was red hot, and used it to burn her skin on her abdomen and back in about two dozen places. When he was done torturing her, he raped the frightened young girl. Still not finished, he crushed her skull with a hammer, then shot her twice in the head with a .32 pistol to end her suffering.
When it was time to go, he burned some of her clothes in the fireplace and threw her body into a nearby cistern.
But he had taken too long. By the time he left sometime after midnight, the cold, steady rain had turned the dirt roads into a soupy mud. A short distance from the cabin, he got stuck and was forced to walk several miles to find a garage with a tow truck that could pull him out. The owner had to be roused out of bed at 4 a.m.
When Alice was abducted from a Pueblo street, her screams attracted the attention of a neighbor who spotted a light colored Ford driving away. On April 26, four days after she disappeared, news reached the tow truck driver that police were looking for a light colored Ford in connection with the abduction of a young girl on the same night he had towed a light colored Ford out of the mud. The driver then contacted police and led them to the desolate road where he pulled the car out. Locals then directed their attention to the abandoned ranch house.
Inside, lawmen found remnants of a young woman's clothes in the fireplace, and blood stains. They also found Fearn's torture kit which included scissors, pliers, bailing wire, and a shoemaker's awl—similar in appearance to an ice pick—from which they were able to collect a partial fingerprint. When the searched the property for more clues, they spotted the cistern that concealed Alice Porter's tortured remains with its disfigured skull.
Later that same day, Fearn's car was located in a Pueblo car wash where it was waiting to be washed. Fearn was identified, approached, and asked to come to the police station.
There, detectives took his fingerprints and quickly matched them with the print lifted from the handle of the shoemaker's awl. When the matching prints were shown to him, he quickly confessed, stating, "I just went wild, I guess." To protect him from an angry mob outside the jailhouse, Fearn had to be transferred immediately to the state prison in Canon City.
Although Fearn confessed in written statement, he pled not guilty by reason of insanity, and cited "sadism" as his mental illness. During his trial held in June, less than two months after the murder, Fearn revealed that since he was six years-old, he had fantasized about torturing people.
"Fearn told the court that he had "uncontrolled impulses" since before he was six years-old, and that they consisted of a desire to inflict injury on others," the Associated Press reported on June 11. "The impulses, he said, grew more intense as years passed and became frequent when he was twelve or thirteen years-old. Later, they became continuous causing him worry, depressed attitudes, and dreams from which he awoke at night from perspiration. Always, he said, he dreamed he had tortured someone."
The jury found Fearn sane and he was sentenced to death. He rejected any effort to appeal his death sentence, and made it clear he wished to die.
As the day of his execution approached, Fearn welcomed his fate in statements made to guards, which were later written down.
"I'm ready, and they can hurry up if they want to. I ask no mercy. I deserve to die. I am better out-of-the-way because I am a nuisance when that urge comes," he stated.
Fearn's wish was granted and he was executed in the Colorado gas chamber at 8:05 p.m. on October 23—just six months and one day after he brutally murdered Alice Porter. He left behind a wife and two children.
—###—
True Crime Book: Famous Crimes the World Forgot Vol II, 384 pages, Kindle just $3.99, More Amazing True Crime Stories You Never Knew About! = GOLD MEDAL WINNER, True Crime Category, 2018 Independent Publisher Awards.
---
Check Out These Popular Stories on Historical Crime Detective
Posted: Jason Lucky Morrow - Writer/Founder/Editor, July 23rd, 2015 under Short Feature Story.
Tags: Colorado, Execution, Murder, Psychopath