New Book About Phil Kennamer & the Murder of John Gorrell Jr. in Tulsa, 1934
For Oklahoma residents familiar with Phil Kennamer, and the 1934 murder of John Gorrell Jr, a new book about the case has recently been released by Historical Crime Detective blogger and author, Jason Lucky Morrow.
On the night of Thanksgiving, 1934, the son of a prominent Tulsa doctor was shot to death in his car in the wealthiest neighborhood of the oil-rich city. Two days later, the son of one of the most powerful men in the state walked into the sheriff's office with his lawyer and surrendered.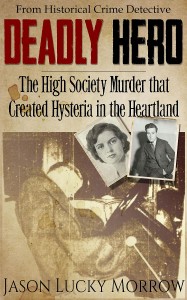 The killer's name, and who his father was, would shock the entire nation and make news around the world.
In a convoluted story, the mentally unstable genius claimed he killed in self-defense and to protect wealthy debutante Virginia Wilcox–the object of his unrequited love. But prosecutors claimed their star prisoner was the actual mastermind of a diabolical plot in which he would emerge as the hero, win Virginia's heart, and gain acceptance into the Wilcox family by her mega-rich father.
Tulsa's high-society murder scandalized the Oil Capitol of the World when the investigation churned up unsubstantiated reports of rich kids wildly out of control. Looking out over their Christian, conservative city, adults imagined sex-mad teens driving dangerously over their streets to get to hole-in-the-wall gambling joints and breast-bouncing dance parties where they would plan big crimes–all while high on marijuana and drunk on 3.2 beer. A tornado of rumors and gossip tore through town, stirring up mass hysteria and igniting a moral crusade to save the souls of Tulsa's youth. When a key witness was found dead in his car under similar circumstances, it only confirmed their worst fears.
In a notable year for famous criminals, this case from the Oklahoma heartland received nationwide coverage each step of the way. This true story is not a "whodunit," but rather, a "will he get away with it?" The answer to that question is still up for debate after the killer did something only the bravest of men would ever do.
Link to Tulsa World article.
—###—