Mug Shot Monday! WJ Edwards 1938
Home
|
Mug Shot Monday
| Mug Shot Monday! WJ Edwards 1938
.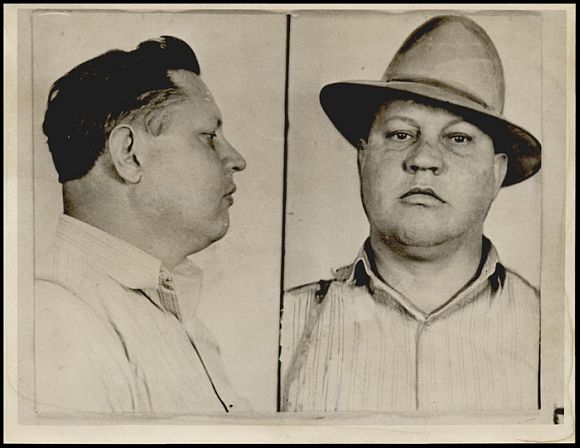 WJ Edwards 2-15-39, Convicted of Murder
Story 1: "Two Are Held in City Death, Shots Blamed on Robbery Fear"
Two men were held in the city jail Monday and funeral arrangements completed for a third as the aftermath of a shooting Sunday night in a one-room house at 129 West Chickasaw Avenue,
Services for Wayman Y Stallcup, 33 years old, 735 Southeast Eleventh Street, will be at 10 a.m. Tuesday at Hahn Funeral Home, with burial in Sunny Lane Cemetery.
W.J. Edwards, 39 years old, at whose home Stallcup was shot, admitted firing the two fatal shots, police said, and was being held in the city jail, pending action Tuesday morning by the county attorney, Leo Nichols, 49, 17 ½ East Reno Avenue, visiting Edwards when the shooting occurred was held as a witness. Edwards told police he shot Stallcup, his wife's nephew, because he thought Stallcup was going to rob him.
Stallcup, a WPA worker, is survived by his wife and two small daughters, Betty and Nancy; his parents, Mr. and Mrs. I.N. Stallcup, and five brothers and one sister.
Daily Oklahoman, Dec. 20, 1938, page 19.
Story 2: "Rattlesnake Eater Has Brief Murder Trial Role: Apache Joe Says That is his Only Name"
A man who eats rattlesnakes and cactus Monday was a surprise witness in the trial for murder of WJ Edwards, charged In connection with the death, December 18, of W. F. Stallcup, WPA worker.
He is Apache Joe, former medicine show operator, former Wild West star, a worker in leather, as much at home on the desert as in the city and spry for his 73 years.
That is the only name he knows, he said on the stand, when called as a state witness. In 1866 his parents were killed by Apache Indians who took him into the tribe. He was a baby, not yet able to walk, so he thinks he must be about 74 years old by now.
Apache Joe, who has lived In Oklahoma City, all in trailers, hotels, and rooming houses for five years, thinks he carries his years so lightly because of the rattlesnake diet.
Once a year, in September, he goes to Arizona to participate in tribal rites of the Apaches. That's when he gorges himself with rattlesnake meat. And he always brings several cans of it home. His annual supply was exhausted New Year's day.
Apache Joe testified he was living in a trailer close to the Edwards' house, 129 West Chickasaw Avenue, in which the argument and fatal shooting occurred.
Apache Joe said he heard shots and saw a body fall out the door of the Edwards house and that somebody then pulled the body back into the house.
One defense witness will he heard Tuesday morning before the ease goes to a district court jury. Edwards, a large swarthy man, testified in his own defense Monday and claimed that he shot Stallcup in self-defense.
Daily Oklahoman, Feb. 14, 1939, page 10.
Story 3: "Murder Term Set At Life: Surprise Witness Helps to Convict Edwards"
W. J. Edwards was found guilty of murder and his sentence set at life imprisonment by a district court jury Tuesday, principally upon testimony of a surprise witness known as "Apache Joe."
Edwards was tried for the fatal shooting of W. Y. Stallcup, WPA worker, killed December 18.
Judge Clarence Mills will pass sentence Saturday morning. Sid White, defense attorney, indicated he planned to appeal the verdict.
That Apache Joe's testimony was the turning, point in the case seemed apparent Tuesday when the Jury walked to the 100 block West Chickasaw avenue, where the shooting occurred, to see if the leather worker could, have seen a body fall out the door of the Edwards house from his trailer, about 75 yards away.
Defense witnesses had maintained this was impossible. The jury apparently decided Apache Joe had told the truth.
Photo Credit: [Photograph 2012.201.B0320.0219], Photograph, February 15, 1939; digital image, (http://gateway.okhistory.org/ark:/67531/metadc206407/ : accessed August 25, 2014), Oklahoma Historical Society, The Gateway to Oklahoma History, http://gateway.okhistory.org; crediting Oklahoma Historical Society, Oklahoma City, Oklahoma.
Check out our other Mug Shot Monday Photos
—###—
True Crime Book: Famous Crimes the World Forgot Vol II, 384 pages, Kindle just $3.99, More Amazing True Crime Stories You Never Knew About! = GOLD MEDAL WINNER, True Crime Category, 2018 Independent Publisher Awards.
---
Check Out These Popular Stories on Historical Crime Detective
Posted: Jason Lucky Morrow - Writer/Founder/Editor, August 25th, 2014 under Mug Shot Monday.
Tags: 1930s, Murder, Oklahoma