Mug Shot Monday! Wilburn Barton, 1921
Home
|
Mug Shot Monday
| Mug Shot Monday! Wilburn Barton, 1921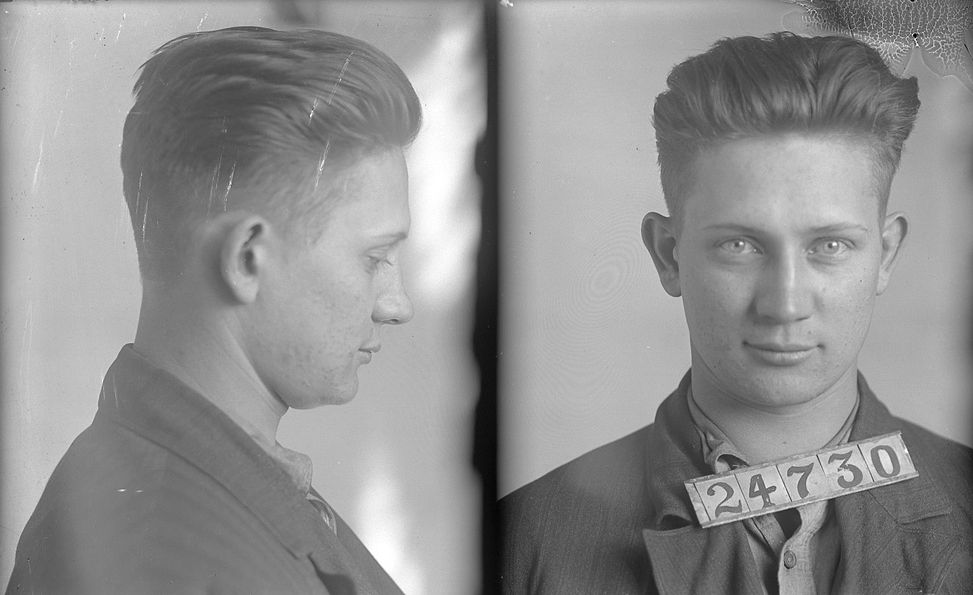 During the early morning hours of December 8, 1921, Wilburn Barton, 19, and his older brother, Milton, 22, robbed and tortured an elderly couple in their farm house in western Iron County, Missouri. The Barton brothers tied Bud Osborne to his bed with bailing wire, murdered him, and then set the house on fire. His wife, Mary Jane, was found alive but severely beaten in her yard by neighbors attracted by the flames of the burning home.
Before she was taken to the hospital in Ironton, Mrs. Osborne named Milton and Wilburn Barton as the assailants. She managed to live for a few more weeks before dying on December 25.
For some unclear reason, the local paper, the weekly Iron County Register, only devoted one or two column inches to the story during the arrest phase, then again during the pretrial and trial phases. Statewide newspapers also had no interest in what was a brutal torture slaying of an elderly couple.
Both brothers were tried, convicted, and sentenced to life in prison in April 1922. Milton Barton died in prison in 1934. The life sentence for murder was his second time in prison. In 1919, he and his brother, Enoch, were sentenced to serve two years for burglary and larceny.
In an era when convicted killers given life sentences were often paroled after serving eleven to twenty years in prison, Wilburn served twenty-eight years of his sentence by the time he was paroled in 1950. The longer than average time for patrol may indicate he was a difficult prisoner.
—###—
True Crime Book: Famous Crimes the World Forgot Vol II, 384 pages, Kindle just $3.99, More Amazing True Crime Stories You Never Knew About! = GOLD MEDAL WINNER, True Crime Category, 2018 Independent Publisher Awards.
---
Check Out These Popular Stories on Historical Crime Detective
Posted: Jason Lucky Morrow - Writer/Founder/Editor, February 22nd, 2016 under Mug Shot Monday.
Tags: 1920s, Murder