Mug Shot Monday: Timothy Palmes & Ronald Straight, 1976
Home
|
Mug Shot Monday
| Mug Shot Monday: Timothy Palmes & Ronald Straight, 1976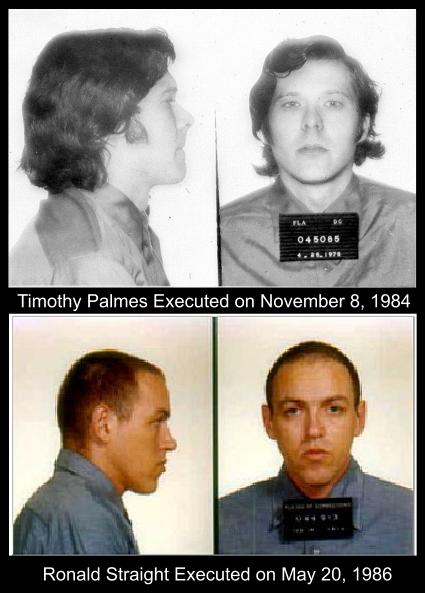 Executed for the Robbery/Torture/Murder of a Jacksonville, Florida, furniture store owner in 1976.
On July 30, 1976, Ronald Straight received a mandatory conditional parole from the Florida Parole and Probation Commission. By early September, he had drifted to Jacksonville, where he moved into an apartment occupied by Timothy Palmes, Palme's girlfriend Jane Albert, and Albert's seven-year old daughter. Jane Albert worked as a secretary for James Stone, forty-one, who owned a furniture store called Scott's Furniture Company.
After discussing Stone's business with Jane Albert, Straight and Palmes proposed that they would collect old debts of Stone's customers in exchange for forty-percent of the monies collected. Stone rejected their offer because they contemplated using violence against the uncooperative debtors. However, Stone did offer Straight one hundred dollars for new clothes, and told Palmes there might soon be a full-time job opening in the store.
By late September, Stone had decided not to employ Palmes, who then told Straight and another person, "You know, I'm going to kill him."
Straight replied that he should take that opportunity because Stone's offer of money was insulting. They agreed to wait until after the first of October, when customers' monthly payments would be in the store.
On Sunday, October 3, 1976, Straight, Palmes, and Albert purchased lumber, cement, metal supports and screws to construct a heavily weighted coffin. The next morning, Albert lured Stone from the store to her apartment, where her daughter told him to go to the back bedroom. Straight and Palmes were waiting for him and there struck him with a hammer, bound his hands and feet with wire and placed him in the box.
For approximately thirty minutes, they beat him, amputated several of his fingers and otherwise tortured him. During this time the victim repeatedly begged for his life. Finally, with a machete and butcher knife, Straight and Palmes stabbed Stone eighteen times, eventually killing him. They took his watch, money and car. Meanwhile, Albert took $2,800.00 from the store.
The weighted coffin with Stone's corpse was dumped in the St. Johns River. Albert, her daughter, Palmes, and Straight then left for California. When police there apprehended them, Straight resisted arrest by shooting at the officers.
Albert was granted immunity from prosecution by the state in exchange for her testimony as a witness. Palmes confessed and the coffin was recovered from the river. Tried separately, Palmes and Straight were convicted of first degree murder and sentenced to death.
After his appeals and stays of execution ran out, Palmes was executed on November 8, 1984, at 10:03 a.m in Florida's electric chair in Starke, Florida. His last words were, "My family's love has been my strength. That's all. Good-bye." The thirty-seven-year-old was the hit with 2,000 volts of electricity.
Straight was executed in the same chair on May 20, 1986. Unlike Palmes, no family members were present. Straight refused a last meal, nor made any final statements.
—###—
True Crime Book: Famous Crimes the World Forgot Vol II, 384 pages, Kindle just $3.99, More Amazing True Crime Stories You Never Knew About! = GOLD MEDAL WINNER, True Crime Category, 2018 Independent Publisher Awards.
---
Check Out These Popular Stories on Historical Crime Detective
Posted: Jason Lucky Morrow - Writer/Founder/Editor, January 25th, 2016 under Mug Shot Monday.
Tags: 1970s, Execution, Florida