Mug Shot Monday! Ruth Eisemann-Schier, 1968
Home
|
Mug Shot Monday
| Mug Shot Monday! Ruth Eisemann-Schier, 1968
On December 28, 1968, Ruth Eisemann-Schier became the first woman to claim a spot on the notorious FBI Most Wanted list when she and her then boyfriend, Gary Stephen Krist, kidnapped the daughter of a millionaire and demanded a $500,000 ransom.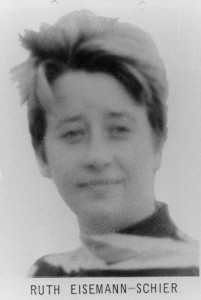 The 26-year-old and her boyfriend buried Barbara Mackle outside of Atlanta in a coffin with ventilation tubes and a little food. Mackle was found buried in the shallow grave 80 hours later, unharmed. Krist was arrested on December 20, 1968 for the Mackle kidnapping, while Schier, who had separated from Krist after a botched initial attempt to collect the ransom, escaped. She was later apprehended in Norman, Oklahoma, on March 5, 1969, 79 days after the kidnapping, where she was pretending to be a 19 year-old college student at the University of Oklahoma.
She pleaded guilty and was sentenced to seven years in prison. Schier served four years of her sentence and was paroled on condition of deportation to her native Honduras.
While Schier was in prison, Gene Miller, in collaboration with Mackle, wrote about the crime in their book 83 Hours Till Dawn, which later became a movie by the same name. Schier's case was one of many covered in the 2002 book Mistresses of Mayhem: the Book of Women Criminals.
Ruth till lives in Honduras. She has a Facebook page which was last updated on May 14, 2013, by the time of this post.
Gary Krist served ten years, received a pardon so he could become a doctor, lost his license, and was arrested in 2006 for trying smuggle aliens and cocaine into the country on a private boat he had chartered.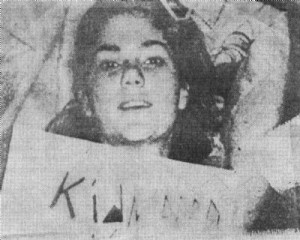 Barbara Mackle "proof of life" photo taken when she was kidnapped.
—-###—-
True Crime Book: Famous Crimes the World Forgot Vol II, 384 pages, Kindle just $3.99, More Amazing True Crime Stories You Never Knew About! = GOLD MEDAL WINNER, True Crime Category, 2018 Independent Publisher Awards.
---
Check Out These Popular Stories on Historical Crime Detective
Posted: Jason Lucky Morrow - Writer/Founder/Editor, December 8th, 2014 under Mug Shot Monday.
Tags: 1960s, FBI Most Wanted, Women