Mug Shot Monday! Kenneth "Screwdriver" Cindle
Home
|
Mug Shot Monday
| Mug Shot Monday! Kenneth "Screwdriver" Cindle
Kenneth Eugene Cindle, 48, aka "Screwdriver," was named to the FBI's Most Wanted List on Dec. 23, 1960 following the shotgun hold-up of a Wichita, Kansas restaurant that netted him and a partner, $236. The partner was quickly captured in Amarillo, Texas.
The FBI circular said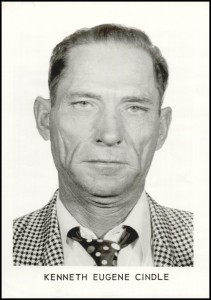 he was an avid gambler, heavy smoker, and heavy drinker. The name of an ex-wife, "Opal," was tattooed on the outside of his left forearm. He was also missing two fingers. He had a long prison history for armed robberies, assaults, and other offenses. He was picked up by police several times in Oklahoma but was let loose before they could learn his identity. [Not uncommon before AFIS].
He was caught on April 1, 1961 in Cochran County, Texas after a local farmer saw his photograph on television, and recognized him as a hitchhiker he had picked up earlier that day. Cindle had been hitchhiking across the county and working odd jobs to avoid apprehension.
It's unclear from my archival sources but I believe he was sentenced to 15 years in a Kansas prison as a habitual offender.
Check out more of our Vintage Mug Shots.
Photo Credit: [Photograph 2012.201.B0226.0200], Photograph, December 27, 1960; digital image, (http://gateway.okhistory.org/ark:/67531/metadc201952/ : accessed June 24, 2014), Oklahoma Historical Society, The Gateway to Oklahoma History, http://gateway.okhistory.org; crediting Oklahoma Historical Society, Oklahoma City, Oklahoma.
—###—
True Crime Book: Famous Crimes the World Forgot Vol II, 384 pages, Kindle just $3.99, More Amazing True Crime Stories You Never Knew About! = GOLD MEDAL WINNER, True Crime Category, 2018 Independent Publisher Awards.
---
Check Out These Popular Stories on Historical Crime Detective
Posted: Jason Lucky Morrow - Writer/Founder/Editor, July 21st, 2014 under Mug Shot Monday.
Tags: 1960s, FBI Most Wanted