Mug Shot Monday! John Cooper, Alaska, 1912
Home
|
Mug Shot Monday
,
Short Feature Story
| Mug Shot Monday! John Cooper, Alaska, 1912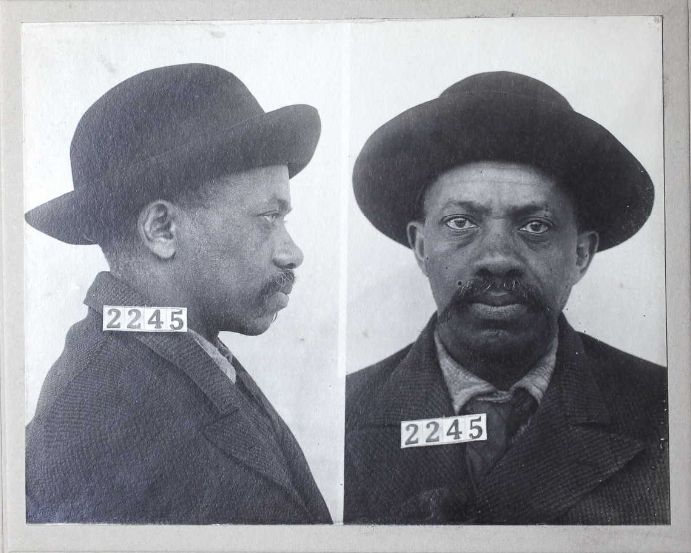 John Cooper 1912
During the winter of 1910, Walter Wimbish and John Cooper were working a gold mine claim near Pedro Creek, Alaska, when Wimbish suddenly disappeared in November. This did not raise any immediate alarms since miners during this era often moved about the frontier filing and exploring new claims. But after six months with no sign or word of Wimbish, fellow miners who knew him grew concerned and cast their suspicions towards his mining partner, John Cooper.
Either because the victim was black, or because miners were known to cover a wide area in their search for gold, authorities declined to get involved and did not pursue the matter. By August 1911, several of Wimbish's acquaintances began looking into his disappearance and explored the mine shaft he was last known to be working near Pedro Creek. There, at the bottom of the shaft, they found a bloody straight razor which confirmed their suspicion Wimbish had been murdered and his body was somewhere nearby.
When the bloody razor was discovered, federal officials, on orders of the US Attorney General, began an all-out search for the miner's body. A further search of the Cooper and Wimbish abandoned mining camp revealed charred bones believed to be human.
A Fairbanks newspaper reported on the grisly discovery in their August 16, 1911, edition.
More startling than any previous developments in the Wimbish mystery was the discovery on Monday by Deputy Marshal Cunningham of charred bones, and the remnants of burned clothes and buttons in the remains of a woodpile above the shaft of the Wimbish mine on Pedro. The bones lie within a length of six feet at one end of the burned woodpile. At one end of the six-foot space the eyelets of shoes were picked up, and in the same ashes were found what are believed to be knuckle bones.
The following day, a search party found another burn site one-quarter of a mile away, where more charred bones, human teeth, and buttons were discovered. Authorities believed that when Wimbish's friends began calling for an investigation, Cooper returned to the camp site, gathered up the remaining charred bones and burned them a second time sometime within the last thirty-days of when they found the second burn site.
John Cooper never left the Fairbanks area and was located and arrested on a new claim he was working. His partner on that site, a German by the name of Crecey, reported to federal officers that Cooper had recently tried to poison him.
For reasons that are unclear, Cooper's trial was scheduled and delayed more than one dozen times before he went on trial in September 1912. By then, the Fairbanks newspaper had lost interest in his case and did not send a reporter to cover his trial. According to his prison records, Cooper was convicted on September 25, 1912, and sentenced to life in prison. An appeal delayed his commitment to federal prison until November. He died on February 21, 1920, following an unsuccessful operation [unspecified] by prison doctors.
—###—
True Crime Book: Famous Crimes the World Forgot Vol II, 384 pages, Kindle just $3.99, More Amazing True Crime Stories You Never Knew About! = GOLD MEDAL WINNER, True Crime Category, 2018 Independent Publisher Awards.
---
Check Out These Popular Stories on Historical Crime Detective
Posted: Jason Lucky Morrow - Writer/Founder/Editor, July 13th, 2015 under Mug Shot Monday, Short Feature Story.
Tags: 1900-1919, Alaska, Murder