Mug Shot Monday, Jimmy Pasta, 1940
Home
|
Mug Shot Monday
| Mug Shot Monday, Jimmy Pasta, 1940
Guest post by Diarmid Mogg.
Diarmid Mogg is a Scottish parliamentary reporter who runs Small Town Noir, a website of old mug shots from New Castle, Pennsylvania, and has launched a crowdfunding campaign at https://unbound.co.uk/books/small-town-noir to publish a book of the mug shots and the true-life stories behind them.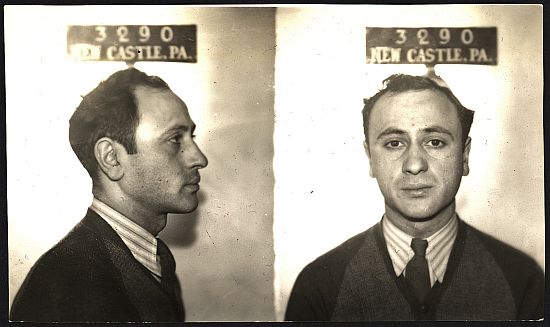 Jimmy Pasta made his money running illegal numbers games. He called himself a bill collector. He was arrested from time to time on gambling-related charges, staying out of jail by paying hundreds of dollars in fines. His mug shot dates from one such incident, in March, 1940.
Six months later—just after three o'clock on the nineteenth of September—Jimmy was sitting in his car in Ellwood City, western Pennsylvania, when he saw the chief of police, Ernest Hartman, stop a car on the bridge over the Connoquenessing creek and open fire with his Tommy-gun when three men got out holding revolvers. One of the men fell to the ground and was dragged back into the car by the other two. They drove off while Hartman was re-loading his gun.
An off-duty police officer, Ed Shaffer, got into Jimmy's car and told him to follow the men. He did what he was told.
Earlier that month, three ex-convicts who had met in Rockview penitentiary—Virgil Evarts, Albert Feelo and Kenneth Palmer—broke into Rohrer's gun store in New Castle and stole twenty revolvers, five rifles and dozens of boxes of ammunition. They had already robbed an insurance office in Farrel of $400, and planned to use the guns in a series of heists in small banks across western Pennsylvania.
On the day Jimmy saw them, they had held up a bank in Harrisville, twenty miles away, making off with around $2,300. Police in the surrounding towns had been told to look out for their car, a black 1939 Buick club coupe. They had driven south through Ellwood City, where the chief of police had been waiting with his Tommy-gun. All three were wounded by Hartman. Evarts was the least badly hurt, with just two bullets in his chest. Palmer was wounded in both legs. Feelo's spine was shattered and his lungs were punctured. His legs were torn up.
Fifteen miles out of town, their car ran off the road. Evarts stopped a passing car and forced the driver and his passenger out. Feelo and Palmer were being moved into the new car when Jimmy and Shaffer, both unarmed, drew up. Evarts ordered them at gunpoint to help them carry the wounded men.
Later that day, Jimmy told a reporter what happened next. "They said all seven of us couldn't ride in that old car. I've read enough gangster stories to be plenty scared by that." He saw Evarts put the rifle on Palmer's lap and walk around to the driver's side. "The car was between us and I figured it was now or never. I grabbed the gun from Palmer and pointed it at Evarts. He made a move like he was going for a gun and I fired through the window at him. He fell over the hill. Then I climbed down the hill where Evarts was moving, trying to get up. I hit him over the head with the gun and he passed out."
He returned to the road to find that Shaffer had found a wrench and had beaten Palmer over the head until he was unconscious. The chief of police arrived in time to disarm Feelo, who was weakly trying to raise a revolver to shoot.
Evarts died when Jimmy hit him. His skull caved in. Feelo died in the hospital a day later. Palmer was sent back to Rockview penitentiary.
Jimmy was given a plaque and a gold Gruen wristwatch, which never ran. He took it to the jewelers to be repaired, but they said there was nothing wrong with it. He kept the plaque, but got rid of the watch.
Jimmy eventually quit running numbers. He became a sales manager for a furniture store and was elected head of Ellwood City's Sons of Italy lodge, a post he held for most of the sixties. He died in 1991, at the age of seventy-five.
—-###—-
True Crime Book: Famous Crimes the World Forgot Vol II, 384 pages, Kindle just $3.99, More Amazing True Crime Stories You Never Knew About! = GOLD MEDAL WINNER, True Crime Category, 2018 Independent Publisher Awards.
---
Check Out These Popular Stories on Historical Crime Detective
Posted: Jason Lucky Morrow - Writer/Founder/Editor, August 10th, 2015 under Mug Shot Monday.
Tags: 1940s, Pennsylvania